Vehicle Insurance
Life Insurance
Property Insurance
Travel Insurance
Special Insurance
Find the Best Car Insurance
by
MAXIME
Finding the best auto insurance for your needs can be difficult. Whether you're looking for the cheapest premiums, the best customer service, or just great basic coverage, NerdWallet has you covered.
What should you keep in mind when getting started? First of all, a basic auto insurance policy covers the damage and loss of personal property as the result of a traffic collision, as well as coverage for injuries incurred to all parties involved. Proof of insurance is required in most of the U.S., and is a good idea for anyone intending to drive regularly.
How exactly does car insurance work? Generally, auto insurance offers coverage for injury, property damage, medical payments, personal injury, comprehensive physical damage, and collision, with provisions to cover expenses if the accident happens to be the fault of an uninsured motorist. Policies can be customized to add features like roadside assistance, towing services, and rental car compensation. Premiums usually become cheaper over time, especially if you don't get into any accidents, since the insurance provider considers you to be a less risky driver.
Best for Low Mileage Drivers: MetroMile
Launched in 2011, Metromile offers pay-per-mile car insurance designed for drivers who log fewer than 10,000 miles a year. The company sells coverage in California, Illinois, Oregon, Pennsylvania, Virginia and Washington. Metromile car insurance prices include two parts: a level base rate, plus a per-mile rate, a base rate and a per-mile rate, which is typically a few cents per mile. To track mileage, the company provides a device called the Metromile Pulse, which plugs into a port that's usually located below your dashboard. The device transmits data back to the insurer. Metromile's customers save $500 a year on average compared with standard insurance rates, the company says. Learn more

Get a Quote
Best for Customer Satisfaction: Allstate
Allstate remains one of the most popular insurance companies in the country. Their well known accident forgiveness program and their ratings by customers have continually been better in recent years. Combining multiple policies with the company can also save you up to 30%. Some customers have reported that their premiums were raised without warning or explanation. Overall Allstate is company that may not have the best track record but over the past few years has seen a resurgence is customer satisfaction and overall quality. They are a decent company with average rates and one that will hopefully continue to improve themselves in the coming years. Learn more

Get a Quote
Best for a Variety of Discounts: Esurance
Esurance is a company owned by Allstate which specializes in vehicle insurance. They were instrumental in writing new online policies, were one of the first major companies to offer unique discounts to the LGBT community, and is also known for its strong emphasis on environmentally sound business practices. The company provides excellent prices and quality customer support. Unfortunately many customers have reported hidden fees, such as increases in premiums whenever the policy is renewed. In addition, some drivers have reported significant price increases from minor incidents. Esurance is a good company with lower than average rates and should be a top choice for safe drivers with a clean record. Learn more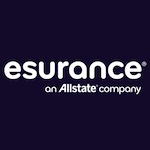 Get a Quote
Best For Military Members: USAA
United Services Automobile Association (USAA) is an insurance company primarily focused on covering military members and their families. The company does return a portion of its profits back to its members every year, has no sudden rate hikes, has an easy to use claims service, and also included is their legendary customer service. Their average customer managed to save $426 a year when they switched to USAA. Unfortunately the company doesn't have local agents and coverage is only available to those in the military and their families. Overall USAA is above average in the insurance industry and should definitely not be overlooked when choosing a reputable insurance company. Learn more

Get a Quote
Best for Drivers over 50: AARP | The Hartford
AARP Hartford is one of the largest and oldest insurance companies in the country. The company has been awarded for their customer service, large variety of discounts, and reasonable premium rates. Another bonus is their new car replacement feature that will replace your new car in the event of a total loss within the first 15 months or 15,000 miles. Customers have reported claims taking an excessive amount of time and increases to their premiums without explanation. Overall AARP Hartford is just above average with their service, price, and years of experience. Learn more

Get a Quote
Best for Cheap Premiums: 21st Century
21st Century Insurance, a Farmers Insurance company, has many things to offer their customers. With more than 2,000 employees they are frequently praised for having one of the lowest auto insurance rates among insurance providers. They offer many discounts as well as having award winning customer service. Some customers have claimed they did not receive adequate compensation for their cars after being involved in an accident while others have reported unexpected increases to their premiums without notice or proper reasoning. Overall 21st Century is a good choice for your auto insurance if you are looking for the cheapest rate but that low cost can come at the expense of the amount and quality of coverage that is provided to you. Learn more

Get a Quote
---
blog comments powered by

Disqus