4 Ways to Keep Medical Debt Off Your Credit Cards
Health-care costs continue to grow faster than incomes, creating tough choices for people needing expensive care.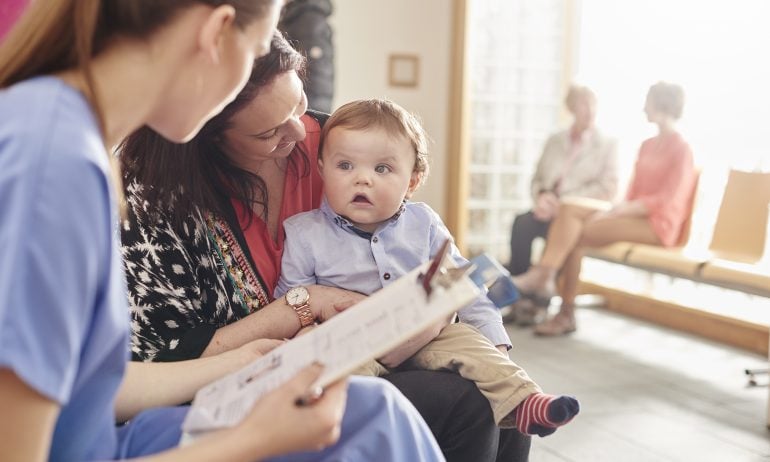 Many or all of the products featured here are from our partners who compensate us. This influences which products we write about and where and how the product appears on a page. However, this does not influence our evaluations. Our opinions are our own. Here is a list of our partners and here's how we make money.
The national median household income has risen 30% over the past decade, growing faster than almost every category of expenses, according to NerdWallet's annual household debt study. This is good news for many consumers, who have more money to use for purchases and savings.
However, medical costs are still growing faster than income — up 33% since 2009. Those ever-rising health care costs have forced many Americans to take on debt, including putting medical bills on credit cards with punishing interest rates.
Here are four ways to prevent or reduce credit card debt after a hospital visit or health scare.
1. Ask about interest-free payment plans
If you're hit with a medical bill you can't afford right now, ask the health care provider if there's a payment plan available. Many doctors and hospitals offer monthly payments, sometimes without fees or interest.
A payment plan arranged directly through your provider isn't the same as a medical credit card. With a medical credit card, the card issuer pays the provider, then you pay back the money to the issuer. These cards often advertise no interest for a year or more, but if you don't pay the balance in full by the end of the promotional period, you can be charged retroactive interest.
2. Use credit cards only as a last resort
Credit cards are good for short-term financing — less than a month — but costly for carrying longer-term debt. If you can't pay off a credit card before the payment due date, try to find another way to pay medical expenses. For example, if you have good credit, you may be able to qualify for a personal loan at a lower interest rate than what you would pay on a credit card.
A person who puts $1,000 of medical debt on a credit card and makes a monthly payment of $25 will take five years to pay it off, racking up $486 in interest along the way when assuming an interest rate of 17%.
If you don't have savings and can't borrow money at a low rate, consider applying for a credit card with a 0% promotional interest rate and make a plan to pay off the entire balance before that rate expires. For existing medical balances on a credit card, those with good credit — a FICO score of 690 or higher — may be able to transfer their credit card balance to a 0% card from another issuer.
3. Pay down existing debt faster
In a NerdWallet survey conducted in September by The Harris Poll, 66% said they currently have credit card debt — one of the most expensive types of debt to carry. Whatever you can do to reduce balances faster will save you money on interest, which means the money you pay on your debt will go further toward reducing it.
A simple way to stretch your dollars without stretching your budget is by making multiple payments every month. Credit card interest is calculated on your average daily balance, which you can reduce by paying early and more often. You can save on interest even if you don't pay more per month and just divide your existing monthly payment in two.
For example, say you have $1,000 in medical debt on a credit card and can afford to pay $50 a month. If you pay $50 on the 25th day of a 30-day billing cycle, you'll have an average daily balance of $990. However, if you split the payment and paid $25 on the 10th day of the billing cycle and a $25 on the 25th day, your average daily balance would be $977.50. Even though the total monthly payment is the same, dividing it into two lowers the balance on which interest is assessed.
To supercharge your interest savings, though, the key is making more and/or spending less and using the additional cash to make extra credit card payments. Whether this means increasing income — selling unused items in your home, taking on a side gig or making the case for a raise at work — or decreasing expenses (or both) depends on what works best for you. Make sure the extra money freed up in your budget goes toward your card payments to pay down medical debt faster.
4. Research insurance options
Health insurance can help you avoid high medical bills in the first place, although it can be expensive. For some people, of course, insurance simply isn't affordable. Others may choose to go without it since they don't currently have medical issues. But if you're opting out of health insurance, consider the risk of not having coverage: Even people with no history of health problems can still become injured or suddenly severely ill. And a big medical issue can easily lead to medical debt — or even to bankruptcy.
A study published as an editorial in the American Journal of Public Health in February found that 66.5% of people who filed for bankruptcy from 2013-2016 cited medical expenses and work loss related to health issues as the main reasons for their debts.
One of the most affordable ways to get insurance is through your job. For those who don't have access to employer-sponsored insurance or a government program like Medicare, check out NerdWallet's guide to choosing a health insurance plan. If you can swing it, health insurance may help you avoid big medical bills in the future.
Find the right credit card for you.
Whether you want to pay less interest or earn more rewards, the right card's out there. Just answer a few questions and we'll narrow the search for you.
Get Started
Get more smart money moves – straight to your inbox
Sign up and we'll send you Nerdy articles about the money topics that matter most to you along with other ways to help you get more from your money.