How to Work From Anywhere Like a Boss
Finding a strong Wi-Fi signal is one of the biggest challenges while working on the road, but you can overcome it by using your phone as a hot spot.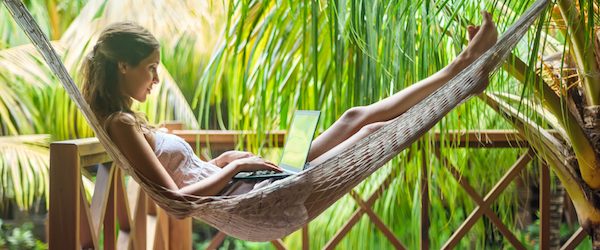 Many or all of the products featured here are from our partners who compensate us. This may influence which products we write about and where and how the product appears on a page. However, this does not influence our evaluations. Our opinions are our own. Here is a list of our partners and here's how we make money.
A year ago, travel bloggers Radhika Basu Thakur and Johnny Hoy were looking forward to a productive week in a remote part of Guatemala. The owner of their rental had assured them it had solid Wi-Fi access.
But when they settled in, they realized it was spotty and slow. "We could barely load a page," Basu Thakur recalls.
The couple, who blog at FulltimeNomad.com, managed to use the slow connection to buy mobile data online so they could use their smartphones to create a Wi-Fi hot spot. Now, they make sure to always buy phone data ahead of time so they can access the internet from almost anywhere.
As Basu Thakur and Hoy found, working while on the road isn't easy. Whether you're traveling for business or pleasure, you have to contend with Wi-Fi issues, distractions and noise, among other challenges. We asked working-while-traveling pros to share their best tips for staying productive outside of their normal habitat.
Prioritize reliable Wi-Fi — and have a backup plan
Not surprisingly, working on the road requires frequent strategizing about how to tap into a strong Wi-Fi signal.
"When your work lives entirely online, the biggest challenge is finding reliable Wi-Fi, especially in other countries or smaller cities," says Stephanie Lee, staff writer for the website GrowthLab. She is based in Los Angeles but takes frequent working trips overseas for weeks or even months at a time.
And a slow connection, she says, can be even more frustrating than no connection.
To deal with that problem, she finds one solid Wi-Fi spot, such as a local Starbucks, and sticks with it, going there whenever she needs to work. If that's not possible, she will simply work on her writing offline or set up a Wi-Fi hot spot through her phone, as Basu Thakur and Hoy do.
Matthew Karsten, a travel blogger and photographer at ExpertVagabond.com, makes a point of looking for reviews that mention Wi-Fi speed before he books a hotel.
"Strong, working Wi-Fi is more important to me than how comfortable the bed is," says Karsten, who has worked from over 50 countries, including Iceland, Nicaragua and Thailand.
A related problem is that sometimes certain content or applications are blocked in different countries, Basu Thakur says. If that's the case, they use a VPN service to connect through a different location to bypass the block.
Invest in high-quality headphones
Lee likes to work just about anywhere when she travels, so she packs high-quality headphones to avoid any noisy distractions.
"I've worked on a bench at a busy park in Japan," she says.
Headphones also come in handy on airplanes. While some people invest in Bose QuietComfort headphones that retail for well over $100, Lee says she is just as happy with her Apple earbuds.
She also owns a pair of Beats by Dre headphones, which she purchased as part of a deal. She typically listens to music with them through her computer.
Use routines to avoid distractions
When you're in a new place, you might want to sightsee more than you want to sit down with your laptop and work. But give in to those temptations and it will be hard to make a living, say Basu Thakur and Hoy.
The couple create a schedule ahead of time so they know when they will be working and when they have free time to explore.
"If we set our work expectations early, then we're not tempted to slack off," Hoy says.
Karsten goes so far as to use an app called "Self Control" to block sites like Facebook and Reddit on his computer while he's working. He also puts his phone in "do not disturb" mode to avoid getting notifications for long chunks of time during his workday.
Seek out an office environment on the road
Eli David, creator of the blog and podcast BecomeNomad.com, says heading to a co-working space in his new city — whether it's in Lithuania, Portugal or Israel — helps him focus, so he doesn't feel like he's staying "home" in a hotel all day.
He's also found the internet to be more reliable in co-working spaces compared with hotels.
"If you take your work seriously, you have to pay the premium [for co-working spaces] to put yourself in an environment that simulates a serious office," he says.
Karsten agrees. "I'm more productive if I have a 'commute' of some sort, whether it's walking down the street to a coffee shop or taking a scooter to a co-working space," he says, adding that he doesn't tend to be very productive in his pajamas.
Having a commute, it turns out, isn't all bad.
Get more smart money moves – straight to your inbox
Sign up and we'll send you Nerdy articles about the money topics that matter most to you along with other ways to help you get more from your money.