How I Ditched Debt: Well Kept Wallet
Many or all of the products featured here are from our partners who compensate us. This may influence which products we write about and where and how the product appears on a page. However, this does not influence our evaluations. Our opinions are our own. Here is a list of our partners and here's how we make money.
In this series, NerdWallet interviews people who triumphed over debt using a combination of commitment, budgeting and smart financial choices. Their stories may inspire you to pay off your debt.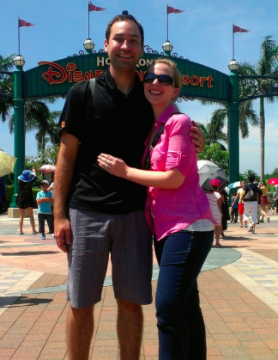 Shortly after Deacon Hayes, a former wood flooring salesman, married his wife, Kim, he went over their finances and realized they had amassed thousands in debt. The couple cut costs and made a plan to pay off the debt within a year and a half. Deacon now shares his personal finance tips through speaking engagements and on his website Well Kept Wallet, while Kim continues to teach high school history. Here's their story, from Deacon.
What was your total debt when you started your repayment journey?
Deacon Hayes: We had $52,000 of debt and we paid it off in 18 months.
How did you end up in debt?
We used debt as a way to fund our lifestyle. If we wanted to go to school, we borrowed money to make it happen. When I needed a new car, I financed it at a car dealer. When we went on our honeymoon to Cabo [San Lucas, Mexico], we put it on a credit card. We viewed debt as a way to get what we wanted in life.
What triggered your decision to start getting out of debt?
We began to feel like we were living paycheck to paycheck because more money was going out than was coming in each month. We decided to combine our finances, and that is when we saw that we had $52,000 in debt, outside of mortgage debt. This included about $18,000 in a car loan; $27,000 in student loans; and roughly $7,000 in credit card debt.
What steps did you take to reduce your debt? What resources or services did you use?
We did everything we could to reduce our expenses and increase our income. The first thing we did was go through each line of our budget and [try] to make that number smaller. We canceled our cable and I canceled my gym membership. Then I called our different service providers for internet, cell phones, etc., and asked if they had a better deal. I was amazed at how much we were able to save just by calling and asking.
We also used the debt snowball method to tackle our debts. This is where we listed our debts smallest to largest and then paid minimum payments on everything except the smallest debt. Then any extra money we had, we used that to pay down the first debt. Once that was paid off, we would roll the money that we were paying on that to the next smallest debt. This was huge, because we were able to see progress really quickly using this method.
Did you make any lifestyle changes?
We love to eat out, but we knew that we had to scale it back. We knew that our variable expenses like groceries and entertainment were areas that we had the most control [over], so we decided to use the cash envelope system. This is where we decided as a couple how much we could spend in these categories each month and then we funded the envelope with cash so that we could stay within that budget. If the money ran out, then we waited until next month to go out.
How has your life changed for the better since you got out of debt?
It is amazing how much more peace we have about our finances now that we paid off our debt. We know that we have the money to invest for retirement, put our kids through college and give to worthy causes. We also love to travel. Since we paid off this debt, we have been able to take trips to Singapore and Hong Kong, as well as London and Paris. We paid cash for these trips and didn't have to worry about how we were going to pay them off like we used to.
Dreaming of paying off your own debt? Here's how to start
Eliminating debt is no easy feat. Before you decide on a strategy, consider the different types of debt you hold. Keep making regular payments on your "good" debt, such as your mortgage. Home loan interest is generally tax-deductible, and rates tend to be low compared with those on other types of consumer debt. Throw extra cash at high-interest debts, including credit card debt or personal loans.
The debt snowball method Hayes described is best for those who feel they need short-term victories to keep them going. But the debt avalanche method, or paying off your highest interest debts first, will get you out of debt faster and save you the most money on interest.
No matter your approach, give your efforts a boost by making your monthly payments more manageable. You could be a candidate for debt consolidation, in which you roll your existing debt into a 0% balance-transfer credit card or personal loan with a lower interest rate than the ones you're currently paying. Estimate the interest rate you might qualify for using a personal loans calculator.