Cómo protegerse de las estafas financieras
Usted puede reducir las posibilidades de caer en la trampa siguiendo algunas estrategias básicas.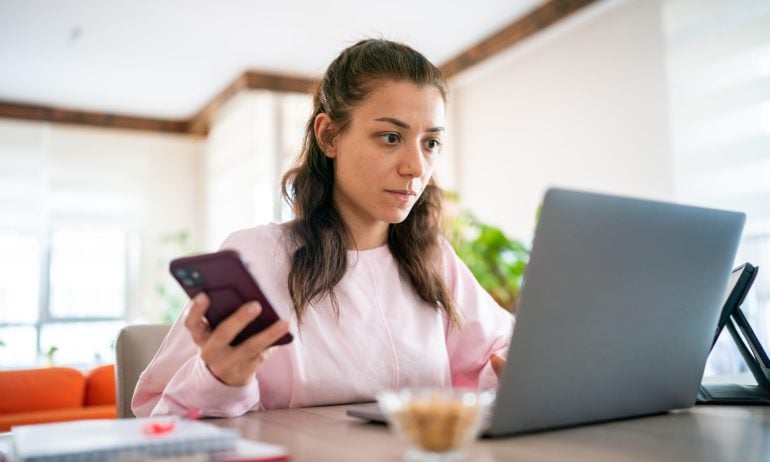 Many or all of the products featured here are from our partners who compensate us. This influences which products we write about and where and how the product appears on a page. However, this does not influence our evaluations. Our opinions are our own. Here is a list of our partners and here's how we make money.
Uno de los mayores errores que se pueden cometer a la hora de protegerse de las estafas financieras es pensar que uno es demasiado listo como para dejarse engañar.
"Todos somos vulnerables: todos podemos caer en una estafa si se dan las circunstancias adecuadas", afirma Eva Velásquez, presidenta y directora general del Centro de Recursos contra el Robo de Identidad, una organización sin fines de lucro que ofrece asesoramiento y asistencia en temas relacionados con el robo de identidad.Para mantenerse protegido, hay que aceptar este hecho, añade.
"Si nos fijamos en los perfiles de las víctimas que han presentado denuncias, vemos que hay de todo, desde personas con un alto nivel de estudios e ingresos hasta las personas más vulnerables de nuestra población", afirma John Breyault, vicepresidente de Política Pública, Telecomunicaciones y Fraude de la Liga Nacional de Consumidores, una organización sin fines de lucro que defiende los intereses de los consumidores.
Aunque no existe una "solución infalible para mantenerse a salvo de todas las estafas", como dice Breyault, hay estrategias que uno puede emplear para reducir el riesgo (en inglés). Aquí tiene cuatro de las más importantes:
Cuelgue el teléfono y "vaya a la fuente"
Si se pone en contacto con usted alguien que dice ser su banco u otra empresa conocida, dé por terminada la conversación y llame usted mismo al número verificado de la institución, dice Velásquez. "Siempre decimos: 'Si usted no inició la comunicación, acuda a la fuente'", añade.
De lo contrario, no sabrá quién está al otro lado de la línea, dice, sobre todo porque los estafadores pueden falsear el número que aparece en el identificador de llamadas para que parezca legítimo.
En algunos casos, puede que le interese visitar personalmente su banco para que se lo aclaren. Cuando Thorn Roberts, propietario de una pequeña empresa en Elizabeth, West Virginia, recibió una solicitud de pago (en inglés) que no reconoció, fue a su banco a preguntar.
"Sabían que era una estafa", afirma. Como resultado, canceló inmediatamente sus cuentas y creó otras nuevas. Gracias a su rápida reacción y a la ayuda del banco, su dinero estaba seguro.
Proteja y controle sus cuentas
Las prácticas básicas de seguridad online (en inglés) también pueden ayudarle a protegerse, dice Velásquez. Recomienda activar la autenticación multifactor en sus cuentas financieras, crear contraseñas únicas y no compartir datos personales en Internet, como su fecha de nacimiento.
Jason Zirkle, director de capacitación de la Association of Certified Fraud Examiners (Asociación de Examinadores Certificados de Fraude) y ex analista de fraude de las fuerzas policiales, sugiere revisar sus cuentas financieras al menos una vez a la semana e investigar inmediatamente cualquier cargo no identificado. Incluso un pequeño cargo erróneo podría sugerir que alguien tiene acceso a su cuenta, señalando el comienzo de un problema mayor.
Familiarícese con las estafas más comunes
La Comisión Federal de Comercio informa que las principales estafas de 2022 incluyen a personas que se hacen pasar por instituciones como bancos, sorteos falsos y falsas ofertas de empleo. "No es necesario que usted se convierta en un experto en cada una de ellas, pero sí que comprenda las características de la mayoría de las estafas: Primero se ponen en contacto con usted, le ponen algún tipo de cebo y le generan una sensación de urgencia", afirma Zirkle. Después, le piden dinero o información personal, la que utilizan para acceder a su dinero.
Eso es lo que le ocurrió a la madre de Ken Westbrook, ex ejecutivo del gobierno y experto en seguridad, a principios de este año. Apareció en su computadora una falsa ventana de soporte técnico, probablemente procedente de un anuncio malicioso. La conectó con delincuentes que la convencieron para que les llamara y les enviara tarjetas de regalo y cheques de caja con el pretexto de proteger sus cuentas bancarias de los piratas informáticos.
"Mi madre sabía que las tarjetas de regalo eran una señal de alarma, pero lo hizo de todos modos porque les tenía miedo a los delincuentes", dice Westbrook, que vive en la región de Washington, D.C. Con el tiempo, Westbrook descubrió lo que estaba ocurriendo y le puso fin, pero solo después de que su madre perdiera miles de dólares (en inglés).
Estos estafadores "se hacen pasar por el personal de soporte técnico más amable con el que jamás uno haya tratado", afirma Chris Pierson, fundador y CEO de BlackCloak, una empresa de ciberseguridad. "Instalan herramientas de gestión remota para ver lo que hay en su pantalla y luego pueden extraer sus archivos y extorsionarle".
Denuncie las estafas y sea su propio defensor
Denunciar las estafas a organismos públicos y organizaciones privadas permite hacer un mejor seguimiento. Aunque no existe una fuente centralizada de investigación de fraudes, usted puede denunciarlos a la Comisión Federal de Comercio, la oficina del fiscal general de su estado, el FBI, la comisaría de policía local, el departamento de fraudes de su banco, el Rastreador de estafas del Better Business Bureau y el Centro de Recursos contra el Robo de Identidad (el ITRC, por sus siglas en inglés), entre otros.
La mayoría de las personas que pierden dinero por estafas nunca vuelven a verlo. "Lo primero que tiene que hacer es aceptar que su dinero probablemente ha desaparecido y que no lo recuperará", afirma Zirkle. Sugiere "ser su propio abogado" ante su banco y la policía. En algunos casos, la entidad financiera o la policía podrían ayudarle a recuperar parte o la totalidad del dinero.
Sin embargo, algunas pérdidas son más difíciles de cuantificar. "Además de un delito financiero, es un delito emocional", dice Westbrook. "A la gente le afecta para el resto de su vida. Lo que le digo a todo el mundo, y se lo digo a mi madre, es: 'No es culpa tuya. Los ladrones trabajan para bandas de crimen organizado que son muy buenas en lo que hacen'".
Este artículo fue redactado por NerdWallet y publicado originalmente en inglés por The Associated Press.