6 New High-Tech Auto Gadgets to Sweeten Your Ride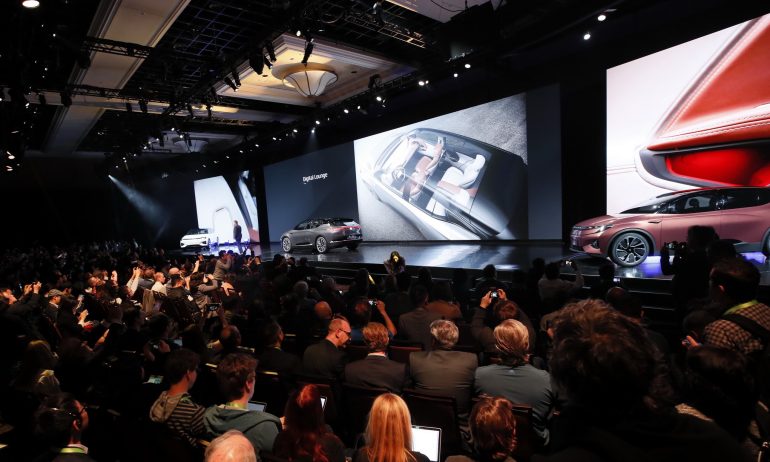 Many or all of the products featured here are from our partners who compensate us. This influences which products we write about and where and how the product appears on a page. However, this does not influence our evaluations. Our opinions are our own. Here is a list of our partners and here's how we make money.
Many visionary speakers at CES 2018, the monster tech show in Las Vegas this month, painted pictures of a future filled with robot cars and electric vehicles with practically retina-detaching acceleration. But back here on planet Earth, many companies are already building innovative products to help you, the daily driver, in a normal car.
While the scenes of the future are intriguing, there are some high-tech products you can buy now to make your commute easier and safer, without dropping a ton of cash.
1. What's in my blind spot?
Blind-spot warning devices are becoming increasingly common in new cars, but until recently were not available as retrofits for your vehicle. Now, aftermarket kits can be added to your older car. With one from Rydeen Mobile Electronics, selling on eBay for $426, a radar sensor is mounted below the rear license plate to scan traffic and display an alert on an indicator inside the car if there's a vehicle in your blind spot when changing lanes. It also warns you about oncoming cars (called cross-traffic alerts) as you back out of a tight space in a crowded parking lot.
Many rear camera backup devices were on display this year at CES. With prices falling, these are now within reach for most car owners. What's new is that many of these are wireless, so they're easier to install, and some offer extra features such as night vision or cross-traffic alerts. AUTO-VOX sells one online for about $110; others can be found for around $50.
Dash cams, which record a video of the road as you drive, are ubiquitous in countries like Russia where accidents are common. But they're gaining popularity here now for a variety of reasons. Maybe you want to record your scenic drive into Yosemite National Park. Or you want proof that you didn't make that illegal U-turn to take to traffic court. Rexing's V1 Generation 3 dash cam costs $129 on Amazon and records on a loop, replacing the oldest recordings first, so if there's an "incident," you can download the video.
Keep your eyes on the road by displaying vital information right in front of you. There are head-up displays in some new cars now, but there were many such aftermarket devices on display at CES. The easiest to install just sit on your dash and display speed, navigation and other information on an angled and adjustable glass screen. Others project the information on the windshield itself. One aftermarket model was featured by automotive tech company Futurus, but no information was available on price or availability. Others, costing about $50, are available from online retailers now.
There's nothing worse than trying to start your car and finding the battery is dead. In the past, you had to break out the jumper cables and flag down another car. Now, a light, powerful, compact lithium-polymer battery can jump-start a car. Plus, some portable batteries double as flashlights and can charge your laptop and cell phone. Many, like one from Whistler, sell on Amazon for less than $100, so you can put one in your glove box and be ready for emergencies.
Remember Rand McNally, the iconic map company? It now offers an integrated system for serious travelers that puts everything on one tablet, available through online vendors for $575. Navigation, messaging, phone, backup cameras and entertainment are pulled together in one device. Aimed at RV enthusiasts and commercial drivers, it would be good for any driver who loves road trips.
Next up? A self-driving store
Meanwhile, all the major manufacturers had something innovative to show off. For example, Toyota dreamed up its e-Palette concept vehicle, an electric, self-driving pod that can be adapted by businesses for different purposes. It could be a shuttle, or even a mobile showroom that comes to your house to sell you stuff or deliver a pizza.
OK, so you won't be seeing that one anytime soon, but we had to include one futuristic offering. In the meantime, check out the other products, on sale now, to keep you rolling.