Why the Student Debt Crisis Hits Black Borrowers Harder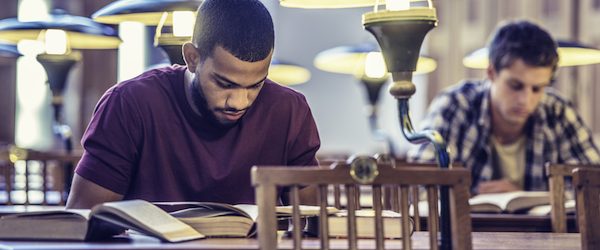 Many or all of the products featured here are from our partners who compensate us. This influences which products we write about and where and how the product appears on a page. However, this does not influence our evaluations. Our opinions are our own. Here is a list of our partners and here's how we make money.
In the student debt crisis, black borrowers take the hardest hit.
They borrow at a higher rate than any other group: 87% of black students borrowed federal loans compared with 65% of Latino students and 60% of white students, according to an analysis of government data by the Center for American Progress, a public policy think tank.
And they are more likely to default on their loans than other groups, which can deliver a long-lasting blow to credit scores. Nearly half of all black students who enrolled in 2003-2004 defaulted on at least one loan over the next 12 years, compared with 1 in 5 white students over the same time period, according to an analysis by Robert Kelchen, assistant professor of higher education at Seton Hall University.
Default on federal loans occurs after nine months of missed payments. Borrowers can be sued or pursued by debt collectors; the government can garnish their paychecks; and they lose the chance to lower or suspend payments, options still available to those who haven't defaulted.
But higher debt doesn't tell the whole story of why black student borrowers default. Experts say that while there are social and economic challenges that put black borrowers at a higher chance of default, there are also strategies students can use to help lower that risk.
Hurdles for black college students
They have less generational wealth. Social and labor inequalities have led to less accumulated wealth — home equity, investments and savings — among black families compared with white families, according to the Economic Policy Institute. In 2013, white families in an EPI survey had a median wealth of $134,230 compared with a median $11,030 among black families. That means black students have fewer out-of-pocket resources to pay for college, which leads to more borrowing.
They may be the first in their family to go to college. According to the U.S. Department of Education, 1 in 7 black students is the first in their family to go to college. Parents of first-generation students may not have the savings, planning experience or familiarity with financial aid levers that families with a long college tradition do.
"Parents want to do everything they can to support their child, and they know the power of education is a game changer," says Harry L. Williams, the president and CEO of the Thurgood Marshall College Fund. "When their child is admitted to university it may be their first time getting a clear glimpse of what it's going to cost."
They are more likely to attend for-profit colleges. The for-profit college sector is known for its high default rates: an average of 52% for all students, and 67% for black borrowers, according to a 2018 Brookings Institution report by Judith Scott-Clayton, an associate professor of economics and education at Teachers College, Columbia University.
They are more likely to enroll in graduate programs. Among college graduates, black students are most likely to enroll in graduate school, according to the Urban Institute. One reason for higher attendance, experts say, is that black graduates have a more difficult time finding well-paying jobs and they turn to graduate school to improve their postgrad outcomes. But more schooling equals more debt, and graduate students are allowed to borrow far more in federal loans than undergrads.
They are more likely to drop out. Studies show a high correlation between default and not finishing a degree. Black students complete college less often than all other racial or ethnic groups, according to the National Student Clearinghouse Research Center.
They make less money after graduation. Among those who finish college, black bachelor's degree holders default five times as often as white bachelor's degree holders. They even default more often than white students who don't complete their degrees.
"We think we don't need to worry about the graduates, they're generally doing fine — but that story is not the case for black college graduates," Scott-Clayton says. She says poorer labor market outcomes are likely the cause.
African-Americans are paid less than whites with the same level of education, regardless of the level being compared, according to the Economic Policy Institute. Black college graduates earn an average $25.77 per hour compared with white college graduates, who average $31.83 per hour. Lower earnings make repaying debt more challenging, particularly if students have private debt or don't know about income-driven repayment options for federal loans.
What borrowers can do to avoid default
Changing the way black borrowers pay for college and repay debt can help curb default, experts say. Here's how.
Get the free money first. Submit a Free Application for Federal Student Aid, or FAFSA, to access federal Pell Grants, scholarships and work-study. You may also seek out other merit-based and need-based scholarships, many of which are exclusively for black students.
At Tuskegee University, a historically black school in Alabama, students are advised to max out federal aid before taking on loans. But, since it's a private school, students usually need more than Pell Grants to meet total costs, says Advergus James Jr., executive director for student financial services at the school.
Choose federal loans before private. Private student loans usually carry higher interest rates than federal loans and have fewer repayment and forgiveness options.
Choose the right repayment plan. Eight different plans are available for federal student loans, including four that are based on your income level. Income-driven repayment plans lower your monthly payments but extend your loan term. You could pay as little as $0 if you qualify.
Let your loan servicer help you. If you're having difficulty meeting monthly payments, don't be afraid to contact your loan servicer, advises David Evans, a debt counselor at Florida A&M University, a historically black university.
"We stress communication with loan servicers; it helps ease tensions or worries about having to make a change," Evans says.
The loan servicer can help you switch to an income-driven repayment plan or review forbearance options that can pause payments for up to a year on federal loans.
Don't ignore the problem. A missed payment starts a 270-day countdown to default. Once you default, you lose the options of forbearance or a new payment plan. But you can restore access to these benefits by working with your servicer to get your loans out of default.
Spot your saving opportunities
See your spending breakdown to show your top spending trends and where you can cut back.