Insurance and Bonding for Cleaning Businesses
Insuring and bonding your cleaning business builds trust with your clients while protecting your company assets.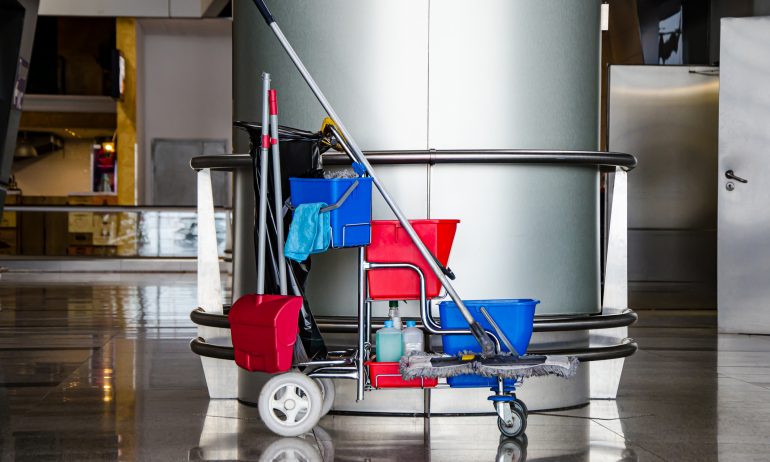 Many or all of the products featured here are from our partners who compensate us. This may influence which products we write about and where and how the product appears on a page. However, this does not influence our evaluations. Our opinions are our own. Here is a list of our partners and here's how we make money.
Cleaning businesses face risks unique to their industry. A worker could knock over a client's valuable vase while dusting a mantel or accidentally spray a caustic cleaning agent into their own eyes, requiring medical treatment.
Unless you're protected by business insurance, your company could be responsible for paying those replacement costs or medical expenses.
Here's what janitorial business owners should know about buying cleaning business insurance and bonding for their companies.
Business insurance protects your company and your assets against natural disasters, claims of property damage and bodily injury and more.
Regardless of industry, every small business should consider buying two basic forms of insurance: and .
Many insurance providers bundle general liability and business property insurance under a . Other insurers add and other popular supplemental forms of insurance.
A protects your customer if an employee commits property theft while servicing your client's home. A janitorial service bond, also called a business service bond or an employee dishonesty bond, pays your client directly in the event of a theft or property loss, up to the maximum amount purchased.
All cleaning businesses should consider purchasing a bond to avoid having to compensate customer losses out of pocket.
As an added bonus, being bonded and insured offers a measure of credibility with potential clients who might otherwise be concerned about having strangers enter personal property.
Cleaning companies face certain risks including, but not limited to:
Fortunately, all of these risks can be mitigated with the right insurance policy. Some insurance providers offer customized insurance packages for cleaning businesses, or you can build your own. You can often bundle multiple policies at .
There are few, if any, negative factors of buying financial protection for your cleaning company. Paying out of pocket for a third-party claim, employee theft or natural disaster could wipe out your business assets and ruin your company's good name.
Furthermore, is required in many states, so your company may end up operating illegally if you don't have an insurance policy.
The business insurance policies you need are highly dependent on the size of your business, the regions you serve and how many workers you employ.
Here are some common policy types that protect janitorial service companies:
How do I get my cleaning business bonded and insured?
You can buy cleaning business insurance and bonding in a few different ways:
If you have a specific insurance provider in mind, you can reach out directly to the company for a quote. Some insurance companies allow you to request your estimate over the phone or through their website, depending on your preference.
reach out to insurers on your behalf, then collect customized quotes for you to compare.
Brokers earn commission from the insurance companies they represent, and are not obligated to present the absolute lowest prices available to you. Some insurance brokers may also charge a fee for their services in addition to what they earn from your insurer.
This option is great for business owners who want to do their own homework.
Online marketplaces use a series of detailed questions to provide you with a near-instant estimate from various insurer partners.
Insurance and bond rates for cleaning businesses vary based on factors such as the size and scope of a company. Some insurance providers offer cleaning business insurance policies from $45 per month for general liability coverage only. A janitorial service bond can cost as little as $8 per month, depending on the bond amount you purchase.