NerdWallet's Best Retail Point-of-Sale (POS) Systems of 2022
Inventory management, transparent pricing and useful reporting capabilities are a must for point-of-sale systems.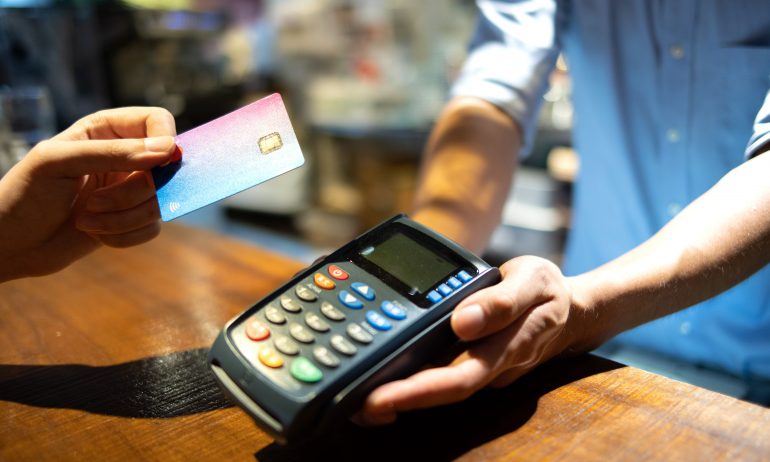 Many or all of the products featured here are from our partners who compensate us. This may influence which products we write about and where and how the product appears on a page. However, this does not influence our evaluations. Our opinions are our own. Here is a list of our partners and here's how we make money.
The best retail point-of-sale, or POS, systems come with excellent inventory management capabilities, transparent pricing, valuable reports and other features that help to run your business smoothly. That might include a way to accept payments on the go, maintain an e-commerce store or manage multiple locations.
POS stands for point of sale. A point of sale (POS) is a place where customers pay for things. A POS can be in a physical store, or it can be online. POS systems record sales, create receipts, track sales tax and have other features. Some are cloud-based.
Find the right payment provider to meet your unique business needs.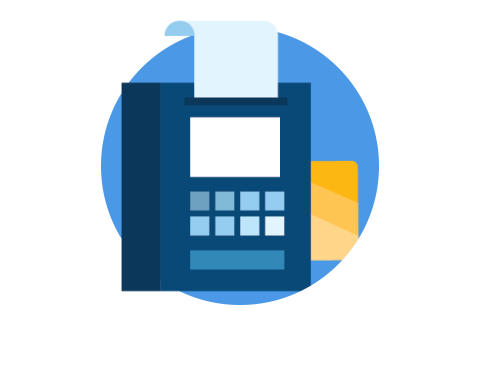 Square for Retail: Best overall
Hardware: Free mobile reader with sign-up; $149 for the Square Stand with built-in swipe/dip/contactless payment reader; $299 for portable Square Terminal that accepts swipe/dip/contactless payment and prints receipts.
Payment processing: Varies by plan. With the free retail plan, it's 2.6% plus 10 cents per in-person transaction, 2.9% plus 30 cents per online transaction and 3.5% plus 15 cents per keyed transaction. 
First magstripe credit card reader is free; free plan available.

No fees for early termination, PCI compliance, chargebacks or setup.

Offers inventory management, multi-location setup and appointment scheduling.

Live support available by phone, instant message or email.

Subscription fees are generally month-to-month and easy to cancel if needed. You also have the option to pause your subscriptions for up to three months.
Loyalty program and email marketing features cost extra; appointment-booking for more than one person is an additional fee.

Ability to create and print bar codes isn't available on the free version.
Square for Retail stands out for its transparent pricing, live support and wide range of useful features. With a user-friendly interface and free starter tier, it's an excellent choice for retail businesses looking to get started quickly without a steep learning curve.
Square has no contract requirements, and with transparent, published prices, you know exactly what you're signing up for. In addition to an array of retail-specific hardware and accessories, it's also compatible with both iOS and Android phones and tablets, offering flexibility for on-the-go shops making sales at flea markets, trade shows and more.
Once set up, the platform provides a range of reporting tools and customer, inventory and employee management options. There's also a variety of paid add-ons, including a loyalty program and payroll platform, all of which can be customized to match your preferences and business needs.
QuickBooks GoPayment: Best mobile solution for QuickBooks accounting users
Hardware: $49 for QuickBooks card reader.
Payment processing: 2.4% plus 25 cents per magstripe and chip payment; 3.4% plus 25 cents for keyed-in transactions.
Low payment processing fees.

Free app for iPhone and Android.

Automatically syncs transactions to QuickBooks Online account.
Limited to businesses that use QuickBooks accounting software.

Usually not compatible with software products outside the QuickBooks suite.
QuickBooks GoPayment is a free app available for iPhone and Android which lets you sync transactions to your QuickBooks account. It works with QuickBooks Payments for payment processing, which offers competitive processing fees.
The system's card reader can process both magstripe and chip card payments and connect to smart devices through Bluetooth. Even without the credit card reader, retail businesses can process keyed-in transactions through the GoPayment app. And unlike Square's free reader, GoPayment's can process chip cards and doesn't require a jack to connect.
However, QuickBooks Payments is only available to businesses that use QuickBooks for accounting. It's a convenient, compatible low-cost add-on if you already rely on QuickBooks.
Clover Flex: Best mobile system
Hardware: $499 for all-inclusive mobile device with printer and bar code scanner.
Payment processing: 2.3% plus 10 cents per transaction for Standard and Advanced plans; 2.6% plus 10 cents for Starter plan.
Accepts payments offline and processes them when you can reconnect.

Includes customer engagement tools like discounts and perks.
$25 chargeback fee per occurrence.

No free hardware options.
If you're looking for a happy medium between mobility and capability in your retail POS system — and you're willing to pay for it — then our top pick is the Clover Flex. It packs several capabilities into a rectangular handheld retail POS system device. You can use it to process magstripe, chip and contactless payments from virtual wallets like Apple Pay. The system also comes equipped with a printer and a bar code scanner.
One of the most notable perks of the Clover Flex is that it doesn't rely on a smart device to be fully functional; unlike many other mobile POS systems for retail, it's a stand-alone system. This makes the Clover Flex's considerable price of $499 easier to understand, especially if your retail store doesn't already have a dedicated smart device.
Shopify POS: Best for e-commerce
Software: $29 up to $299 and more per month.
Hardware: $49 for card reader; $149 for a tablet stand (tablet not included).
Payment processing: Varies by plan; in-person fees start at 2.4% with Shopify POS Lite. Additional fees apply if you use a different payment processor.
Transparent, flat-rate payment processing fees.

E-commerce-friendly features, including access to vendors and resources to build an online store from scratch.

Drop-shipping, curbside pickup and local delivery options.

Ability to automatically email customers who abandon carts and don't complete purchases.

Tracks inventory, hides out-of-stock products and offers inventory analysis.

Plans are month-to-month and easy to cancel, upgrade or downgrade.

You can "pause" your store for three months with no subscription fee or "pause and build" for a reduced monthly payment.
Not ideal for businesses that don't sell online.

Additional transaction fees apply if you don't use Shopify's in-house payment processing.
Shopify's POS system is a great fit for businesses primarily selling items online. The e-commerce platform makes it easy for merchants who sell both online and in-person to manage all of their operations in a single place.
Each plan offers a dedicated POS and e-commerce website, with the higher-priced plans featuring lower credit card processing rates and more tools. (Note that you have to use Shopify Payments as your payment processor to lock in these rates; additional fees apply if you use a different processor.)
As an online-first POS, Shopify can host checkout, accept discounts, integrate with third-party applications, save customer information in a database, organize product catalogs and generate reports on your sales performance. You can also sell through multiple channels, including social media, and in multiple languages and 133 currencies.
Lightspeed Retail POS: Best for inventory management
Software: $69 per month (billed annually) and up.
Payment processing: Swipe, dip and contactless payments for 2.6% plus 10 cents per transaction; keyed-in transactions for 2.6% plus 30 cents per transaction.
Transparent, flat-rate fees.

A comprehensive inventory management system to keep detailed records of your products across multiple locations and set automatic reorder points, so you don't run out.

Offers option to use other payment processors in addition to in-house option.

24/7 phone support available in the U.S., plus chat and email support.
Loyalty, e-commerce, accounting integrations and analytics features included only in more expensive plans.

Prepaid annual and monthly fees are non-refundable; if you cancel your subscription, you'll immediately owe the remaining installment fees in your plan, if any apply.
Lightspeed Retail POS is a strong choice if you're looking to handle a high volume of transactions, a large inventory or operations in multiple locations. The versatile software starts at $69 per month, offering inventory management capabilities and a variety of other features, including employee and customer relationship management tools.
Lightspeed also offers a selection of third-party applications that can extend the functionality of your store, as well as loyalty programs and e-commerce integrations included in its higher-priced plans. The company uses an in-house payment processor, Lightspeed Payments, to process transactions, but you have the option to use a third-party payment processor as well. Merchants processing a high annual volume can get cheaper quote-based pricing, making it a great choice for fast-growing businesses.
Vend by Lightspeed: Best reporting
Software: $99 per month (billed annually) and up.
Hardware: Starter Hardware Kit for iOS available for $600; compatible with other industry-standard hardware.
Payment processing: Not included; must be added separately.
Inventory management feature allows you to forecast trends and automate reorder points so you don't run out of stock.

Ability to add customer profiles and create custom loyalty programs.

No transaction fees from Vend (though the payment processor you select will charge these fees).

Live phone support is available 24/7 for free with all plans.
Loyalty program is available only on more expensive plans.

Payment processing isn't included, though Vend has payment processing partners that offer exclusive rates to their clients.

Prepayments are nonrefundable; if you prepay for a year and don't use the full term, you can't get the money back.
Why we like it: Vend's retail POS system allows you to easily manage inventory, set sales targets for your team and build customizable reports for identifying bestsellers, top customers and other insights.
You can create and customize your product catalog and sync data through the cloud across locations and sales channels. There's also the option to add an unlimited number of products with all plans and an unlimited number of users to your account. You can also use Vend's automated inventory management tools to track your stock, adjust levels and fill orders. With the Vend scanner mobile app, you can remotely conduct inventory counts and product lookups.
Vend, which was acquired by Lightspeed in 2021, stands out for its advanced reporting and analytics tools, including sales summaries, register closures and inventory levels. It also has tools for customer relationship management and a customizable checkout, including the option to use the Vend Display app to turn your iPad into a customer-facing display. Upgrading to the Pro plan also gives you access to e-commerce, loyalty programs, gift cards and multi-store management tools.
What to look for in a retail POS system
Here's what to take into account while trying to find the best retail POS system for your business:
Hardware costs could include the cost of registers, bar code scanners, printers and card readers. Depending on the capabilities of the POS hardware, it could range in price from free to over $1,000.
Generally, you'll have to pay a monthly fee to use POS software. However, in some cases, free versions are available.
Often, but not always, a POS system comes bundled with payment processing services. Sometimes, processing rates are the same regardless of what type of card is used. In other cases, processors charge interchange rates — which vary by card — plus a fee. The latter method can be less predictable. In addition to these processing fees, other fees might apply, such as PCI compliance fees or chargeback fees for charges returned to payment cards.
It's best to have a processor with transparent, easy-to-understand rates and minimal fees.
If you want your retail POS system to be as mobile as you and your employees are, then you should consider either supplementing your desktop POS system or replacing it with a handheld retail POS system. A more mobile retail POS may be especially convenient for retail businesses that sell through booths and markets.
Inventory management capabilities
Excellent inventory management capabilities are a must for retail POS systems. If you're working with multiple locations, find a retail POS system that can help you keep track of inventory from location to location. If you handle large stocks of goods that you're having trouble keeping up with, get a retail POS software that allows you to track purchase orders through it.
Customer tracking capabilities
High-performing retail POS systems also allow business owners and employees to keep track of a customer's history with their business. Knowing what specific purchases a given customer has made can inform future sales.
Consider a retail POS system that can generate reports on employee sales performance.
A version of this article was first published on Fundera, a subsidiary of NerdWallet. Claire Tsosie and Lisa Anthony, authors at NerdWallet, contributed to this article.