QuickBooks Online Review: Pros, Cons, Alternatives
One of the most popular accounting solutions, this scalable software is a great option for a variety of small businesses.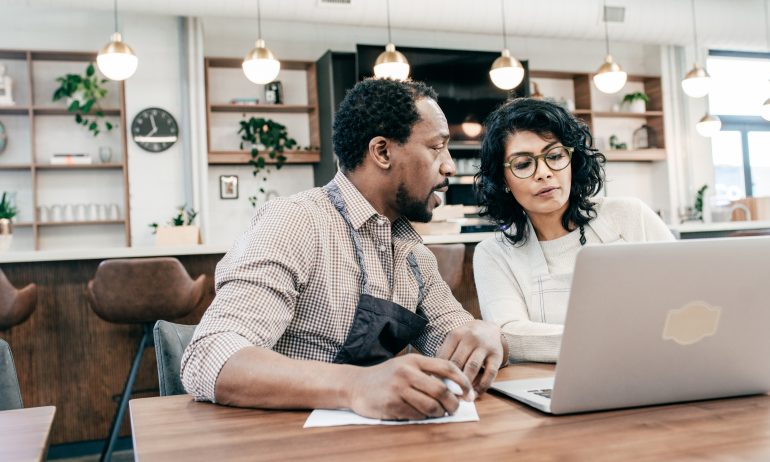 Many or all of the products featured here are from our partners who compensate us. This may influence which products we write about and where and how the product appears on a page. However, this does not influence our evaluations. Our opinions are our own. Here is a list of our partners and here's how we make money.
Known as the industry standard for small-business accounting software, QuickBooks Online is a solid choice for a wide variety of businesses, especially those that plan to work with a bookkeeper or accountant on a regular basis. With four plans and a range of add-on services, QuickBooks Online offers a high level of functionality, flexibility and scalability — you can customize this software to meet your business's needs.
Although QuickBooks Online is user-friendly, there can be a learning curve, particularly if you're unfamiliar with the basic principles of accounting. Additionally, QuickBooks can be expensive for many businesses, even more so if you add on time tracking or payroll. Competitors can offer simpler, more affordable alternatives.
Thorough record-keeping and comprehensive reporting.

Hundreds of third-party app integrations.

Inventory management included with QuickBooks Online Plus and Advanced.

Easy to share information with your accountant; easy to find QuickBooks experts and online resources if needed.

Monthly plans are expensive compared to alternatives.

Limited account users with each plan.

Learning curve to getting started.
Simple Start: 1 user and 2 accounting firms.

Essentials: 3 users and 2 accounting firms.

Plus: 5 users and 2 accounting firms.

Advanced: 25 users and 3 accounting firms.

Ease of sharing with accountants

Excellent. You can invite your accountant to QuickBooks Online via email and they will have access to all of the features of your account, at no additional cost to you. Plus, it's easy to find accountants who are well-versed in QuickBooks. You can even use the ProAdvisor network to find a QuickBooks-certified accountant.

Excellent. You can upgrade your QuickBooks Online account as your business grows. You can also take advantage of other Intuit products like QuickBooks Payroll or QuickBooks Point of Sale to cover a wider range of business needs.

Good. QuickBooks Online has a clean, intuitive interface. The software is most user-friendly if you have some basic accounting knowledge.
Awards for QuickBooks Online
QuickBooks Online earned a spot as one of the best products in NerdWallet roundups for these categories:
How does QuickBooks Online work?
After you sign up for QuickBooks Online, you'll be able to log in to your account and access the main dashboard view. If you're moving to QuickBooks from another accounting software, you can import your existing files to your new account.
The main dashboard will give an overview of your QuickBooks account, showing your cash flow, invoices, expenses, sales and more.
Using the Banking (or Transactions) tab on the left side of the dashboard, you can connect your bank and credit card accounts so that QuickBooks automatically downloads and categorizes transactions for you. Later, when reconciling your books, you'll be able to review these transactions in the For Review tab within the Banking menu.

Next, you can customize invoices, set up automatic sales tax tracking (if necessary) and learn how to enter mobile receipts and bills. You can edit all of your business's account settings using the gear icon in the upper right corner.
If you want to invite your bookkeeper or accountant to your QuickBooks Online account, you can do so using the My Accountant tab or the Manage Users page — you can also search for an accountant if you don't already have one.
Promotional discounts may apply. All plans include access to QuickBooks Online mobile apps, customer support and third-party app integrations. Add-on services — including QuickBooks Payroll, QuickBooks Time and QuickBooks Payments — will incur separate costs.
QuickBooks Online Simple Start

Track income and expenses.

Send invoices and accept payments.

Sort income and expenses into tax categories.

Run and export financial reports.

Upload or email receipts on the go with the QuickBooks mobile app.

Automatically track miles with your smartphone's GPS.

Monitor and manage cash flow.

Customize and send estimates.

Manage 1099 contractor payments.

QuickBooks Online Essentials

All the features of Simple Start.

Run enhanced reports — such as sales, accounts receivable and accounts payable reports.

Track time and billable hours.

All the features of Essentials.

Run inventory reports, enhanced sales reports, profitability reports, as well as specific budgeting, expense and class reports.

Use templates to build and customize reports.

Track inventory and cost of goods; sync inventory with third-party platforms.

Track project profitability and evaluate job costs.

QuickBooks Online Advanced

All the features of Plus.

Build customized charts to monitor financial performance.

Track key performance indicators with analysis tools from Fathom analytics.

Customize user access by role.

Speed up your workflow with batch invoicing.

Access to a dedicated account team and premium customer service, including 24/7 phone or chat support.

Manage employee expenses.

Access to exclusive integrations like HubSpot and DocuSign.
Need accounting software for your side hustle? QuickBooks offers a separate product — QuickBooks Self-Employed — designed for freelancers and independent contractors, with plans starting at $15 per month.
Benefits of QuickBooks Online
There's a reason that QuickBooks Online is the industry standard for small-business accounting software. Here are a few features that stand out:
Record-keeping and reporting: It's easy to keep thorough, detailed records with QuickBooks Online. When you're adding an expense, for example, you have the option of adding reference numbers, permit numbers, attachments and memos. You can also split the expense into multiple categories or items.
You aren't required to fill out every field in an expense or income entry, but the more detailed your records are, the more useful certain reports can be. For example, with QuickBooks Online Plus and Advanced, you can track inventory and do job costing — that is, you can figure out how much you spent to complete a certain project.
Even without those higher-level plans, you can create custom tags and run reports based on where you make and spend money. These features can help you organize your finances and provide insights such as cost-cutting opportunities or sales trends that you can use to improve and grow your business.
Inventory management: With QuickBooks Online Plus and Advanced, you can track inventory and cost of goods, and set up low stock alerts. You can also create purchase orders, manage vendors and sync your inventory with third-party platforms like Amazon and Shopify.
Although some competitors, like Xero, include comparable inventory management tools, other alternatives like FreshBooks offer very basic inventory tracking features.
Hundreds of app integrations
QuickBooks Online gives you access to an impressive marketplace of over 600 apps — including third-party tools as well as QuickBooks add-ons. Of course, you don't have to use these apps to get good value out of this accounting software; however, they can give you extended functionality and help you cut back on duplicating work across platforms.
With QuickBooks Time (formerly TSheets), for example, you'll be able to track employee time directly inside QuickBooks and approve timesheets. Other apps can help you prepare for taxes, get business funding, run payroll, manage customer accounts and generate various financial reports and insights. Some apps (including QuickBooks Time) have associated fees, whereas others are free.
Easy to find QuickBooks resources
Whether you decide to manage your bookkeeping on your own or work with a professional, you'll have no trouble accessing resources related to QuickBooks Online.
First, if you do work with an accountant, QuickBooks Online makes it easy for you to share information — you can invite your bookkeeper or accountant via email and they'll be able to access your account and make changes as necessary.
Additionally, because QuickBooks is the industry standard for accounting software, it's easy to find experts who are well-versed in the platform. This might not necessarily be the case with less ubiquitous accounting software. You have the option to find an accountant through the QuickBooks ProAdvisor network, too.
And — with or without a professional — the online resources related to QuickBooks Online are abundant. QuickBooks offers video tutorials, webinars and training classes, as well as community forums, support topics and other resources on its website. You always have the option of contacting QuickBooks customer support directly for any help you may need as well.
Drawbacks of QuickBooks Online
Monthly plans can be expensive
QuickBooks Online Simple Start costs $25 per month, includes only one account user and does not offer time tracking, bill pay or inventory management. For multiple users, time tracking and bill pay, you'll need to upgrade to Essentials — $50 per month — and for inventory management, you'll need to opt for Plus at $80 per month.
Competitors can offer plans with lower monthly fees and similar features. For example, Xero prices range from $12 to $65 per month and include unlimited users and inventory management in all plans. Similarly, FreshBooks ranges from $15 to $50 per month, with time and inventory tracking in all plans.
QuickBooks Online is easiest to use if you have some knowledge of basic accounting concepts. Whereas you might be able to use some software alternatives without explanation, it may take some time to get the hang of QuickBooks. You'll get more out of this powerful system, however, if you understand the full functionality of the product.
Watching tutorials, reading support pages or consulting experts for advice are all great options to learn how to use QuickBooks Online for your business.
Alternatives to QuickBooks Online
Pricing: Lite plan starts at $15 per month.
Pros: With a robust mobile app, FreshBooks is a strong option for freelancers and independent contractors, as well as self-employed professionals on the go. FreshBooks has a client self-service portal, unlimited estimates, invoices, time tracking and expenses included in all plans. This software also offers mobile mileage tracking, basic inventory tracking and both phone and online customer support.
Cons: With the Lite and Plus versions of FreshBooks, you're limited to five and 50 billable clients, respectively. Additionally, you have to pay to add team members to your account: $10 per person per month.
Pricing: Early plan starts at $12 per month.
Pros: Like QuickBooks Online, Xero is a powerful and fully functional accounting software. Xero offers lower-priced plans — with unlimited users and inventory management included in each. Additionally, Xero provides 24/7 online support and is known for its user-friendly and intuitive setup and design.
Cons: With Xero's Early plan, you can send/approve only 20 quotes and invoices and enter five bills. Additionally, Xero includes time tracking only in the highest-level plan — the Established plan ($65 per month). Finally, although Xero offers 24/7 online support, it does not provide phone-based customer service.
Pricing: Free. Add-ons will have associated costs.
Pros: Wave is one of the only truly free accounting software options on the market. Wave is easy to use, offers unlimited invoicing, income and expense tracking, bank and credit card connections, as well as account users. It also allows you to accept credit card and ACH payments and set up recurring billing.
Cons: Wave does not offer some of the more advanced features that competitors can provide — such as time tracking or project profitability. Like Xero, Wave limits customer support to live chat and does not offer phone-based support.