Small Business Loans in Georgia: The Top 8 Options
Need help to grow? Review eligibility requirements and learn how to apply for small business loans in Georgia.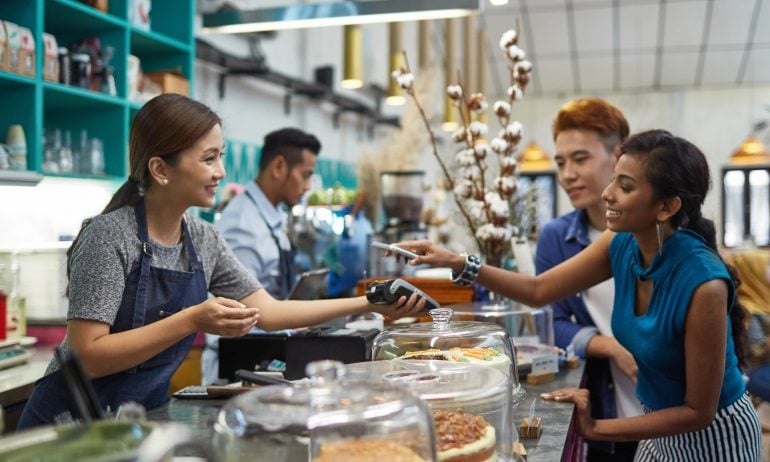 Many or all of the products featured here are from our partners who compensate us. This influences which products we write about and where and how the product appears on a page. However, this does not influence our evaluations. Our opinions are our own. Here is a list of our partners and here's how we make money.
The state of Georgia is a welcoming home for entrepreneurs. There are one million small businesses in Georgia and the state often ranks among the best in the country for a strong business climate and for women and minority business owners. Although starting a small business in Georgia is pretty easy, getting capital is often more challenging. Fortunately, there are several local government entities and nonprofit organizations that extend small business loans to Georgia-based businesses.
In this guide, we'll cover these eight options in detail so that you can start your small business or grow it to the next level without wasting any time.
with Fundera by NerdWallet
Top 8 small business loans in Georgia
When starting a small business in Georgia, there are many opportunities for getting capital—from the government, private lenders and nonprofit lenders. The important thing is to know whether your company meets the eligibility requirements for a loan so that you can apply for the right products.
Here are the top eight ways to get a small business loan in Georgia:
1. Georgia State Small Business Credit Initiative
The Georgia State Small Business Credit Initiative (SSBCI) grew out of the federal Small Business Jobs Act of 2010. Under this act, each state is allocated some money from the federal government to strengthen local lending programs that assist small businesses.
Through that program, Georgia now offers financial assistance to small businesses in two ways:
Georgia Loan Participation Program - The state of Georgia purchases up to 25% of a loan that a bank or private lender makes to a small business. Loans must range between $100,000 to $5 million and the current maximum purchase by the state is $250,000.

Georgia Small Business Credit Guaranty - The state of Georgia guarantees up to 50% of a small business loan. The maximum loan amount is $400,000, with a guarantee of $200,000.
Under the SSBCI, banks and other participating lenders retain independence in underwriting loans and negotiating terms with small business owners. However, the state's purchase or guarantee reduces the risk for the lender and encourages them to lend to small business owners who might not otherwise qualify.
2. ACE small business loans
Next on our list of best Georgia business loans, Access to Capital for Entrepreneurs (ACE) is one of the largest nonprofit lenders in Georgia, serving dozens of counties across the state. The U.S. Department of the Treasury has designated ACE as a community development financial institution (CDFI). CDFIs are mission-driven nonprofits that focus on lending to women, minorities, veterans and other underserved business owners. ACE has extended more than $69 million in loans, creating or saving more than 8,200 jobs in Georgia.
In order to be eligible for an ACE loan, you need a minimum credit score of 600, no active bankruptcies in the last three years and no foreclosures in the last year. Here are the terms of ACE small business loans:
Online loan application for loans of $50,000 and under (there's a longer process for loans over $50,000).

Repayment terms from three months to 72 months.

Collateral and personal guarantee are required.

Interest rates depend on the business owner's credit history and other risk factors.
In addition to business loans, ACE also provides one-on-one consulting services for business owners in marketing, accounting, operations and other areas. Getting a small business loan from ACE means they can be a long-term partner to help your business. Fill out their online application to get started (for loans of $50,000 and under), or contact ACE for larger loans.
3. Invest Atlanta small business loans
Atlanta is the largest city in Georgia and the state capital, so it won't come as a surprise that some lenders focus exclusively on helping small businesses in the Atlanta metro area, like Invest Atlanta. Invest Atlanta is an arm of the city of Atlanta that aims to improve the local economy. To further that mission, Invest Atlanta administers several small business loan funds. Each fund has a different focus and offers loans with different terms.
For example, the Atlanta Catalyst Fund targets small business owners who support job creation in distressed Atlanta neighborhoods, offering funding between $50,000 to $100,000. Another fund, the Atlanta Forward Loan Fund, provides financial assistance of up to $20,000 to startups that are enrolled in accelerators, incubators, or co-working spaces in the city. There's even an Atlanta Street Vendor Loan Fund, which provides loans of up to $3,000 for street vendors to purchase vending carts.
All you need to do to get started is attend an information session in person or virtually. If you meet the eligibility requirements for one or more Invest Atlanta funds, you can submit an application.
4. Atlanta Micro Fund Small Business Loans
The Atlanta Micro Fund is a CDFI that provides funding and assistance to underserved small businesses based in and around metro Atlanta. First-time borrowers can apply for a loan of up to $10,000 and repeat borrowers can request up to $15,000. The money can be used on equipment, business vehicles, working capital, inventory, raw materials, or marketing expenses.
Similar to ACE, Atlanta Micro Fund also provides free and low-cost business support services, such as accounting, graphic design, managerial, operational and financial support. They don't have an online application, so you'll have to contact them directly to get started.
5. Southwest Georgia United
Another CDFI, this one based in the southwestern part of the state, Southwest Georgia United offers business loans and microloans to eligible small businesses. Business loans are available in 14 Georgia counties: Ben Hill, Baker, Calhoun, Colquitt, Decatur, Early, Miller, Mitchell, Pulaski, Terrell, Thomas, Tift, Turner and Wilcox. The business loans go up to $250,000, with the cap being 75% of your project's total cost. Interest rates are as low as 6% and repayment terms go up to 10 years. These Georgia business loans can be used for working capital or for larger investments in equipment, land and buildings.
The microloans are available only for businesses in rural parts of Georgia. These loans can be used for inventory, supplies, working capital, equipment and loan refinancing. As with the regular business loans, the interest rate on microloans starts at 6%, and loan terms can extend up to 10 years. You can either visit Southwest Georgia United's office in Vienna, Georgia, or call them to get started.
6. Albany Community Together
While Albany Community Together is another CDFI, it operates a little differently from the others. Albany works closely with banks and traditional lending institutions to provide gap funding. For example, if you need $50,000 to buy some equipment and the bank only approves you for $30,000, Albany Community Together will help you make up the shortfall.
They lend to businesses within 35 counties in Southwest and West Georgia, through several loan programs. Albany participates in the SSBCI and they are approved to provide microloans by the Small Business Administration (SBA). They also offer City of Albany business loans specifically for businesses located in that city.
7. Small Business Assistance Corporation
The Small Business Assistance Corporation (SBAC) is a CDFI that provides loans to businesses in Savannah, Georgia, southeastern Georgia and parts of South Carolina. They participate in several SBA loan programs, but also offer other types of loans. Eligibility varies based on the type of loan.
Among their loan products is a $1,000 credit builder loan for small business owners. SBAC will report your payments on the loan to the credit bureaus so that you can improve your credit score and qualify for larger amounts of financing. SBAC also offers a contract loan program for businesses that need financial assistance to execute contracts with the local government. Another popular program from the SBAC is their small steps lending program where small business owners can apply for successively larger amounts of financing and longer repayment terms as they pay back what they borrow.
8. Delta Community Credit Union
Often overlooked by small business owners, credit unions can be a great option for securing business capital. Credit unions restrict eligibility for their loan programs to a specific segment of the population and, as a result, they often provide lower interest rates, lower fees and better perks than banks.
The largest credit union in Georgia is Delta Community Credit Union, open to anyone who lives, works, or operates a business in the Atlanta metro area. Delta Community Credit Union provides commercial real estate loans, SBA loans, equipment and vehicle financing and business lines of credit. Call one of Delta's commercial bankers or visit a branch of the credit union to get further assistance.
Other small business loans for Georgia entrepreneurs
The preceding options for local small business loans in Georgia can be great ways to get capital. However, it can be challenging to access enough capital through a nonprofit or local government loan program. In that event, trying a bank or online alternative lender can be the key to securing enough capital.
Here are some other small business loan options for Georgia entrepreneurs:
1. Wells Fargo business loans
Wells Fargo is the largest small business lender in Georgia and any entrepreneur starting a small business there should consider it. They are the most active SBA lender in Georgia, having funded over $35 million worth of financing in 2018. As a bank lender, they offer some of the lowest interest rates available on the market. Plus, since Wells Fargo is a huge national bank, they have dozens of branches throughout the state. Along with SBA loans, other Wells Fargo business loans include conventional term loans, lines of credit, equipment loans, real estate loans and business credit cards.
Wells Fargo is very transparent about pricing and publishes interest rates on its website, something that other large banks don't do. For convenience, you can apply for a Wells Fargo business loan either online or by visiting a local branch.
Qualification standards at a bank like Wells Fargo or even a credit union will be high, meaning that you'll need a strong credit history and ideally a couple of years in business to qualify. If you're looking for easier eligibility requirements, you can turn to an alternative online lender such as Fundbox. Fundbox offers short-term business lines of credit up to $100,000 that are paid back in 12 weeks or 24 weeks.
Both eligibility and the application process are very easy with Fundbox. To qualify for Fundbox, you need three months of business history, a credit score of 500 and annual revenue of $25,000. To apply, simply sync up your business bank account or accounting software with the Fundbox application, saving you from manually having to type in a bunch of business data.
One final recommendation for Georgia small business owners is to get a business loan with Fundation. Fundation combines larger loan amounts with speed and affordability, making it a great choice for Georgia business owners. You can access up to $350,000 in funding. The repayment terms start at one year and extend up to four years. Interest rates range from about 8% to 30%, depending on your credit history.
The catch is that, similar to a bank, credit standards are higher with Fundation. The minimum requirements to qualify are one year in business, a credit score of 660 and annual revenue of $100,000. Although the eligibility requirements are tougher, this lender is a good option if you have an existing Georgia business that you're looking to grow.
How to get a business loan in Georgia: Preparing your loan application
With so many options for getting a small business loan in Georgia, which one is best for your company? The best options for you will depend on a combination of several factors, including your business's age, your credit history and your business revenue.
Despite the range of options and variations among loan programs, most lenders are looking for the same things. Here are three things you'll want to focus on to prepare a strong business loan application:
A business plan is one of the most important documents you'll prepare when starting a small business and applying for financing. Although online lenders don't usually request a business plan, this is a must-do if you're applying for financing at a nonprofit, bank, or credit union. It's also a useful exercise to see if you have realistic expectations from your business.
The business plan outlines your business concept and contains a detailed summary of your business's product or service, target customer base, competitors and financial projections. Lenders often use the financial projections section of the business plan to assess how much funding your business is eligible to receive.
Your credit history is paramount when applying for a business loan. The better your credit score is, the more loan programs you'll be eligible for, the more financing you'll be approved for and the lower interest rates you'll pay.
To keep your credit in good shape, you should regularly check your credit report, fix any errors that you spot and make all existing loan and credit card payments on time. Sometimes, if you're new to the country or haven't relied on financing very much, you might have a thin credit file. If that's the case, try getting a credit builder loan from one of the above-mentioned nonprofit lenders. Just keep in mind that positive changes in your credit score can take some time, so keep tabs on your credit history well before you begin your search for financing.
Whether you have a brand-new business or a more established company, revenues are very important to the loan process. A business with revenue, or at least a market-ready product, represents a serious business in the eyes of lenders and is more likely to receive financing. While nonprofits do offer startup business loans, established revenue-generating businesses have more financing options.
How to get a small business loan in Georgia: The bottom line
Georgia small business owners can obtain loans from the local government, nonprofits, banks, credit unions and online lenders. It's important to make sure you review your options from national, state and local sources, and choose the best fit for your company based on your timeline, credit history and budget. Getting a small business loan in Georgia can seem like an intimidating process; but with the right lending partner, it can be easier than you think to take your business to the next level.
This article originally appeared on Fundera, a subsidiary of NerdWallet.