Wave Financial Software for Small Businesses: 5 Things to Know
Wave bills its accounting software as the free alternative to QuickBooks.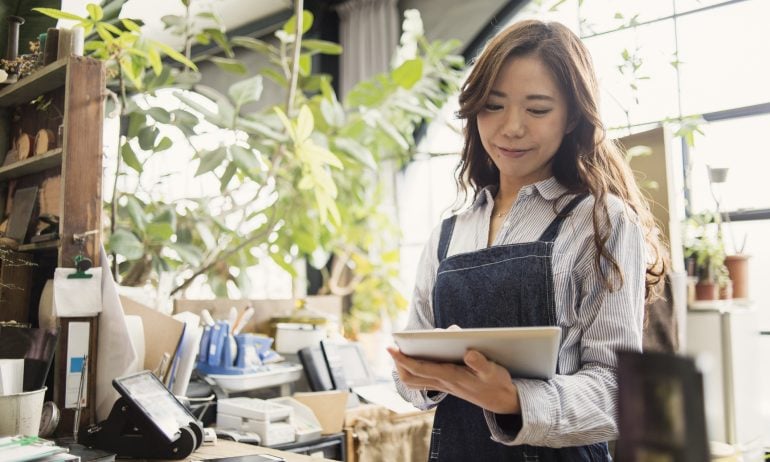 Many or all of the products featured here are from our partners who compensate us. This may influence which products we write about and where and how the product appears on a page. However, this does not influence our evaluations. Our opinions are our own. Here is a list of our partners and here's how we make money.
Wave is financial management software that enables companies to manage their bookkeeping, accounting and invoicing for free. The software is designed for small-business owners, especially those with service-based business models, and currently serves millions of customers.
Wave (from Wave Financial, which was acquired in 2019 by H&R Block) also offers paid services such as payment processing, payroll and accounting support.
Wave's products allow small businesses to manage bookkeeping, accounting and invoicing for free.

Here are five things to know about the Wave software to help with your decision-making process.
1. How much does Wave accounting software cost?
Wave's invoicing, accounting and receipt-scanning products are free, as is signing up for a Wave account. Charges are incurred when a user sends an invoice and the client pays through Wave with the "enable payments" option.
If it's a credit card payment with Visa, Mastercard or Discover, Wave collects 2.9% plus 30 cents per transaction. This fee is paid by the user, not their client. If payment is by American Express, Wave collects 3.4% plus 30 cents per transaction. If the client sends an ACH bank transfer, Wave collects 1% of the amount per transaction, with a minimum fee of $1. All payment processing transactions integrate with Wave's invoicing and accounting software for no additional fees.
Wave also offers a subscription service for its payroll product, with fees varying by state. For those states that include tax services from Wave (the application automatically transfers tax payments and files paperwork with state tax offices and the IRS), the fee is $35 per month plus $6 per active employee or contractor paid. For all other states and Canada, the fee is $20 per month plus $6 per active employee or contractor paid.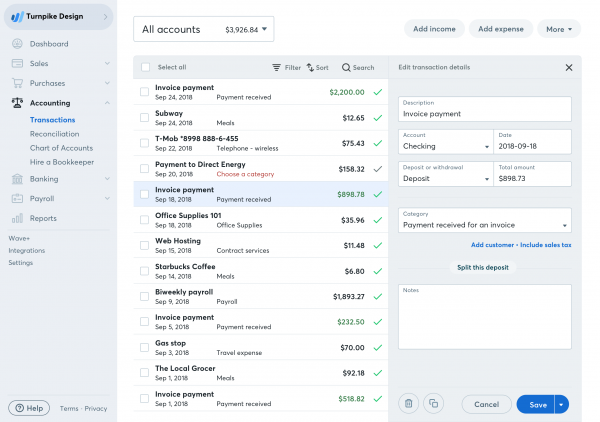 2. What features does Wave include?
Wave bills its accounting product as the free alternative to QuickBooks. Features include:
Unlimited income and expense tracking.

Tracking of sales tax on income and expenses.

The ability to add unlimited partners, collaborators or accountants.

Fully functional double-entry system.

Reports on overdue invoices and bills, cash flow and profit and loss.

Unlimited bank and credit card connections.
Wave's invoicing product (also free) offers:
Automated invoice reminders.

Acceptance of credit card and bank payments in the invoice.

Automatic syncing of invoices and accounting in one place.
Wave's paid services also include several features. The payments product includes:
Acceptance of major credit and debit cards.

Payments processed within two business days for credit card payments and two to seven business days for bank payments (ACH).

Acceptance of credit card payments over the phone, online or in person.

Ability to set up recurring billing with automatic payments for repeat customers.

Automated bookkeeping, with payments connected to the user's bank account.
Finally, Wave's payroll product allows users to:
Make payments, record accounting entries and file tax documents for independent contractors.

Pay employees via direct deposit.

Gain insights such as a breakdown of payroll expenses by employee, expense type and criteria.

Leverage an employee portal where workers can access pay stubs and tax forms and update banking details.

Automate tax filings and payments.

Generate W-2 and 1099 forms.

Track leave time and accruals needed to process payroll.
3. Security features are designed to protect data and accounts
Wave security features include secure encryption for all communication between users, Wave and the user's bank or credit card company, as well as password and bank account protection. For those who want the technical details, they use 256-bit secure socket layer, or SSL.
In addition, there are read-only connections between Wave and financial institutions, so no one can use Wave to access money in a user's account.
4. Wave offers live and online support options
Wave's chatbot helps users with around-the-clock support. Those customers who do not want to chat with a robot can speak with support agents online. Hours of operation for live chat support are Monday through Friday, 9 a.m. to 6 p.m. EST. Users can also file a ticket or reach out for help through Wave's community forum.
5. Update planned for foreign exchange transactions
One of Wave's limitations is how its system handles foreign exchange transactions. Currently, the system imports foreign exchange rates daily from a currency exchange site. If the rates change between when an invoice was created and when it's paid, this could create a loss or a gain in foreign exchange. A new feature will allow users to update foreign exchange rates manually; a spokesperson for the company said a date for the change has not yet been set.
Bookkeeping and accounting software

Free (add-ons available).