Guide to Using Zelle for Business: Pros, Cons, How It Works
Zelle doesn't offer specific features for businesses, but you can take advantage of its free instant transfers.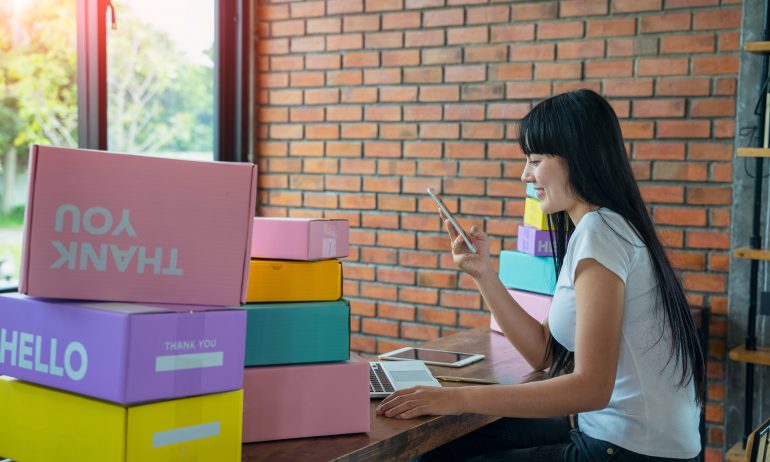 Many or all of the products featured here are from our partners who compensate us. This influences which products we write about and where and how the product appears on a page. However, this does not influence our evaluations. Our opinions are our own. Here is a list of our partners and here's how we make money.
Zelle is a peer-to-peer, or P2P, money transfer service and digital payment network. It's co-owned by seven major U.S. banks and is compatible with most U.S. banks and credit unions. Once you enroll with the service through your bank's mobile app, you can send and receive money directly from your bank account.
The platform extended its services to small businesses and their customers in 2020, with 11 financial institutions including Bank of America, Chase, Wells Fargo, U.S. Bank and Citi. Zelle doesn't offer specific features for businesses, just the ability to use Zelle to accept payments with a business account.
Zelle is a great option for businesses to provide to customers, as it's contactless and doesn't charge fees. However, it's not available internationally and doesn't provide purchase protection, so it's not an ideal standalone payment method for small businesses.
To use Zelle to accept payments, you'll need to open a business banking account with one of the financial institutions that offer Zelle for businesses. Your customers don't need to belong to the same bank, just another participating U.S.-based bank in the Zelle network.
Though there are hundreds of financial institutions that offer Zelle to consumers, they don't all support business account use. You can check if your bank offers Zelle through your mobile banking app and enroll using a mobile number and email address. If you already have a personal Zelle account, you may need to use different contact information for your business.
The 11 banks that offer specific Zelle business account integration are:
Using Zelle for small-business payments is fairly simple, as it's already integrated with participating banks through mobile banking apps. Assuming both the business account and the customer have access to Zelle in their mobile banking apps, the customer can pay using the following steps:
The business provides the customer with its Zelle contact information, typically a phone number or email address linked to the account.

The customer inputs the contact information and payment amount, and sends the payment. Zelle often sends a security code via text message or phone call for first-time recipients to verify the transaction.

The recipient — the business owner or employee — will get a notification from Zelle, typically via text message, that the payment has been received.
Zelle does not directly charge fees for business and personal transactions. Transaction limits and fees are determined by the user's bank, not Zelle, and can vary. Keep in mind that just because you use the service for free as a consumer doesn't guarantee that you'll be able to use it for free as a business owner.
Most major banks don't charge fees, but they do limit the number and size of Zelle transactions. Limits can differ between business and personal accounts within the same bank. Most banks limit sending, but not receiving. These are the current Zelle sending limits for major banks:
Bank of America: $15,000 per 24 hours, $45,000 in a seven-day span and $60,000 every 30 days for small businesses. Up to 20 transactions per day and 120 per month. No receiving limit.

Chase Personal: $2,000 per transaction and day, and $16,000 per month. No receiving limit.

Chase Business: $5,000 per transaction and day, and $40,000 per month. No receiving limit.

Wells Fargo: $3,500 per day and $20,000 per month. Receiving up to $10,000 per day.

Capital One: $2,500 per day. No receiving limit.

Discover: $600 per day. No receiving limit.

PNC Bank: Sending limits may vary and can be found in your mobile banking app. No receiving limit.

U.S. Bank: Sending and receiving limits may vary and can be found in your mobile banking app.

Citizens Bank: $1,000 per day and $5,000 per month. 15 transactions per day. No receiving limit.
Consumers whose bank or credit union doesn't offer Zelle can send up to $500 per week. Businesses must be enrolled with a Zelle network bank to receive payments.
Benefits of using Zelle for business
Zelle doesn't charge fees to send or receive money, for businesses or customers. Very few banks charge fees to use Zelle either, but it's best to check with your bank about potential fees and transaction limits before receiving payments.
With Zelle and other P2P apps, customers can pay without cash, cards or even using a checkout terminal. Using only Zelle to accept payments can eliminate the need for another payment processor or point-of-sale system.
Unlike traditional payment methods and even other P2P apps, Zelle facilitates direct transfers between bank accounts. Zelle payments typically arrive within minutes.
Drawbacks of using Zelle for business
Zelle doesn't protect payments made within the network, and payments can't be canceled. The platform recommends only sending payments to people you know and trust, and to proceed with caution before using Zelle to make purchases. Because of this, customers may prefer a more secure payment method that can guarantee refunds.
Only available in the U.S.
Zelle can't be used with international bank accounts; both parties need to bank with U.S.-based financial institutions within the Zelle network. Because of this, the service isn't a good fit for businesses looking to expand to other countries.
Doesn't support credit cards
Since Zelle is a direct bank account transfer service, credit cards can't be connected to make payments. Other P2P apps like Venmo and PayPal will link credit cards for a fee. Customers may want the option to pay with credit cards.
Venmo is a peer-to-peer money transfer app that has features for small-business use. Businesses can register for the platform with a business account and incorporate payments with Venmo's parent company, PayPal. Unlike Zelle, the service charges a merchant fee — 1.9% plus 10 cents per transaction — and doesn't transfer directly to your bank account.
Free transfers take one to three business days. Instant transfers cost 1.5% of the amount transferred, with a minimum fee of 25 cents and a maximum fee of $15. However, Venmo does facilitate returns and sends business users receiving over $600 per year a 1099-K tax form, unlike Zelle.
Cash App is a peer-to-peer app that integrates with Square, a popular POS system for many small businesses (both services are owned by Block). The platforms can share data, and Square checkout devices can display CashApp QR codes for direct payment.
There are no platform-specific fees, just Square's standard processing rate of 2.6% plus 10 cents for card-present transactions or 2.9% plus 30 cents for card-not-present transactions. Instant bank transfers are free for business accounts. CashApp does offer chargeback protection and does not add on chargeback fees.
Best Payment Processing Companies
Product

Payment processing fees

Monthly fee

Learn more

Helcim

0.40% + 8¢

 

plus interchange, in-person; 0.50% + 25¢ plus interchange, online.

$0

 

Square

2.6% + 10¢

 

in-person; 2.9% + 30¢ online.

$0

 

Starts at $0/month for unlimited devices and locations.

Stripe Payments

2.7% + 5¢

 

in-person; 2.9% + 30¢ online.

$0