7 Ways to Tell If That IRS Tax Collections Call Is Fake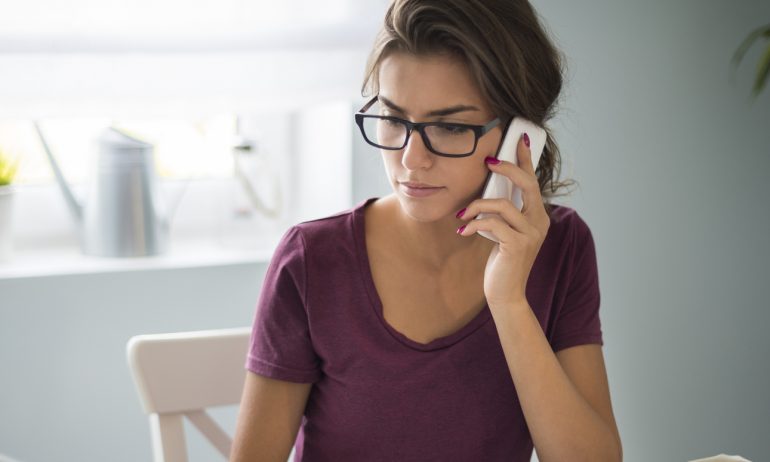 Many or all of the products featured here are from our partners who compensate us. This may influence which products we write about and where and how the product appears on a page. However, this does not influence our evaluations. Our opinions are our own. Here is a list of our partners and here's how we make money.
A new IRS program set to take effect next spring may make it harder to tell which of those dubious phone calls many people get about outstanding tax bills are actually fake.
The agency announced this week that it's hired four private debt-collection firms to search America's couch cushions for overdue federal taxes: ConServe, based in Fairport, New York; Pioneer, based in Horseheads, New York; Performant, based in Livermore, California; and CBE Group, based in Cedar Falls, Iowa. The IRS says the four contractors will mostly get old, overdue accounts or accounts it doesn't have the manpower to pursue.
One problem, however, is that taxpayers are up to their eyeballs in tax-collection scams and could easily mistake legitimate calls for yet another criminal trying to sucker them.
This year, the IRS reported it has already seen a 400% increase in phishing schemes. And in March, the Treasury Inspector General for Tax Administration, which oversees IRS activities, said it's received over a million reports of phone scams involving fake tax collectors since October 2013. Over 5,500 people collectively have lost about $29 million, it said.
The IRS is aware of the problem — it keeps a dedicated, ongoing list of scams on its website. In May, for example, it warned taxpayers about phone calls regarding a bogus "federal student tax," and in August it reported that IRS impersonators were demanding tax payments on iTunes cards and other gift cards.
Now that some debt-collection calls will actually have the IRS' blessing, how will you be able to tell the real ones from the fakes? Here are seven red flags.
1. You didn't get a letter first.
Under the new program, the IRS will first mail you a written notice that it's turning your account over to a private collection agency. Then, one of the four collection agencies will send you a letter confirming the transfer. That agency is the only one that should be calling.
2. The caller asks you to pay the collection agency.
The contracted agencies aren't allowed to accept payment on the IRS' behalf. They also aren't allowed to ask for payment on a prepaid debit card. Instead, they should send you to IRS.gov if you want to see your electronic payment options; checks should always be made payable to the U.S. Treasury and sent directly to the IRS, not the collection agency.
3. You already have a repayment plan in place with the IRS.
The IRS won't assign your account to a private collection agency if you've already got an installment agreement going. Likewise, if you have or are negotiating an offer in compromise with the IRS, legitimate debt collectors shouldn't be calling you.
4. The caller doesn't know or care that you're in a disaster area or deployed.
The IRS won't turn over accounts involving taxpayers who are deployed in combat zones or who are in presidentially declared disaster areas and are requesting relief from collection. If that describes you, and one of the IRS' contracted collection agencies gets your case by mistake, it's supposed to return it to the IRS. (That doesn't mean you're off the hook; it means the IRS will pursue payment itself.)
5. The caller wants payment from someone who is deceased or under 18.
People who have died or are minors may have outstanding tax liabilities, but their accounts won't be going to private collection agencies, according to the IRS.
6. The caller doesn't know or care that you're already grappling with the IRS over a specific issue.
7. The caller is a huge jerk.
The private collection agencies have to abide by the Fair Debt Collection Practices Act, which means they can't swear at you, threaten you with violence or harm, call in the middle of the night or lie about what you owe, among other things. Though the IRS is using the law to ensure contracted debt collectors respect taxpayers, another agency — the Consumer Financial Protection Bureau — might say good luck with that. It gets more complaints about debt-collection companies than any other financial product or service.
Tina Orem is a staff writer at NerdWallet, a personal finance website. Email: [email protected].