As Flights Resume, Will Award Travel Hit a Golden Age?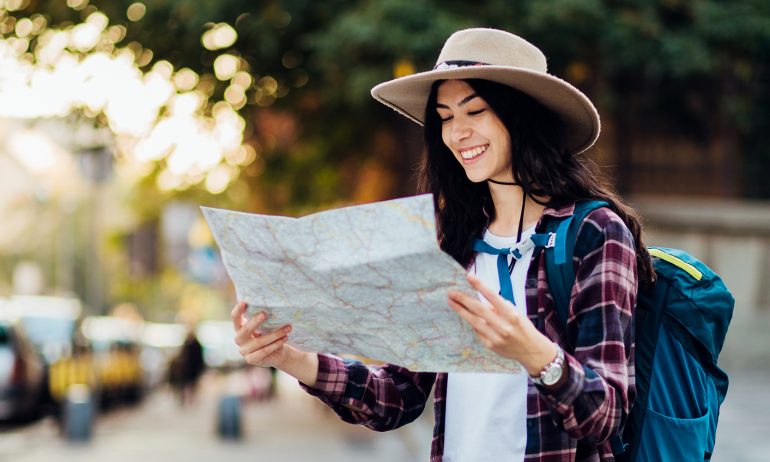 Many or all of the products featured here are from our partners who compensate us. This may influence which products we write about and where and how the product appears on a page. However, this does not influence our evaluations. Our opinions are our own. Here is a list of our partners and here's how we make money.
Note: As you plan travel during the coronavirus pandemic, please check the CDC and State Department websites for current guidance and travel restrictions.
---
---
It's been over two months since travel ground to a near halt. Yet life goes on, and Americans continue to make purchases, pay bills and try to make the best possible personal finance decisions. While many credit card holders are now prioritizing cash back over travel rewards, they may be making a mistake. When more planes take to the skies again, I think we'll see a golden age of award travel.
As a refresher, airlines, hotels and credit card issuers offer points and miles to attract customers and build loyalty. Customers can redeem these rewards primarily for unsold airline seats and hotel rooms.
When the economy is good, airplanes and hotels are full, which reduces the number of excess seats or rooms that can be offered as travel rewards — and the need to attract more customers in the first place. As a result, it can be nearly impossible to redeem your points and miles for airfare to your favorite destinations, especially if you want to fly in business or first class.
When there's a crisis that decreases demand, the situation is reversed. Airlines and hotels struggling to attract travelers could offer more ways to earn points and miles, which may open up better opportunities for customers to redeem them.
What award travel capacity looks like now
We are now seeing exceptional airline award availability.
For example, here are the results of a United Airlines award fare search, looking for two business class award tickets from Denver to London Heathrow at the end of the summer. Normally, we'd expect to see little if any availability at the "Saver" mileage level of 60,000-70,000 MileagePlus miles.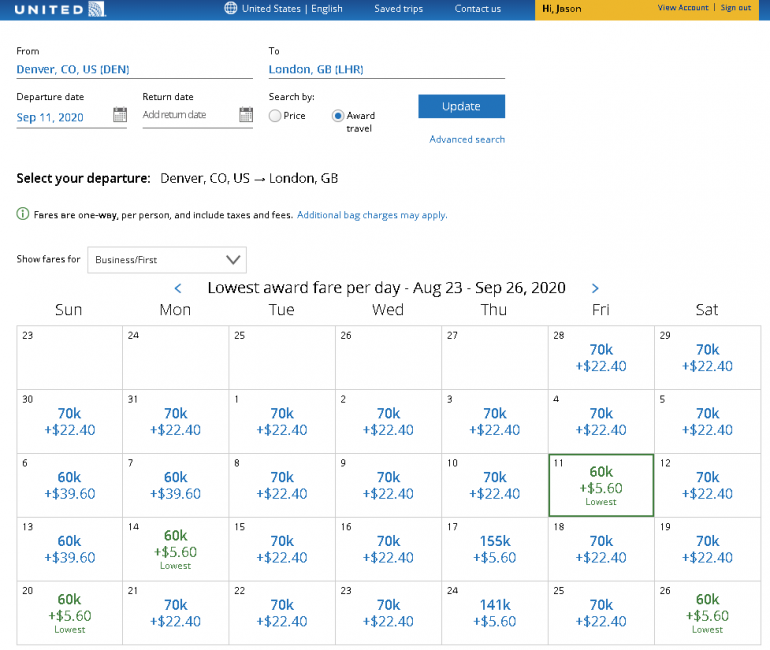 But now, Saver award flights are available every day of the month — what would normally be peak season. Plus, each day has multiple flights available at the lowest mileage levels. The situation is so extreme that it would be hard to find flights without award availability.
It's a similar story for American Airlines' business class awards on the Denver-to-London route ...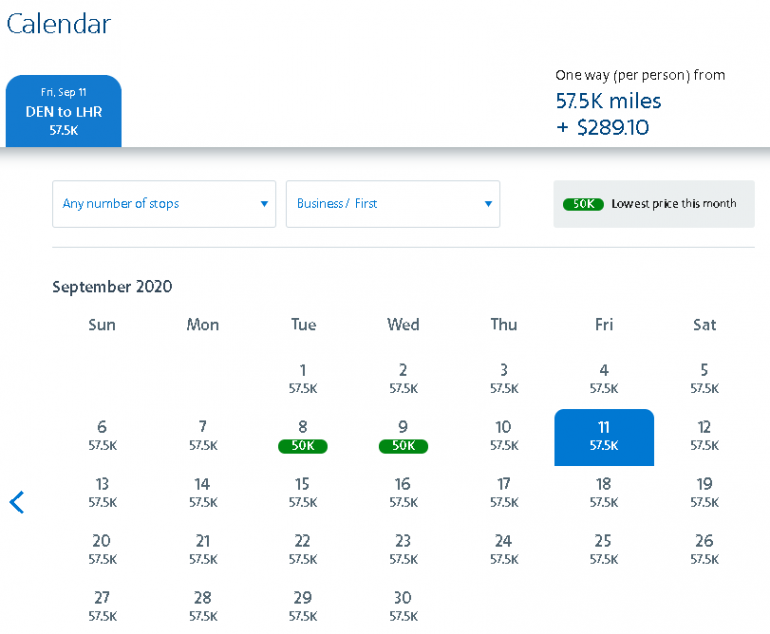 ... and for business class awards on that same route with Delta Air Lines.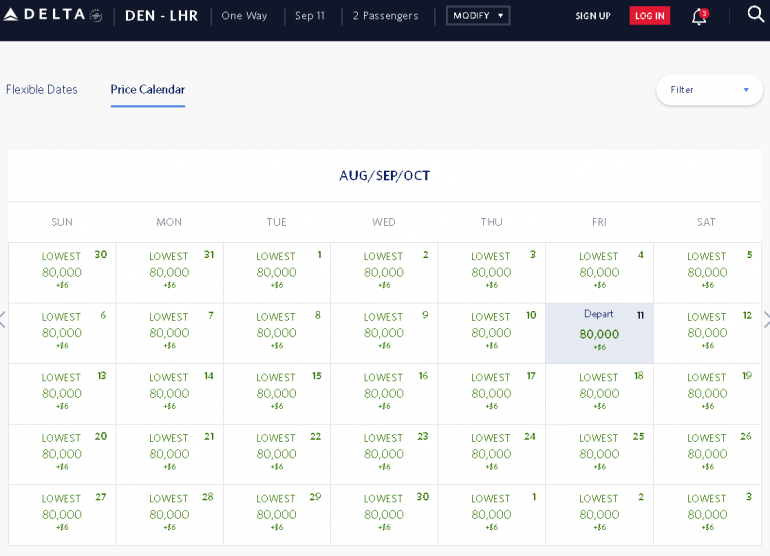 Yes, many international flights have been grounded, which has limited the seats available for any travel, award or otherwise. But most airlines expect to resume operations as soon as travel restrictions are eased, further flooding the market with capacity.
NerdWallet Guide to COVID-19
Get answers about stimulus checks, debt relief, changing travel policies and managing your finances.
Cases against a golden age of award travel
Of course, there are always other arguments to be made — but I think they still hint at greater award availability to come.
First, you may argue that of course there are plenty of available award seats now, when no one knows when it will be safe to travel again. You might ask: When travel does resume, won't all these award seats be snatched up? No one knows. But with two-thirds of the world's commercial passenger airplanes currently grounded and parked, it's unlikely those seats will be hard to find once they're back in the air.
Another possibility is that cash-starved airlines will be eager to sell seats for dollars rather than awards, so they will severely limit the award seats redeemable for a reasonable number of points. But this idea ignores the fact that unused frequent flyer miles are an accounting liability for airlines. Typically, carriers will gladly let customers redeem their miles for seats on nearly empty or half-full aircraft to wipe that liability off their balance sheets.
Finally, the best argument against the future value of travel rewards is the possibility of severely reduced prices for airline travel and hotel rooms. If you can buy a round-trip business class ticket to Europe for only $1,000, then you receive a quarter of the value from your redeemed miles compared to times when such a ticket would cost $4,000.
Record low demand and plummeting fuel prices support the idea that air travel might be extremely low-cost during the recovery period. As a result, many travelers may simply look to pay cash for travel at bargain-basement prices. But the prospect of airlines blocking middle seats to foster social distancing could mitigate these savings as fewer seats are made available.
And even if cash prices stay low, you can take advantage of these prices and travel nearly for free when you redeem credit card rewards for travel. For example, the Capital One VentureOne Rewards Credit Card allows you to redeem your miles for 1 cent each as statement credit toward travel reservations, or transfer them to airline loyalty programs. When you take the statement credit option, you can book an ultra-low fare on the card, then use miles to credit the cost back to your account.
Who should focus on earning travel rewards
I've already been asked how I've changed my credit card rewards strategy in light of the coronavirus crisis. Most people are surprised to hear that I'm not doing anything differently. As a frequent business and leisure traveler who, like nearly everyone else, is grounded for the foreseeable future, I'm confident that travel will eventually be safe once again and that award travel will be more affordable than ever. If that happens later this year, or even next year, I plan on having a nice balance of points and miles with which to take advantage of the award travel opportunities that will be available.
If you are eager to resume traveling as soon as it's safe to do so, now is the time to take the long view on travel rewards and to continue saving points and miles for your next trip (whenever it may be).
Who should focus on earning cash back
Earning travel rewards should not be a priority if you are one of the millions of Americans filing for unemployment or finding your hours and wages reduced. If you don't expect to travel for a long time, it makes little sense to earn travel rewards you won't be able to use. If money is tight, cash back from your credit cards is your best option.
Travel rewards and cash-back credit cards are best used by those who are confident that they can avoid interest charges by paying their statement balances in full every month. If you think you may need to carry a balance, then you should steer clear of credit card rewards and focus on finding a card with the lowest possible interest rate.
Any time there's a crisis or an economic downturn, you're bound to find deals on goods and services that are in low demand — and right now, demand for travel is as low as it's been in decades. If you believe that a recovery is in sight, and you are looking forward to traveling when it's safe to do so, now is the time to prepare for a golden age of award travel.
---
How to maximize your rewards
Get more smart money moves – straight to your inbox
Sign up and we'll send you Nerdy articles about the money topics that matter most to you along with other ways to help you get more from your money.