How to Handle Global Entry Name Changes
A visit to a Global Entry enrollment center is required to finalize your name change in the system.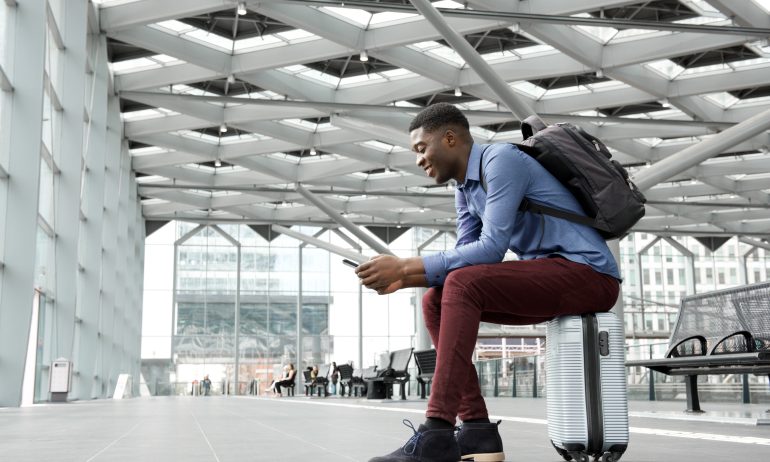 Many or all of the products featured here are from our partners who compensate us. This influences which products we write about and where and how the product appears on a page. However, this does not influence our evaluations. Our opinions are our own. Here is a list of our partners and here's how we make money.
Whether you got married, underwent a transition to match your gender identity or simply don't like your given name, you can apply for a legal name change. When it comes to travel, your legal name must match your documents, including a passport, a frequent-flyer account and a Global Entry card.
Although we're not here to help you with the former two (at least not in this article), let's discuss how to request a Global Entry name change.
Do you need an appointment to change your name with Global Entry?
Remember the lengthy waiting period for the first Global Entry application? Thankfully, you don't have to go through that again when requesting a name change.
The process is much easier because you don't have to make an appointment as you did for your enrollment interview. Simply show up to an enrollment center during business hours and bring your new passport, a legal name change document and the original Global Entry card with you for the officer to verify your identity. Feel free to call your closest enrollment center for a complete list of documents you should bring.
If you're coming back from a trip abroad and there's an enrollment center at the arrival airport, you can complete a name change as a walk-in as long as you have a conditional approval. Just make sure to have the necessary documents on you.
How to request a Global Entry name change
Because Global Entry is for low-risk travelers, it's important to make sure that your identity is up to date. If you've changed your legal name, make sure to update it in the Global Entry system before your next trip.
To update your passport information, log in to your Trusted Traveler Programs account. From there, select "Update Documents." On the next page, select "Update Passport," and you'll have the option to edit your personal information. Submit the changes for a review.
In the case of a name change, you'll have to visit a Global Entry enrollment center in person to complete the name change request.
Note that the name change request itself is free. However, if you want to receive a new Global Entry card, you'll have to pay $25 for a replacement.
Upon approval, your name change will be effective immediately, and you can utilize both Global Entry and TSA PreCheck lines with your new ID. Note that Global Entry also includes TSA PreCheck, which lets you go through a dedicated security line and save time at more than 200 U.S. airports.
How to renew Global Entry for free
Some travel cards reimburse the cost of the Global Entry enrollment ($100 for five years) in the form of a statement credit. You can use your travel card's benefit to enroll yourself, a friend or a family member.
Depending on the card, you can get a new credit available to use every four to five years. The following travel cards reimburse the cost of enrolling in Global Entry:
Cards that offer Global Entry enrollment credit
Existing Global Entry members are eligible to start the renewal process one year before the expiration date. If your renewal doesn't get processed in time, you have up to 24 months to use your benefits as long as you submit a request for a renewal before your membership expires.
Does your Known Traveler Number change when you change your name?
No. Conveniently, your Known Traveler Number stays the same when you update your passport information or request a name change, so there is no need to rush and update your frequent-flyer accounts.
Is it easy to sync my Global Entry membership with a new passport?
If you're getting a new passport because of a name change, you'll want to take a few extra steps to connect it properly with your Global Entry membership. Here are some tips.
Start the process right away. Updating your passport information can take time, so if you have a trip coming up, make sure to request a change earlier rather than later to be able to use the Global Entry kiosks.

Remember to bring the documents confirming your new name. This includes your Global Entry card, your new U.S. passport with your new name and your official legal name change document. This can be a marriage certificate, a divorce decree or a court order.

Pay the right way to save money. If a renewal requires payment, use a credit card that reimburses Global Entry fees — like one of the cards mentioned earlier — to make sure the renewal cost is essentially free to you.
Can you travel with your maiden name passport?
Yes, you can travel with your maiden name on your passport.
If you got married or divorced and changed the name on your ID but not your passport, you can still travel internationally. You can use the current passport, but you have to be careful during the booking process.
Make sure that the name on your flight overseas matches the name on your passport. It's also worth mentioning, if you collect airline miles, that the name on your frequent-flyer account must remain the same as well for you to earn rewards. Naturally, if you want to use the Global Entry perks, that name must match your passport, too.
So, if you haven't changed your name on your travel documents, you can still travel under the name printed on your passport.
If you need to request a Global Entry name change
You can fill out the new details online, but note that you still have to visit an enrollment center to solidify the name change in the Trusted Traveler Programs system. No appointment is needed, but make sure to grab the necessary documents to verify that you are who you say you are. Although inconvenient, the process shouldn't take long.
---
How to maximize your rewards
Get more smart money moves – straight to your inbox
Sign up and we'll send you Nerdy articles about the money topics that matter most to you along with other ways to help you get more from your money.