5 Tips for Planning a Bachelor/ette Trip on a Budget
Flexibility and clear communication are key to planning an affordable group getaway.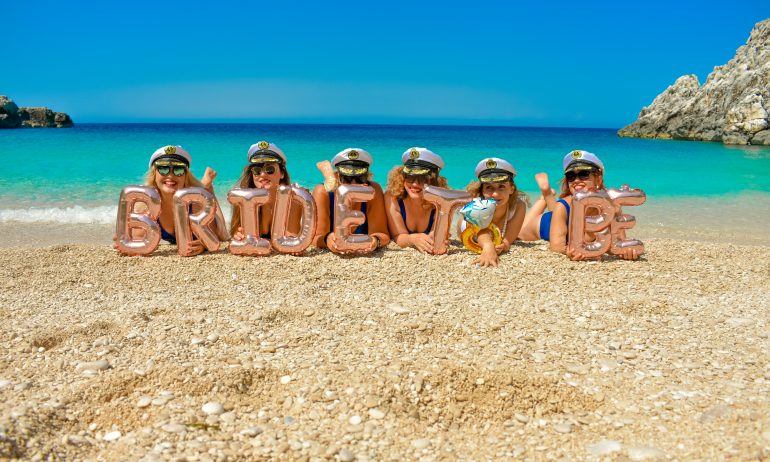 Many or all of the products featured here are from our partners who compensate us. This may influence which products we write about and where and how the product appears on a page. However, this does not influence our evaluations. Our opinions are our own. Here is a list of our partners and here's how we make money.
Bachelor and bachelorette trips can certainly be memorable. But they should be memorable as a celebratory reunion with your grown-up, lifelong friends — not because a fight broke out at the dinner table over splitting the bill.
Fortunately, you can have the most epic bachelor/ette party ever — even if some (or all) attendees are on a tight budget. Here are five tips to help create a party on a budget.
1. Set expectations around costs — and how you'll split them
The oldest piece of relationship advice in the book applies to bachelor/ette parties too: Communication is key.
Decide who will handle transactions
As with any group trip, it can sometimes make sense for one person to pay, and later be reimbursed by each guest. That person would be a sort of group trip CFO, or chief financial officer. It's often beneficial to volunteer to be CFO, as you have the most control over financial decisions. Plus, you get to collect all of the credit card points if you're the one plunking down your card. The risk: You could be on the hook for tracking people down to pay, which might be especially annoying if they aren't personal friends of yours.
On other trips, you might opt to take turns on expenses. Just be careful that someone doesn't feel slighted because they paid for a more expensive meal. If you go the route where people save their receipts and then you reimburse each other after the fact, it can still make sense to appoint a "group CFO" to keep all the accounting in one place and make sure everyone gets repaid correctly.
Apps that allow for electronic payments between people, like Venmo or Zelle, can come in really handy for these types of trips. They allow you to quickly get payments from others.
Find out what everyone is willing to pay
Before booking, someone (whether it's the CFO, the person getting married or you) should initiate a conversation about people's budgets, and how you're splitting bills.
Perhaps everyone books their own transportation, but you evenly split costs like food, entertainment and lodging. Maybe you're staying at someone's house within driving distance so there aren't any hotel or flight costs, but you pay for your own meals and entertainment.
There's no right answer, as every group is different. What's critical is knowing how you'll handle such situations ahead of time.
Here are some other common awkward money situations to prepare for:
If someone arrives late, leaves early, or doesn't participate in all of the activities (maybe they skipped a dinner or show), will they still split expenses equally?

If someone has a dietary restriction that might make food cost less (or more) such as no alcohol or meat, should they owe a different amount?

Are matching outfits and accessories mandatory, and will each individual attendee fund their own set?

What if people disagree on purchases, like booking a limo versus using the free hotel shuttle?
Sometimes when people disagree on activities or purchases, the easiest solution is simply splitting up. Some can take the limo, and some can do the free hotel shuttle. It can be tempting to feel like the whole wedding squad needs to stick together, but your grade school BFFs might be on a different budget than your work friends.
Luckily, nearly any destination can cater well to splitting up. Some members of the group might purchase pricey theme park tickets for a Walt Disney World trip, while others might whirl around on the Monorail, window shop at Disney Springs and watch fireworks from Disney's Polynesian Village Resort — all of which can be done for free. Likewise, on a ski trip, some might buy lift tickets while others build snowmen and sip drinks at the lodge. On a Vegas trip, some might purchase show tickets while others choose to roam the strip. You can still meet up for meals or other affordable activities.
3. Decide where (and when) you're partying
If flying, choose a city with plentiful direct, nonstop flights. A smaller city might have cheap lodging and food, but could be tough to get to.
Big cities might seem more expensive than smaller ones, but they can help keep costs down with better public transportation, meaning no need to rely on rental cars.
4. Find group lodging, which might be a hotel or vacation rental
Does someone already have a vacation home they can "donate"? Does it make sense to host the getaway at someone's house?
If not, you'll likely turn to hotels or vacation rentals, which entail about an equal number of pros and cons. Hotels can be predictable and streamlined, with a clear check-in desk and way to request housekeeping. There will be no fighting about who gets the master suite.
Vacation rentals can often shape up to be a better value for larger groups, especially if you can cook meals or open wine bottles on the porch rather than pay for individual glasses at the hotel bar. But they're not always cheaper, they tend to have less flexible cancellation policies, and sometimes check-in/checkout can be complicated. Also, some listings have "no party" rules.
Before putting money down, ensure everyone is on the same page about those money topics — and a couple others.
First, decide if all attendees will cover the bride or groom's costs. If so, understand how that money is being split. (The group CFO might be well-suited to handle this.)
Second, consider what happens if someone backs out after something was booked. You don't want to be in a situation where you prepaid for two rental cars because there were eight guests initially, but now you're down to five guests (for which a single sedan would be sufficient).
The agreement can be as (in)formal as you want. There's no need to involve a lawyer, but you do want to be able to hold people accountable if they cancel last-minute and don't want to cover non-refundable expenses made on their behalf. If it's feasible, consider having people pay upfront for non-refundable costs.
Hosting a wedding is already expensive, and participating in one as a bridesmaid or groomsman typically isn't cheap either. Throw in a bachelor/ette weekend, and the price only goes up.
---
How to maximize your rewards
Get more smart money moves – straight to your inbox
Sign up and we'll send you Nerdy articles about the money topics that matter most to you along with other ways to help you get more from your money.