Travel Diaries: How I Took a Luxury Vacay to Arizona on Points
This Nerd used points and perks to cover travel expenses on her glamorous getaway in Arizona.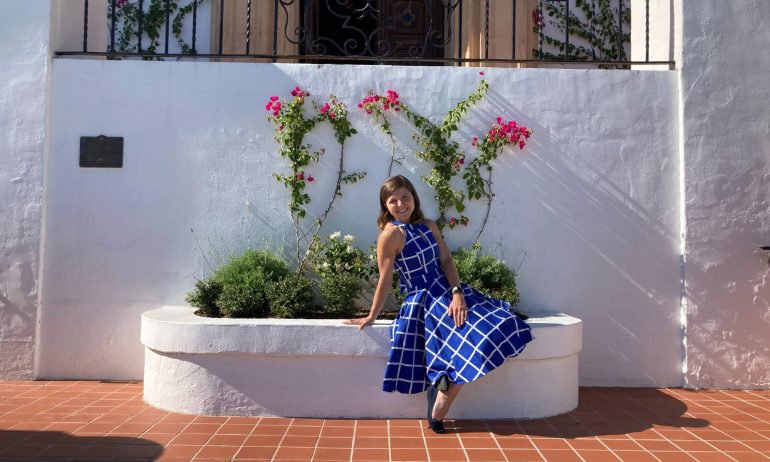 Many or all of the products featured here are from our partners who compensate us. This influences which products we write about and where and how the product appears on a page. However, this does not influence our evaluations. Our opinions are our own. Here is a list of our partners and here's how we make money.
Hotel free night certificates can be one of the best perks imaginable on a hotel credit card. Depending on the hotel you pick and the night you stay, their value alone can often far outweigh the card's annual fee.
I had three of these golden tickets in my hands — all expiring at the end of 2021.
With 2021 coming to a close and my certificates expiring, I planned to use them on a three-night getaway with my boyfriend to Phoenix. It would be a dream weekend filled with hiking in the desert, lounging by the pool, gallery hopping in Scottsdale and treating ourselves to fancy restaurants.
All the hotels would be paid for, and the flights would be basically half price thanks to my Southwest Companion Pass. But if the trip sounded too good to be true, that's because it was. Our trip coincided with the week of Southwest's massive $75 million meltdown, where hundreds of flights were canceled and passengers were left with no flights to rebook.
Initially, my three-night trip — including all meals, flights and on-the-ground transportation — should have cost my boyfriend and me a combined $400. Instead, we booked last-minute flights on American Airlines, ballooning our initial $400 budget to $790. And with that, our Saturday flight became a Sunday flight, and our three-night weekend became two.
Still, our three-day luxury weekend would have come out to more than $2,400 if paid for in cash. I only paid $790, so it's still a win. Here's how I did it.
My original three-night plan called for one night at the Hyatt Place Phoenix/Downtown, followed by two nights at the Arizona Biltmore. But because our initial Saturday night flight got canceled, we only ended up spending two nights on vacation, both at the Arizona Biltmore.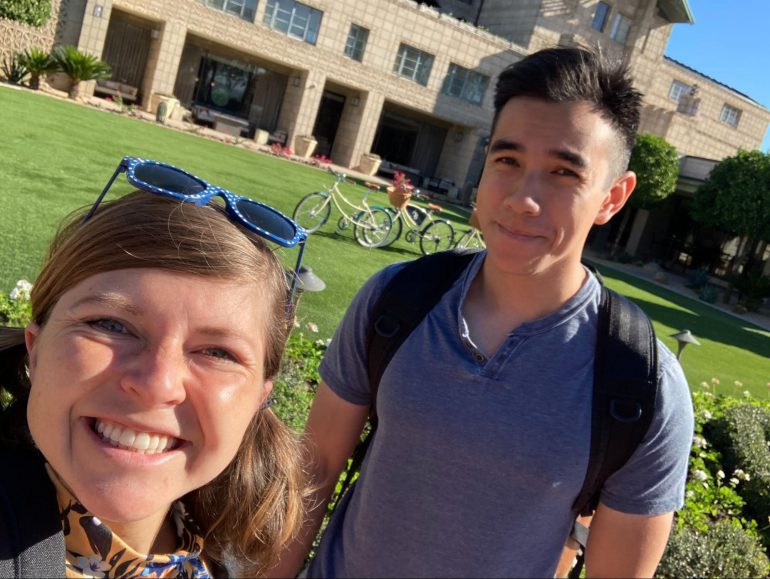 An opulent getaway weekend at the Arizona Biltmore would have run $1,476 for the two nights I stayed. After all, the money to maintain the sprawling bright green lawn amidst a desert, those seven sparkling pools (including three waterslides), the Frank Lloyd Wright-inspired architecture and the service (you can't open your own car door without assistance from the valet) has to come from somewhere.
That somewhere was my Hilton Honors American Express Aspire Card. This card offers one weekend night award every year after renewal, which typically expires within one year from the date of issuance. Terms apply. Because of the pandemic, Hilton allowed me to roll over last year's reward, so I had two free nights with Hilton. These can be used at nearly any Hilton hotel. (There are just a few exclusions, such as all-inclusive hotels.)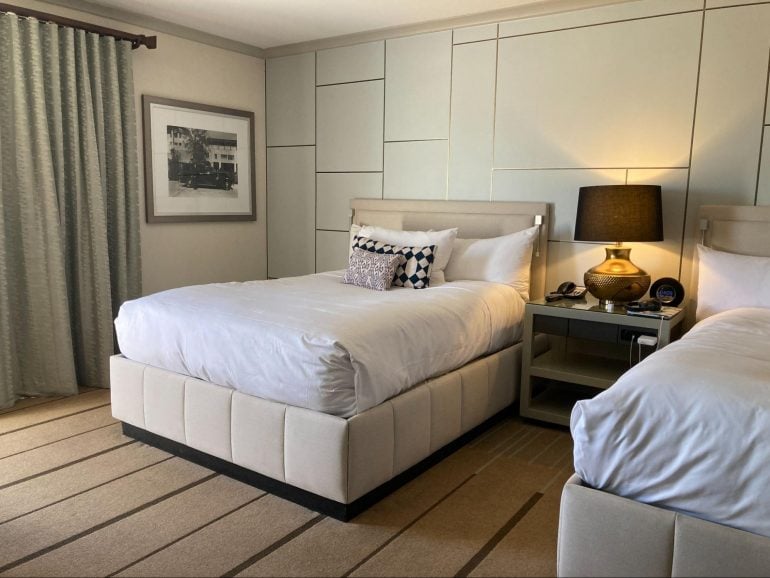 While I'm generally not much for luxury hotels, it's tough to pass up a free two-night stay at the opulent Arizona Biltmore. And given the array of things to do (multiple pools and waterslides, free cruiser bikes and a decked-out gym), plus exceptional service throughout, I see how the Arizona Biltmore can command that type of rate.
Airfare was supposed to be cheap, but ended up being the biggest chunk of my weekend travel budget since we had to rebook at the last minute.
Initially, we'd planned to fly round-trip on Southwest, using 11,996 Southwest Rapid Rewards points, which NerdWallet values at about $170. I'd earned these points through a combination of spending and the welcome offer on my Southwest® Rapid Rewards® Performance Business Credit Card.
My boyfriend's flight only cost $11.20 because I hold a Southwest Companion Pass, which is essentially a buy-one-get-one deal where you only pay taxes and fees on the second ticket. It's earned once you acquire 125,000 qualifying Southwest Rapid Rewards points (Editor's note: you now need to earn 135,000 points to qualify for the Companion Pass) in one calendar year. I largely earned those through the card's welcome offer: Earn 80,000 points after you spend $5,000 on purchases in the first 3 months. Spending on the card got me the rest of the way there.
About four hours before takeoff, Southwest notified me that our flight from San Francisco to Phoenix was canceled. None of Southwest's other flight times worked for us, so I canceled the ticket and got a refund for both of our outbound flights.
Not wanting to give up on a rare weekend off from work, I opted to book a last-minute American Airlines flight, paid for in cash. Our two one-way tickets cost a combined $375.
Luckily, the Southwest chaos was resolved by the time we flew home, so I retained our original Southwest return flights, paid for with 5,998 Southwest points (worth about $85) and $5.60 in taxes and fees for the Companion Pass ticket.
Cost: $375.60 in cash, plus $83.98 worth of Southwest Rapid Rewards points
In the spirit of a luxury weekend, we opted to splurge on one ultra-fancy meal each day.
Brunch at the Wrigley Mansion
This mansion, perched atop a hill, was built in 1932 by chewing gum magnate William Wrigley Jr. It serves up views of downtown on one side and mountains on the other. Visitors pay $17 for a one-hour tour; the landmark is among TripAdvisor's 10 highest-rated tourist attractions in Phoenix.
Tours are typically only offered Wednesday through Saturday, but we were arriving on Sunday. So as an excuse to see the mansion, we booked an all-you-can-eat, $60-per-person brunch at the onsite restaurant, Geordie's.
You're free to walk about the grounds during brunch, so we figured a $60 brunch is equal to a $43 brunch plus a $17 tour. And since brunch is effectively breakfast and lunch in one, that's just $21.50 per meal. Go with my accounting gymnastics here, okay?!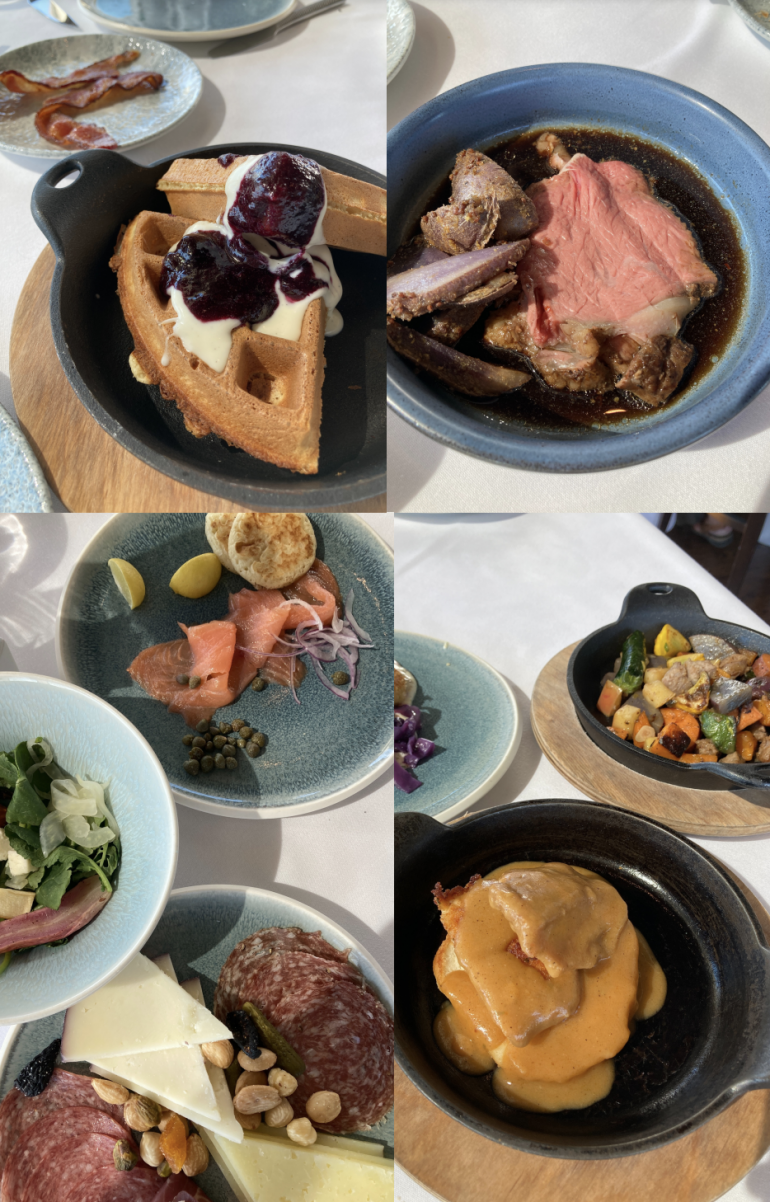 The whole meal for two came out to just over $170 after tax and tip, and it was worth it. Though the menu varies each weekend, it typically includes extravagant options like prime rib, served individually plated. And you can request as many plates as you'd like.
Dinner at Renata's Hearth
Our second fancy meal was at the Arizona Biltmore's signature restaurant, where you can dine outdoors under trees illuminated by hanging lanterns. The smoky flavor of its hearth is infused into every dish, all the way down to the paprika-dusted tortilla chips.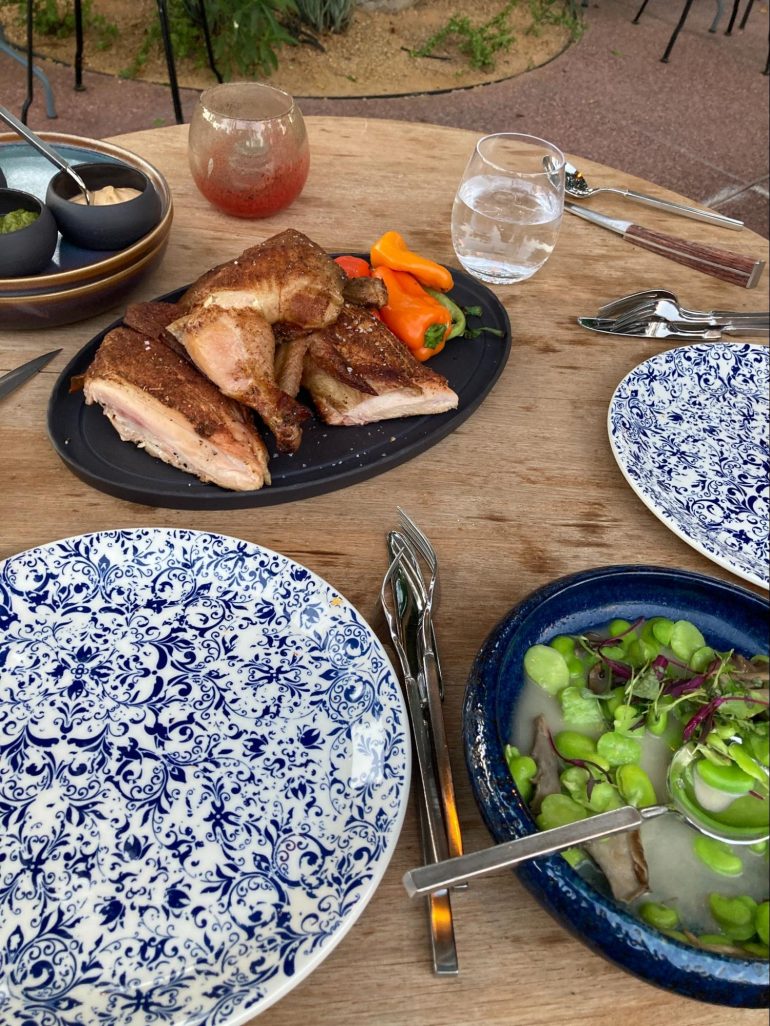 The $55 mesquite-smoked chicken is enough to feed at least three, and is served with salsa and tortillas to make DIY tacos. We also ordered a $10 side of fava beans.
The meal turned out to be way too much food (we took leftovers), and would have cost $85.59. But it only cost me $35.59 because of the daily food and beverage credit I receive from my Hilton Diamond elite status. In the wake of COVID-19, Hilton dumped its free breakfast benefit, replacing it with a daily credit that you can use for on-property food any time of day.
I'll take $50 off my fancy dinner over a generic breakfast buffet anytime.
With two splurge meals, we spent modestly on the rest. That $50 daily food and beverage credit from my Hilton elite status was enough to cover breakfast the following morning at the Arizona Biltmore.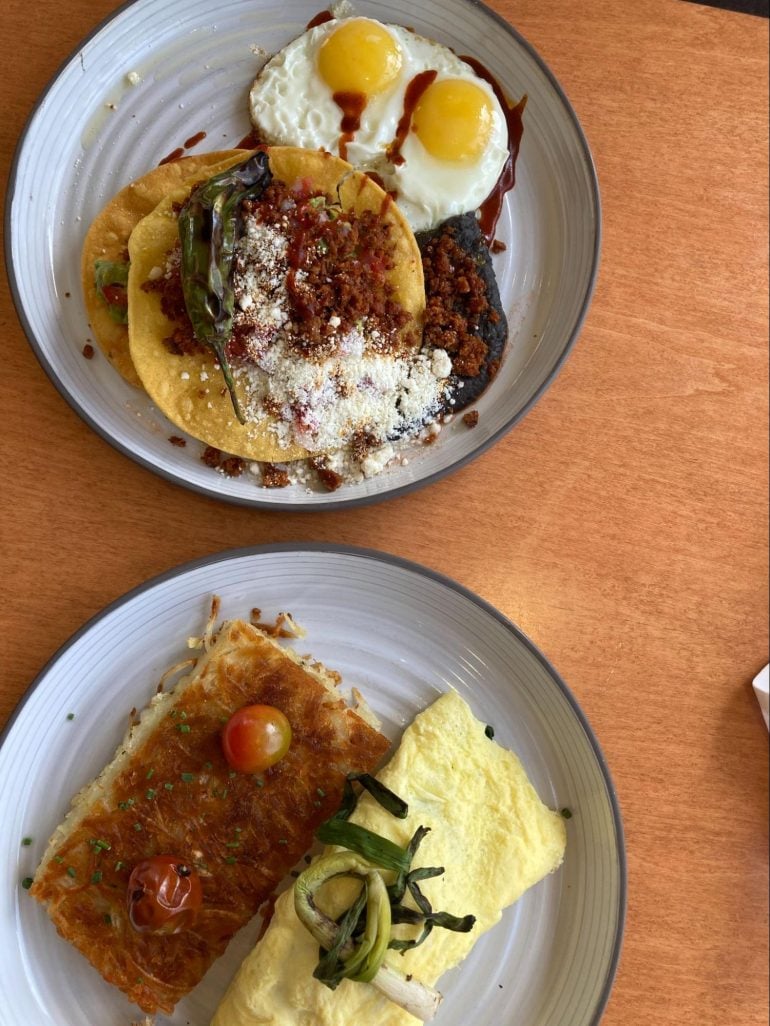 With The Platinum Card® from American Express, I got access to the Centurion Lounge at Phoenix Sky Harbor International Airport. The lounge serves buffet-style meals, so I loaded up on mac and cheese, salmon, chicken salad and cookies before my return flight.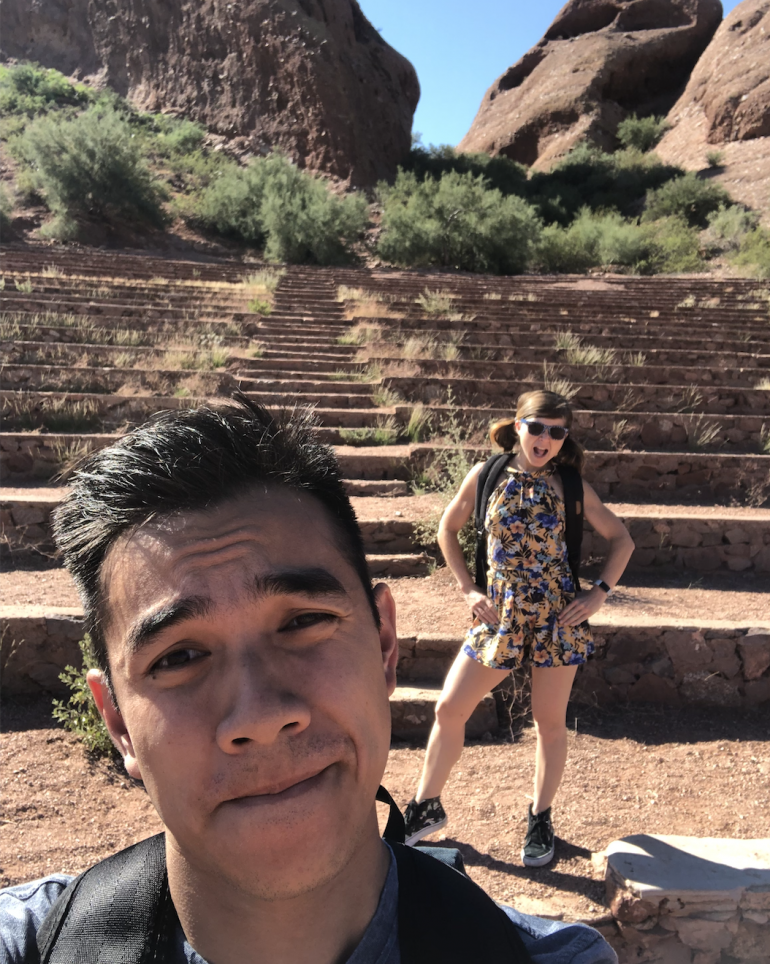 Given that Wrigley Mansion is right next to the Arizona Biltmore, we were able to do that part of our trip on foot. As for the rest, we opted to rely on rideshares over a rental car to reduce hassle and costs. (Self-parking was $23 per night at our hotel!)
We spent much of our time hiking to the top of the famous Piestewa Peak Summit Trail, wandering through Old Town Scottsdale and moseying through Papago Park. For those excursions, we relied on rideshares like Lyft and Uber.
I estimate that the $150 I spent is roughly what a rental car would have cost, but I saved the $46 on parking, didn't have to wait at a rental car counter, and saved on gas.
How much we spent: A breakdown
In total, we spent just under $800 in combined cash and points on a trip that otherwise would have cost nearly $2,400. Had we not booked the last-minute American Airlines flight and gotten to fly on our original Southwest flight, it would have been an even cheaper $400. I did also fork over about $85 in airline miles.
Here's how that broke down by expense category, in total for two people:
When you compare the trip's full value with what I paid, I saved almost 70% by being savvy with credit card rewards. The major driver of my savings was the Hilton free night certificates.
My frugal parents are baffled as to why I pay annual fees for my credit cards, and this trip is precisely why. This type of grandiose weekend is never something I'd pay for out of pocket; after all, I did pick up most of my frugal parents' habits.
But treating yourself feels nice — and treating yourself to a $1,500 two-night hotel stay on points feels nicer. Plus, I've gotten additional benefits from these same travel cards on other trips, like a complimentary fifth night on a recent Disney World vacation, or the Christmas gifts I paid for with the annual $100 Saks Fifth Avenue credits on the The Platinum Card® from American Express. Enrollment required. Terms apply.
All information about the
Hilton Honors American Express Aspire Card
has been collected independently by NerdWallet. The
Hilton Honors American Express Aspire Card
is no longer available through NerdWallet.
---
How to maximize your rewards
Get more smart money moves – straight to your inbox
Sign up and we'll send you Nerdy articles about the money topics that matter most to you along with other ways to help you get more from your money.