Travel Diaries: How I Paid for a $2,000+ Sports Meet Almost Entirely on Points
Find out how a Nerd used credit card points and travel perks to make an obligatory sports meet more affordable.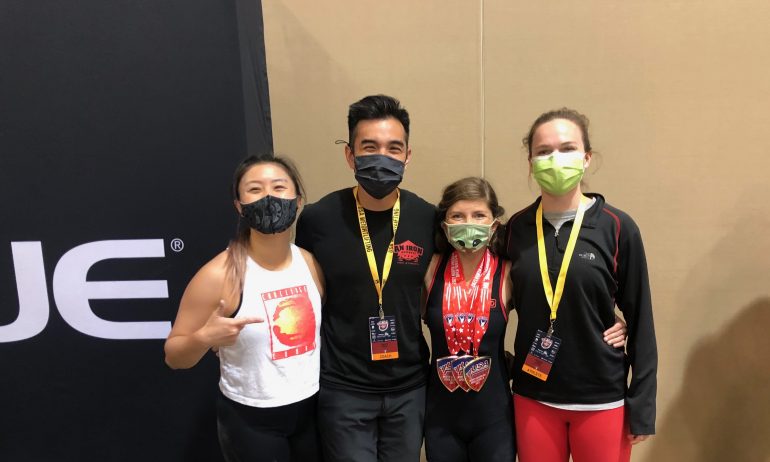 Many or all of the products featured here are from our partners who compensate us. This may influence which products we write about and where and how the product appears on a page. However, this does not influence our evaluations. Our opinions are our own. Here is a list of our partners and here's how we make money.
Extracurriculars like sports, dance and marching band can be expensive enough given the uniforms, team fees and equipment. Throw in the often-exorbitant cost of traveling to meets and performances, and it's easy to feel like competing is a massive foul on your bank account.
I certainly feel that way. As a competitive athlete in two different barbell sports — weightlifting and powerlifting — I could have easily spent more than $2,100 on a five-day, five-night trip for two to Albuquerque, New Mexico for the USA Weightlifting North American Open Series II.
Instead, I spent only $400 cash and redeemed roughly $570 worth of Southwest Rapid Rewards and World of Hyatt points (using NerdWallet's valuations). That total cost includes my competition entrance fees (which don't take credit card points) and the total cost of our combined food, entertainment, rideshares, hotels and airfare.
Staying extra days to coach athletes as a volunteer could be brutal — especially since the cash rate for our stay at the Hyatt Regency Albuquerque would otherwise have cost about $1,200.
The Hyatt Regency Albuquerque is a Category 1 property, the lowest-priced tier for Hyatt points bookings. A stay costs 5,000 points per night during the standard season. So I converted 25,000 Ultimate Rewards® points to the World of Hyatt program to cover our five-night stay.
So how much money are 25,000 Chase Ultimate Rewards® points worth? It depends on the accountant you talk to. Those 25,000 points could be worth:
A meager $250 when redeemed for cash.

$312.50 when used to book travel directly through the Chase Ultimate Rewards® portal, given the 1.25x multiplier that Chase offers to Chase Sapphire Preferred® Card holders.
For the purposes of this trip, I'll say that I parted with $312.50 worth of points — the amount it takes to book the stay through Chase Ultimate Rewards®. (If you book directly through Hyatt, points value can vary from one location to another.)
But no matter how you slice it, I parted with way fewer points than the room's cash value.
Cost: $0 cash plus $312.50 in Chase Ultimate Rewards® points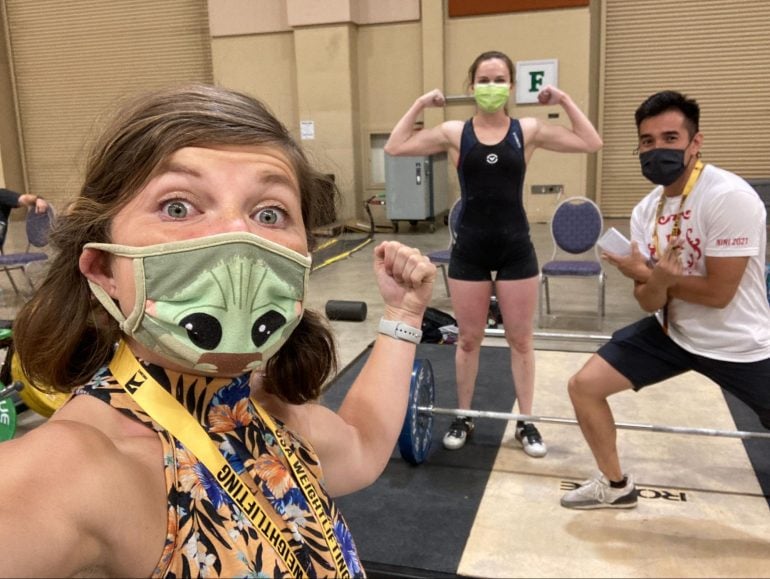 Our Southwest flights would have each cost $250 roundtrip, but my boyfriend's was practically free because of my Southwest Companion Pass. This pass is essentially a buy-one-get-one airfare deal where you only pay taxes and fees ($11.20 round-trip in this case) on the second ticket. One way to get one of these coveted passes is by earning 125,000 qualifying Southwest Rapid Rewards points in one calendar year.
The welcome offer on my Southwest® Rapid Rewards® Performance Business Credit Card got me most of the way to owning a Companion Pass. Additional spending on the card got me the rest of the way. Here is the current welcome offer: Earn 80,000 points after you spend $5,000 on purchases in the first 3 months.
I used the Rapid Rewards points I'd racked up to cover my own portion of the airfare, which amounted to 18,299 points. NerdWallet values those Rapid Rewards points at roughly $250.
Cost: $11.20 plus $256.19 worth of Southwest Rapid Rewards points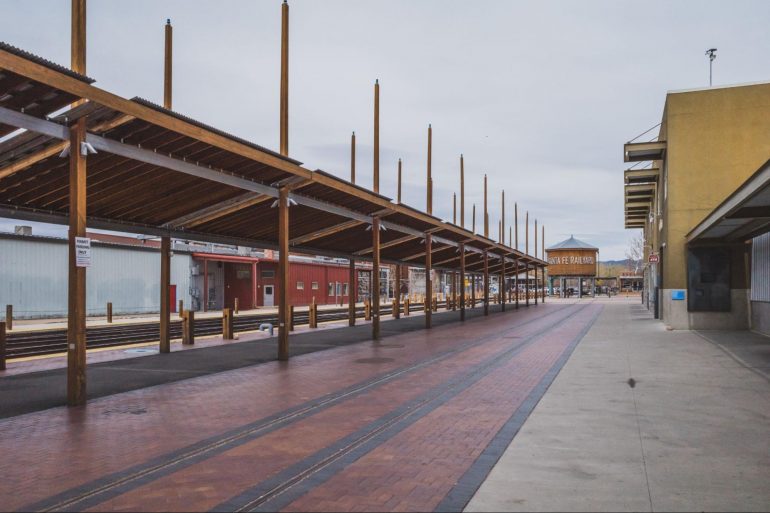 Ride shares: We skipped the rental car and relied on ride shares, given that our hotel was a block from the Albuquerque Convention Center, where I'd be spending most of my time for the weightlifting meet. Plus, parking at our hotel was a hefty $18 per night.
Ride shares were surprisingly cheap, and we used them for the short 4-mile trip between downtown and the airport, as well as to take short trips around town.
The trade-off: The rideshare supply was far too low given the demand, and we often had long waits to get a driver to pick us up — more than 30 minutes on some occasions. I was never crunched for time on this trip, but if I were, then having a rental car would likely have been far more reliable.
Train: The best, most reliable and cheapest form of transportation for this trip was the New Mexico Rail Runner Express train, which we took for a daytrip to Santa Fe. The ride was roughly 1.5 hours and cost just $9 per person round trip.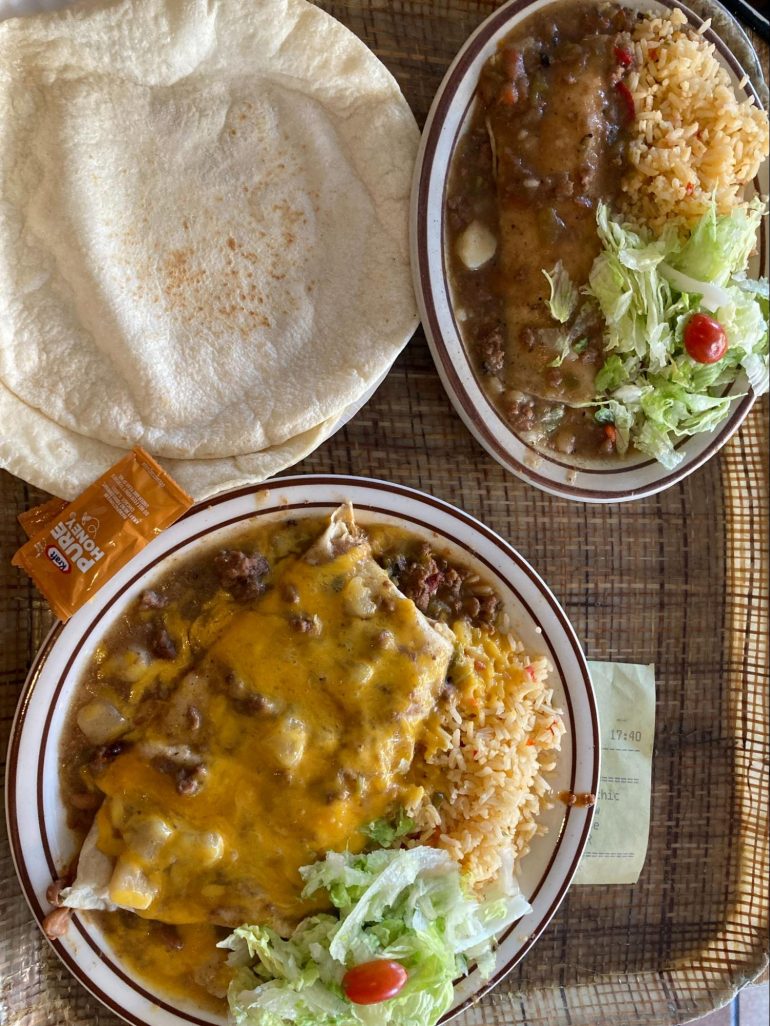 Here are my best dining finds and money-saving tips for any trip.
Pack food from home, or visit a local grocery store: Weightlifting is one of those sports where many competitive athletes cut weight, so I packed protein bars and unsalted nuts from home for the first couple days ahead of my competition. I also bought perishable items, like yogurt, at a grocery store.
While most travelers aren't trying to fit into a weight class mid-trip, it's not a bad idea to plan ahead. Either pack snacks from home or stop for groceries; you can then avoid paying the up-charge for an overpriced yogurt parfait in the hotel lobby cafe.
Scout out cheap eats: Every city has them. We headed toward the University of New Mexico to explore the area. There, we ate at Frontier for New Mexican-meets-diner food. Located right across from a college campus, prices were unsurprisingly low (but portions were huge).
Food halls are great for groups: Group dinners can quickly get expensive. The Sawmill Market, which was a massive food hall with long picnic neighbors, proved ideal for team dinners so everyone could order their own food but sit together.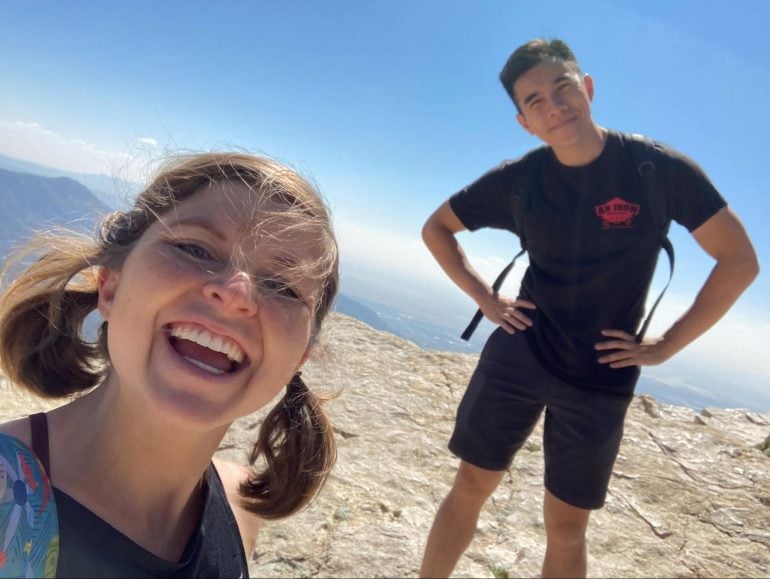 Competition entry fee: USA Weightlifting doesn't accept credit card points. Cash-back credit cards can come in clutch to cover expenses like this, but I opted to just pay the $125 meet fee in cash.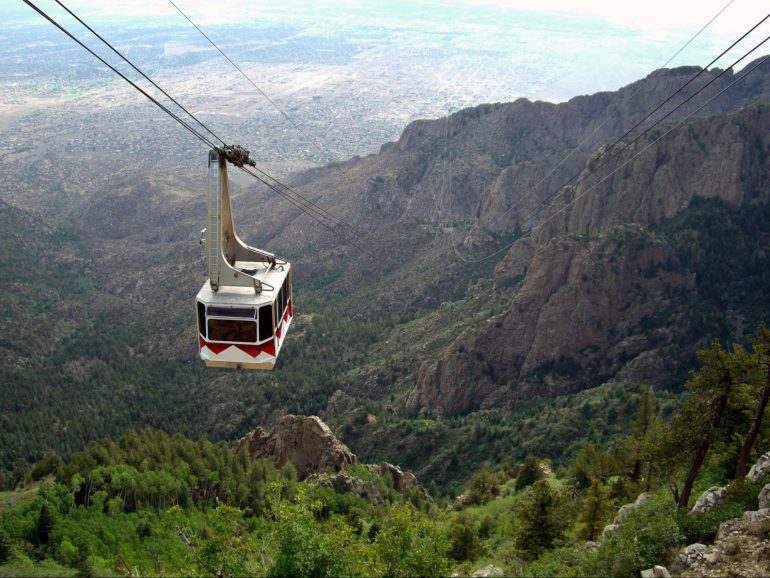 Entertainment: Most of my time was spent coaching or lifting, so I didn't spend much money on other entertainment beyond the $125 meet entrance fee.
My boyfriend and I took in stellar views via the Sandia Peak Tramway during a free afternoon, which was well worth it. I could have hiked up to the top and paid just $18 for the one-way fare down, but most weightlifters famously avoid cardio. Alas, these two weightlifters spent about $65 combined on round-trip fares.
We had another entirely free day where we took that day trip to Santa Fe. Most of the art galleries are free to enter. Couple that with window shopping for artisan goods, exploring the farmers market and touring the Cathedral Basilica of St. Francis of Assisi, and there was more than enough to fill our day without paying a dime (beyond food).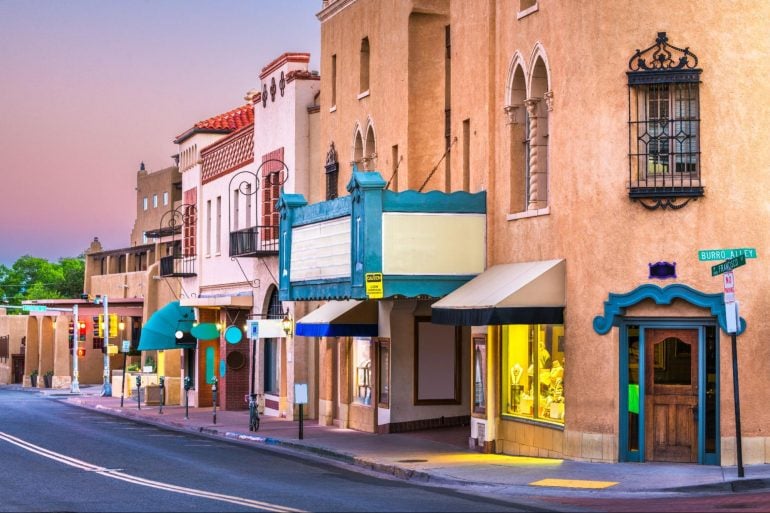 Southwest® Rapid Rewards® Performance Business Credit Card: $199 annual fee.

Chase Sapphire Preferred® Card: $95 annual fee.
How much we spent: A breakdown
In total, we spent just under $1,000 in combined cash and points on a trip that otherwise would have cost over $2,000. Here's how that broke down by expense category, in total for two people.
Thanks to points, I saved about 55% off the actual trip value, thanks in large part to the relatively few points required to fund my hotel room versus the cash fare, as well as the Southwest Companion Pass, which took about half off the cost of our airfare.
How we calculated expenses
Even though we only spent $400 in cash, it's not fair to say that's all the trip cost.
After all, points and miles have value too, as every point spent on this trip is a point that could have been spent somewhere else. I did part with points that NerdWallet deems worth about $570 in value.
Expenses we included or excluded: All of the costs cited here account for any time we plunked down money during the trip, or for costs we spent ahead of time for this trip. For example, we included the meet entrance fee in our costs, but we didn't calculate the costs of other items you need to pay for to enter a meet (like the singlet, which you're required to wear), since I'd use that for other meets, too.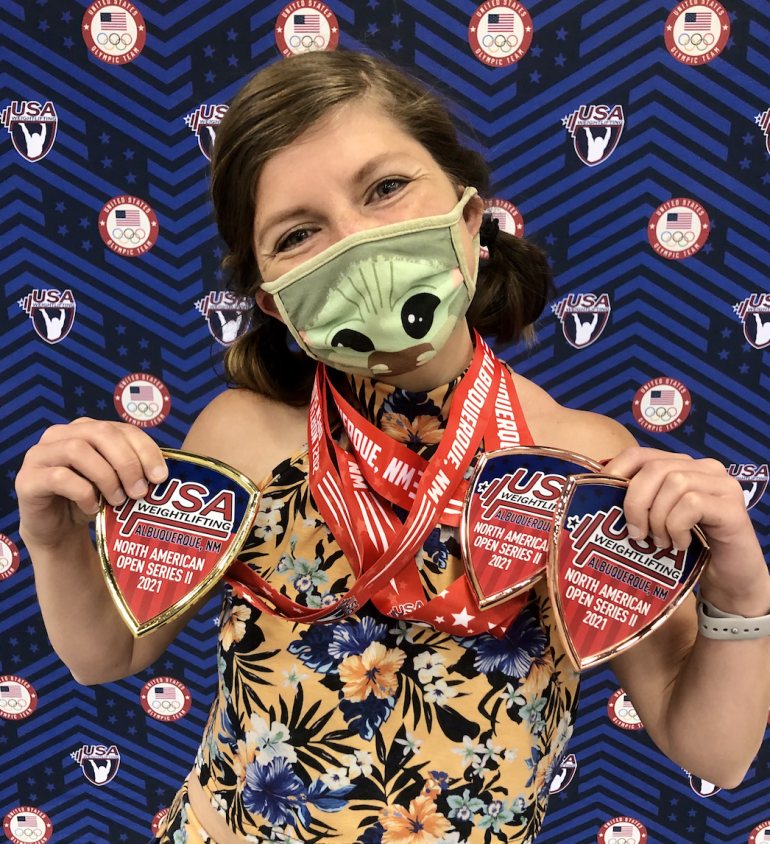 Traveling to events like meets, band trips and weddings brings joy, as it unites you with friends and family for the purpose of doing the things you love. But it also brings the pain of paying for a trip that's probably not anywhere close to being on your bucket list.
It can be a lot less painful when you use credit card rewards to cover the cost. And even better, the value of points you fork over can still amount to less than their cash value. Had I funded my trip entirely in cash, it would have cost over $2,100. Instead, it "cost" me just over $980 in combined cash and points value. ($420 was actual cash and $570 was the approximate points value.)
These savings far outweighed the annual fees I pay to hold the cards that made it happen, and they made a trip I wasn't looking forward to paying for much more manageable. I ended up placing third overall at the North American Open Series II. But if this is a budget competition, I feel like I won gold.
---
How to maximize your rewards
Get more smart money moves – straight to your inbox
Sign up and we'll send you Nerdy articles about the money topics that matter most to you along with other ways to help you get more from your money.