5 Travel Tips From a Historic Female Globe-Trotter
Nellie Bly's book about her 72-day trip around the world, published in 1890, offers some modern-day travel advice.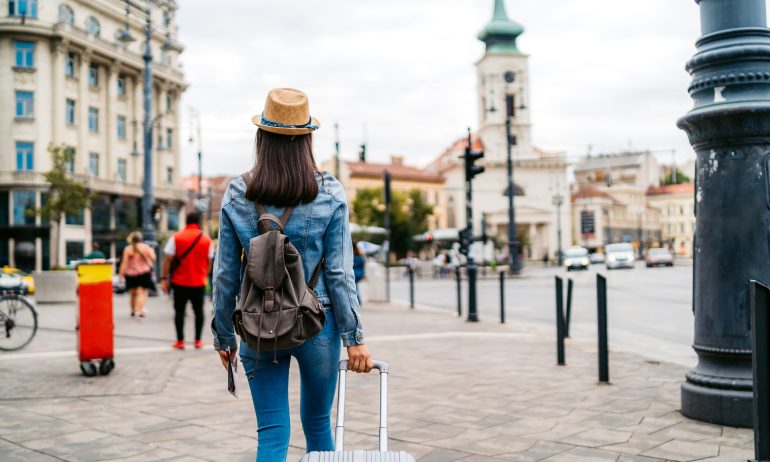 Many or all of the products featured here are from our partners who compensate us. This may influence which products we write about and where and how the product appears on a page. However, this does not influence our evaluations. Our opinions are our own. Here is a list of our partners and here's how we make money.
If Nellie Bly were alive today, she would be an influencer. This 19th-century woman was a journalist famous for writing about her stunts — one of which was a record-breaking trip around the globe from 1889 to 1890. She started from Hoboken, New Jersey, and traveled mainly by ship and train, stopping in the United Kingdom, France, Egypt, present-day Sri Lanka, China and Japan.
Even though her trip happened over a hundred years ago and few people travel by steamship anymore, her account, "Around the World in 72 Days," still offers some sound advice for intrepid travelers today.
Here are the major takeaways from her travelogue for the modern adventure-seeker.
1. There's no perfect time for a trip, so go anyway
Nellie Bly's epic journey wasn't a lifelong dream that she spent years meticulously planning. It was practically a spur-of-the-moment trip — the idea came to her because she needed a vacation (she hadn't taken a day off in three years) and she needed something to write about.
Despite obstacles, including suffering from headaches and her editor's desire for a man to go instead, Bly went ahead with her trip anyway. By the time she got the green light to go, she had just two days to prepare. Not to mention, Bly sought to travel by herself at a time when it was uncommon for women to do so. Many people thought it would be impossible to complete the trip within the 75-day time frame she'd planned out.
Don't let timing be the factor that holds you back from taking the trip of your dreams. Instead, get creative. For instance, if you're worried about having enough time to save money for your trip, consider whether the sign-up bonus from a travel credit card might help you book flights or accommodations on points.
Bly was committed to taking only one bag, and it paid off. It saved her from the hassle of keeping track of multiple pieces of luggage and helped her avoid buying too many souvenirs — since she didn't have room to pack them. (Although she did buy a pet monkey along the way. The original emotional support animal, perhaps?)
Bly even expressed some regret about her single bag, writing that she'd still taken too much and could've bought almost everything she needed at the ports along the journey.
That's good advice to keep in mind when packing, especially if you're flying in basic economy, which may limit how many bags you're allowed. Always prioritize packing items that you can't get at your destination.
3. Keep layovers to a minimum
Bly had an ambitious goal to complete her trip, so she didn't like to waste hours or days waiting for the next train or ship. It wasn't perfect, and she sometimes rushed to make her connections, but the hustle was worth it. Not only did she complete her trip ahead of schedule, but she was able to spend more time in places she wanted to explore more thoroughly.
If you're aiming to book cheap flights, take a closer look at your options. You might be tempted to choose the least expensive ticket, which also requires you to change planes in two different airports and crisscross the country. Consider avoiding these types of itineraries and opting for the more expensive flight that'll get you there in less time. This way, you'll maximize the time spent at your destination, rather than in transit.
4. Investigate the amenities
Bly's sense of curiosity made her a good traveler. There's an anecdote in her book about traveling by train in the U.K., when she noticed an iron bar on the floor of her compartment. It turned out to be a foot warmer.
You might be pleasantly surprised if you have a similar sense of wonder about what amenities are available to you. At a hotel, familiarize yourself with the features in your room and in shared spaces. You never know when it'll be helpful to know how the thermostat works or what time to head to the hotel lounge for free food. There may even be some quirky amenities you wouldn't expect.
5. Take meaningful detours
On the trip, Bly was invited to visit Jules Verne, author of the book "Around the World in 80 Days," which served as the fictional inspiration for her journey. Visiting his home in France was a detour from her route and got her slightly off schedule, but as she put it, "I felt that if I had gone around the world for that pleasure, I should not have considered the price too high."
Don't make your itinerary so rigid that you can't jump on last-minute adventures and excursions. Thankfully, many airlines have done away with change fees in the past year, so you have more flexibility to embrace meaningful detours. If it's anything like Bly's unanticipated meeting, your detour might be the most talked-about part of the whole trip.
Some aspects of traveling, like the stress of making a connection and the inevitability of overpacking, haven't changed since the late 1800s. Take a page from the book of Nellie Bly's historic journey and maximize your time and money to build a trip of epic proportions.
---
How to maximize your rewards
Get more smart money moves – straight to your inbox
Sign up and we'll send you Nerdy articles about the money topics that matter most to you along with other ways to help you get more from your money.