What's Air Travel Like These Days?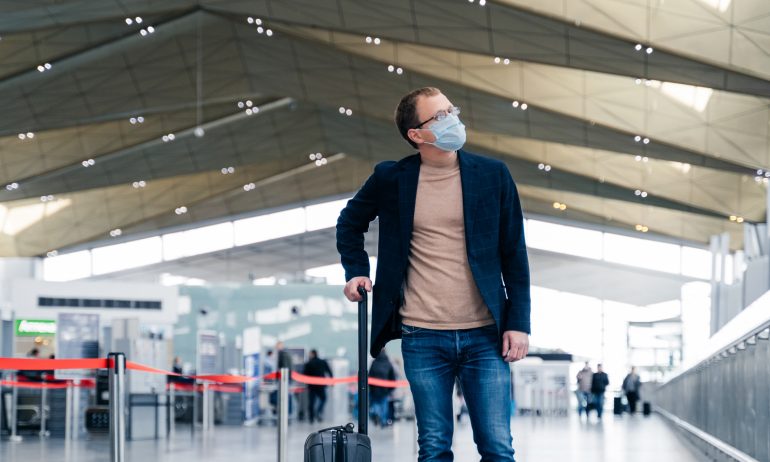 Many or all of the products featured here are from our partners who compensate us. This may influence which products we write about and where and how the product appears on a page. However, this does not influence our evaluations. Our opinions are our own. Here is a list of our partners and here's how we make money.
Note: As you plan travel during the coronavirus pandemic, please check the CDC and State Department websites for current guidance and travel restrictions.
---
---
On July 8, the TSA reported that 632,498 travelers passed through its airport checkpoints. That's just 25% of the passengers who passed through one year ago on the same weekday — but it's actually more than seven times the number of passengers at the low point this year on April 14. Air traffic has nowhere to go but up. If you're considering taking to the skies anytime soon, be prepared for some significant changes, including some positive ones.
Traditionally, one of the most difficult parts of air travel has been just getting to the airport. Now you can forget about the days of crowded roads and public transportation, or fighting to find some curbside space to pick up a passenger. For example, on a recent trip to pick up passengers at Denver International Airport, I encountered no significant traffic and saw just a handful of cars at the curbside during midday at what was the fifth busiest airport in the U.S. in 2019. If it wasn't such a beautiful, sunny day, you'd think I was visiting at 3 a.m.
I also recently had the opportunity to ride Denver's A-Line commuter train to the airport. I was the only passenger on one of the two-car trains, which normally hold up to 170 passengers.
Atlanta's Hartsfield-Jackson International Airport has been ranked as the busiest in the world for over 20 years. But when my parents departed from there in mid-May, it looked nearly deserted. The security screening areas designed to process thousands of passengers were almost empty. When my parents boarded the airport's Plane Train people mover, they were the only passengers in their car. Their experience was in sharp contrast to previous visits when they were often packed shoulder to shoulder with other passengers. Likewise, the airport's vast concourses were largely empty, save for a line of socially distanced passengers waiting to order food from one of the few open take-out restaurants. Only when my parents arrived at the gate area for their flight did they encounter anything like a normal crowd. But most people in the gate area were wearing masks and observing social distancing.
Airlines are trying to maintain some semblance of social distancing during the boarding process. For example, JetBlue is boarding the aircraft from the back to the front to minimize the number of passengers passing each other on the way to their seats. Both Delta and Southwest are boarding passengers just 10 at a time to allow for better distancing on the jetway. All the recent passengers I spoke to reported a very orderly boarding process. And with many seats unoccupied, there was little worry about finding a place to stow their carry-on bags.
Tremaine Stewart, a telecommunications technician from Aurora, Colorado, flew on Frontier Airlines to Denver from Phoenix in May. He told me that the airline tried to keep the first three and last three rows empty to limit the flight crew's exposure to passengers. And while most rows had an empty middle seat (except for passengers traveling in groups), a passenger was initially seated in a middle seat adjacent to Stewart's. Thankfully, the flight crew was willing to move the passenger to one of the first three rows to allow better distancing. Stewart said that most passengers boarded with face masks on, but quickly removed them. "And besides, most people in Arizona aren't wearing face masks around town," Stewart said.
Joe Leader, who recently visited Denver with his family, told me, "I felt safer on our family trip both at the airport and on an airplane than I typically feel at grocery stores." On his Southwest Airlines flight, "The level of seriousness set a high bar with use of face masks, hand sanitizer stations and social distance signage," he said. "With the exception of people eating, face mask usage at the airports was over 80% and on the aircraft was 100%."
Leader isn't your average passenger. He's the CEO of the Airline Passenger Experience Association, a travel industry trade group that works to improve the air travel experience. He cited studies showing that airplane ventilation systems are often very effective at reducing the transmission of viruses. Modern airplane ventilation systems refresh the air in the cabin every few minutes using a combination of outside air and high-efficiency particulate air filters. "Electrostatic sprays, UV-C light usage and rigorous cleaning done by airlines help keep our passengers safer than ever," Leader said.
One thing that all the passengers I spoke with mentioned: Their flights operated extremely smoothly and arrived either on time or early. This is unsurprising considering that flight schedules and air traffic control systems need to handle just a small fraction of the traffic seen in a normal year.
Some tips for those who plan to fly
Avoid travel if possible. The CDC says, "Because travel increases your chances of getting infected and spreading COVID-19, staying home is the best way to protect yourself and others from getting sick." But if you must travel, be prepared to wear a face mask at every step of your journey.

Know the rules. Before scheduling a trip, educate yourself on the state and local travel restrictions in place at your destination. For example, the state of Hawaii currently requires all visitors to quarantine in their hotel for 14 days, and violations are punishable by a fine of up to $5,000 and a year in jail.

Bring your own food and a water bottle. Food options are extremely limited at airports, and most airlines have severely curtailed their on-board catering. So you should carry with you all the food you think you'll need for the entire journey. You should also carry an empty water bottle that you can fill up before boarding. With limited on-board service. It may be difficult to stay hydrated in-flight.

Practice proper hygiene. Wash your hands often or use hand sanitizers. Thankfully the TSA is now allowing hand sanitizer bottles of up to 12 ounces per passenger.

Adjust your schedule. Normally, many travelers arrive at the airport a few hours early to ensure that they don't get held up at security and to give them time to visit a lounge or a restaurant. But with so few travelers during the pandemic, security is usually a breeze and most restaurants and lounges are now closed. So there's less reason to arrive extra-early. Right now, if you arrive a bit later than you normally would, you'll spend less time waiting in public spaces.
Air travel will not return to normal anytime soon, but some people will still be taking to the skies this year. Taking all the proper precautions and adjusting your expectations will let you travel as safely as possible without any surprises.
---
How to Maximize Your Rewards
Get more smart money moves – straight to your inbox
Sign up and we'll send you Nerdy articles about the money topics that matter most to you along with other ways to help you get more from your money.