What's the Best Airline Credit Card for New York City Travelers?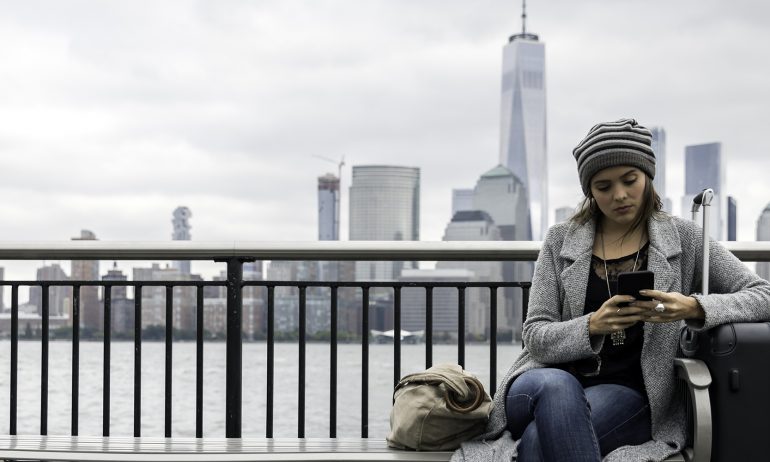 Many or all of the products featured here are from our partners who compensate us. This may influence which products we write about and where and how the product appears on a page. However, this does not influence our evaluations. Our opinions are our own. Here is a list of our partners and here's how we make money.
You fly out of New York City or the surrounding area. You're thinking about getting a branded airline credit card. But which one is right for you?
If the answer were simple, we'd give it right here and be done with it. But choosing one "best" credit card in NYC is like picking the best neighborhood or the best train line. That is, it depends on what you're looking for.
Most lists of the "best airline credit cards" (including ours) give the same blanket recommendations for everyone, regardless of their travel preferences and needs. For example, the Alaska Airlines Visa Signature® credit card is a great card … for West Coast flyers. It's far less useful for New Yorkers.
Here we've broken out the best airline credit card for New York flyers by several criteria, starting with how often you travel, then by preferred airport(s). The "best" card will depend on your specific travel needs and goals, of course, but these suggestions are a good place to start.
Even with the new higher annual fee, this is one of the best airline cards out there thanks to the annual companion certificate. Add that to the fact that both JFK and LGA are major hubs for Delta, and you've got a perfect recipe for frequent NYC flyers. The card also grants one free checked bag for the cardholder and up to eight companions on the same reservation, even if the ticket is purchased with another card. This perk can offset the annual fee in a hurry.
Annual fee: $0 intro for the first year, then $95
The Delta credit cards don't make sense for those who fly from EWR, since EWR isn't a Delta hub. You might think we'd recommend the higher-fee United Club℠ Infinite Card, but that card's major benefit is access to United lounges, which are frankly horrible at EWR.
The United℠ Explorer Card is a great card even for United regulars, thanks to free checked bags and decent earning rate of 2x miles per $1 spent on United purchases.
Annual fee: $0 intro for the first year, then $99
Delta's dominance at these airports combined with the free checked bag benefit makes this the go-to card for those infrequently flying out of Queens. Of course, less frequent travel means less value from the checked bag benefit, but it also means you're less likely to have Delta elite status, which also offers this benefit. Think of this card as "elite status light."
For EWR travelers: United℠ Explorer Card
Annual fee: $0 intro for the first year, then $95
Newark acts as a major hub for United, and this card's relatively low annual fee and free checked bag benefits make it ideal for frequent and infrequent EWR flyers alike.
Airline commitment-phobes
Want the benefits of a travel card but don't want to tie yourself to a single airline? Well then … don't get an airline card!
Non-frequent travelers should consider any lower-fee travel credit card that offers rewards on travel spending plus perks like no foreign transaction fees and car rental insurance.
Now, if only there were a card that would offset those blasted AirTrain fees …
---
How to Maximize Your Rewards