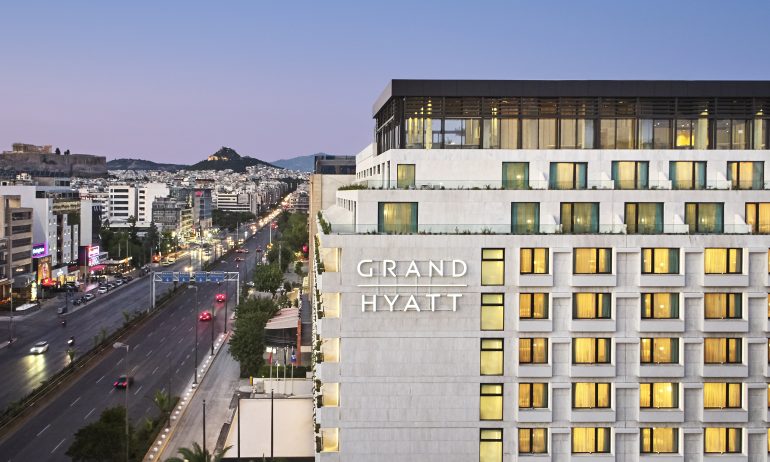 Many or all of the products featured here are from our partners who compensate us. This may influence which products we write about and where and how the product appears on a page. However, this does not influence our evaluations. Our opinions are our own. Here is a list of our partners and here's how we make money.
June 3 - World of Hyatt Cardholders Can Get a 25% Points Rebate on Redemptions Through Sept. 15
Travelers with the World of Hyatt Credit Card can start getting points back on their redemptions this summer. Starting June 15, cardmembers can register for this promotion and receive 25% of redeemed points back on Free Night Awards, Points + Cash stays, room upgrades, dining and spa services at participating properties. The deadline to register for this promotion is Aug. 20, 2021 and cardholders can earn up to 30,000 points through this promotion.
Jan. 26 - Hyatt Will Offer Free COVID Tests at Some International Resorts Due to New Requirements
Hyatt announced today that it will now offer free, on-site COVID-19 testing options for guests traveling to the U.S. from all 19 of its resorts across Latin America. Hyatt's new offer could be tantalizing for travelers who are desperate to escape the U.S., but who also want to return home from vacation with minimal stress of acquiring a COVID test while abroad. Regulations now state that U.S.-bound, international air passengers must take a viral test within three days before their flight to the U.S. departs and provide documented proof (written or electronic) of a negative test result before boarding.
You'll receive a test for up to two registered guests per room per stay at participating Hyatt resorts in Mexico, Costa Rica, the Caribbean and South America. The type of test (either a rapid antigen or RT-PCR, both of which are approved tests per CDC guidelines) vary per property.
Dec. 3 - Hyatt Rolls Out 'Office for the Day' Packages
As an extension of its previously announced remote-work friendly program, Work from Hyatt, the hotel company has announced day package availability. The Work from Hyatt program now includes "Office for the Day" options that will be available through May 31, 2021, at more than 400 hotels.
The pricing for the packages starts at $65 per day, which gets you day-use (no overnight stay) of a hotel room plus the amenities of the hotel. World of Hyatt members will be able to earn points and have the stays count toward their elite status progress as well. More details about the program can be found at Hyatt's Office for the Day website. 
Nov. 30 - Hyatt Reduces Elite Status Qualifications for 2021
Due to the ongoing COVID-19 pandemic, Hyatt has reduced the elite status qualifications for its World of Hyatt program in 2021. The cuts represent a 50% drop in required tier-qualifying nights and in required base points. Hitting either the tier nights or the base points will earn you the corresponding status level. The new 2021 World of Hyatt elite status qualification thresholds are now as follows:
Discoverist – Stay five Tier-Qualifying Nights or earn 12,500 Base Points.

Explorist – Stay 15 Tier-Qualifying Nights or earn 25,000 Base Points.

Globalist – Stay 30 Tier-Qualifying Nights or earn 50,000 Base Points
Oct. 29 - Chase-Issued Hyatt Credit Cards Roll Out a Wave of Promotions
It's been a tough year for hotel chains because of the COVID-19 pandemic, but Hyatt has found rewarding ways to keep its loyalists spending. Now, its co-branded credit cards are launching three new promotions that cardholders can take advantage of including boutique brand savings, bonus points on Amazon and grocery purchases, and a special path to a free night for some customers. Read more about all these changes in our full story. 
Oct. 6 - Hyatt Announces Extended Loyalty Program Benefits
As the coronavirus pandemic continues to hamper the travel industry, Hyatt has made further extensions and adjustments to its World of Hyatt loyalty program. Updated today, the Hyatt COVID-19 information on their website now includes the following extensions to the program:
Forfeiture of points, which normally occurs after 24 months of account inactivity, has now been suspended through June 30, 2021.

Unused awards (such as free night certificates, suite upgrades or club lounge access awards) earned with 2020 expiration dates have been extended to Dec. 31, 2021.

Unused awards earned with Feb. 28, 2021 expiration dates will also be extended to Dec. 31, 2021.

Further postponement of Hyatt's plans to introduce a peak/off-peak point redemption system — anticipated launch date is now July 2021.

With the exception of 16 hotels (12 moving down, four moving up) the normal annual award chart changes will be suspended in 2021.
Further details on these changes as well as current cancellation and health policies can be found at Hyatt's website.
Sept. 24 - Hyatt Expands "Work From Hyatt" Hotel Options
Hyatt announced today the expansion of their Work from Hyatt packages, which originally launched at the end of August and will now include nearly 60 hotels and resorts across North America and the Caribbean. The extended-stay packages require a minimum seven-night stay and are targeted toward travelers looking to work (or learn remotely) from somewhere other than their home, but not necessarily be "on vacation" the entire time.
The expansion of the program now includes hotels in 13 U.S. states, Canada, Mexico and four locations in the Caribbean. In addition to the normal World of Hyatt loyalty program benefits, there are special perks at most hotels, such as pool cabanas, personalized activities, discounted spa services and specialized tours in the area. You can get more details on the Work from Hyatt packages on the Hyatt website.
Sept. 9 - Bonus Journeys: 3X Points on Stays With Hyatt
Starting Oct. 1, 2020, World of Hyatt members can register for a great promotion that awards triple bonus points on every stay with a checkout date before or on Jan. 4, 2021. Hyatt credit cardholders can earn up to 4x bonus points on eligible spend for stays at hundreds of participating resort locations, including some MGM properties. The deadline to register for this promotion is Nov. 30, 2020.
Aug. 25 - Hyatt Launches 'Work From Hyatt' Extended Stay Packages
With a new normal being ushered in for both work and school due to the ongoing coronavirus situation, World of Hyatt has launched a new extended stay package aimed at those looking to get away but keep working (or schooling) while on property. The new "Work from Hyatt" packages include:
Workspace options (suite living room, connecting room or private meeting room).

Daily food and beverage credit.

Complimentary services including: parking (self or valet), high speed Wi-Fi, laundry services (may only be discounted).

Standard accommodations and World of Hyatt benefits like any normal booking.
Other amenities may also be included based on the specific hotel. Packages are available for travel between Aug. 25, 2020, and March 31, 2021 (minimum seven night stay). Get more details and booking information at Hyatt's designated webpage.
---
How to Maximize Your Rewards