Home loan interest rates moved a bit higher just as a leading credit reporting company says the mortgage lending market will  have "fully recovered" from the housing crisis and resulting Great Recession by the end of next year.
Freddie Mac's just-released weekly survey of lenders shows the following average rates for the most popular home loan terms:
30-year fixed-rate mortgages averaged 3.95% with an average 0.6 point for the week ending Dec. 10, 2015.  A year ago, the rate averaged 3.93%.
15-year fixed rates averaged 3.19% with an average 0.5 point. The same term priced at 3.20% a year ago.
5-year adjustable-rate mortgages priced at 3.03% with an average 0.5 point. Last year at this time, the same ARM averaged 2.98%.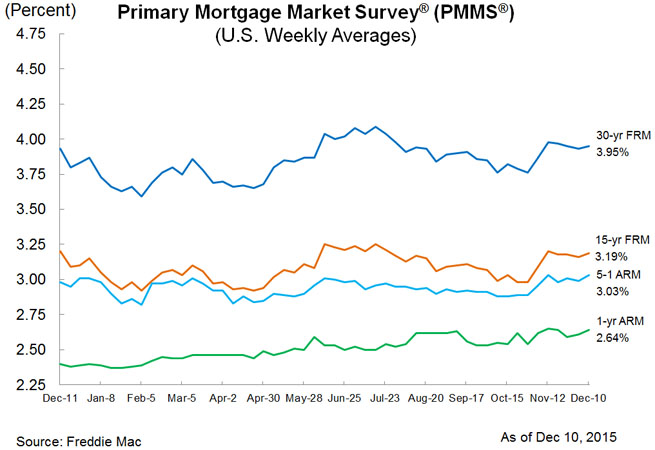 "The economy added 211,000 new jobs in November, exceeding analysts' expectations, and the prior two months were revised higher as well," Sean Becketti, chief economist for Freddie Mac, said in a release. "Following the release of the employment report, Treasuries rose 7 basis points and in response the 30-year mortgage rate ticked up two basis points to 3.95%."
Home loan activity was up 1.2% from one week earlier, according to the Mortgage Bankers Association weekly report.
Purchase applications were up 0.04% on a seasonally adjusted basis for the week ending Dec. 4, as refi applications rose 4%.
Overall, home purchase loan applications are 29% higher than the same week one year ago.
Mortgage market nears 'full recovery' from housing crisis
A leading credit reporting company has analyzed the credit health of America and says the country is approaching a "full recovery" from the housing and financial crisis of 2008.
"Our forecast highlights that we are no longer in recovery — we have recovered from the Great Recession," Ezra Becker, TransUnion vice president of research and consulting, said in the report.  "Both the mortgage and credit card markets are performing extremely well, with increased consumer participation and continued low delinquency rates."
TransUnion estimates that a "normal" national mortgage delinquency rate falls between 1.5-2% and forecasts the 60-day delinquency rate to be 2.06% by the end of 2016. That's down from a rate of 6.89% at the end of 2009.
The report says the improvement can be attributed to years of moving "bad mortgage loans" through foreclosure; employment gains; and rising home prices.
Average mortgage debt per borrower has also risen in recent years, partly due to higher home prices.
"This is a clear indicator that housing prices are recovering and consumers are gaining access to more mortgage loans," said Steve Chaouki, executive vice president of TransUnion.
More from NerdWallet:
Hal Bundrick is a staff writer at NerdWallet, a personal finance website. Email: [email protected]. Twitter: @halmbundrick
---
Image via iStock.