Thinking about buying a home? You're not getting in at the top of the market,  but you're certainly not buying at the bottom — at least from a national perspective. Home prices across the country are back to their winter 2007 levels — up 4.9% year-over-year through September 2015, as measured by the S&P/Case-Shiller Home Price Indices.
And while home values nationally are down 11% to 13% from their peak in the summer of 2006, they are up more than 35% from their lows in March 2012.
Of course, on the local level it can be a completely different story. San Francisco, Denver and Portland, Oregon, showed the highest year-over-year gains through September, notching price increases over 10%.
"Home prices and housing continue to show strength, with home prices rising at more than double the rate of inflation," David M. Blitzer, chairman of the index committee at S&P Dow Jones Indices, said in a release. "The general economy appeared to slow slightly earlier in the fall but is now showing renewed strength."
How much house can you afford? To find out, use NerdWallet's mortgage calculator.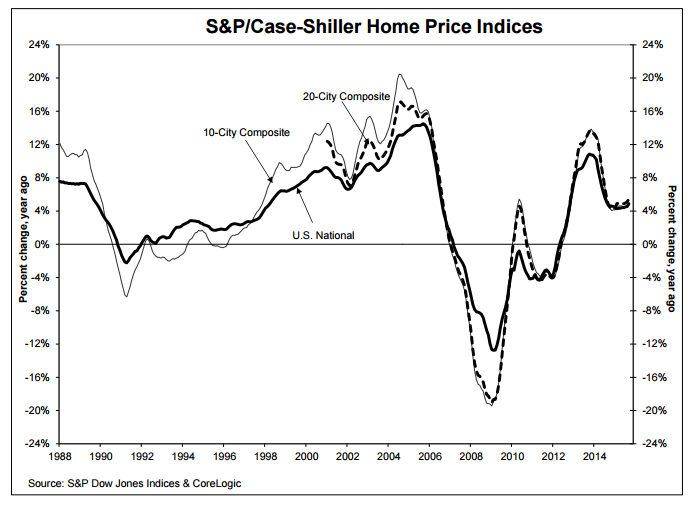 Existing home sales slow in October
In another gauge of the housing market, existing home sales fell 3% in October, kicking off the fourth quarter — the weakest home selling season of the year.
"Tight supply continues to be a major factor holding back growth in the market," Realtor.com chief economist Jonathan Smoke said in a news release. "Tight supply is an impediment to future growth, and we are not seeing new construction grow enough to fill the void.  As a result, we should expect to see tight supply remain a factor for the months and year ahead — moderating gains in sales but also providing firm support for home values."
Where are mortgage rates headed?
S&P's Blitzer notes that with unemployment at 5% and with hints of higher inflation on the horizon, most analysts expect the Federal Reserve to raise short-term interest rates to 25 to 50 basis points at its December policy setting meeting, marking the first increase since 2006.
"While this will make news, it is not likely to push mortgage rates far above the recent level of 4% on 30-year conventional loans," Blitzer said. "In the last year, mortgage rates have moved in a narrow range as home prices have risen; it will take much more from the Fed to slow home price gains."
More from NerdWallet:
Hal Bundrick is a staff writer at NerdWallet, a personal finance website. Email: [email protected]. Twitter: @halmbundrick
---
Image via iStock.