From macaroons to machinery
Forced to move back home to Ithaca, New York because of a serious illness, Ian Gaffney left Brooklyn in 2008, where he'd been working as a graphic designer. Once in Ithaca, where he telecommuted for the same design company, he met Samantha Abrams, a recent graduate of Ithaca College. An experienced raw vegan chef, Ian impressed Samantha with his various clean food dishes. After an especially delicious batch of macaroons, Samantha was struck by a sudden flash of brilliance: sell the macaroons in pre-packaged sets. Ian's mother, Emmy, let the couple use her kitchen, where they created four new macaroon flavors. Their new business – Emmy's Organics – was born.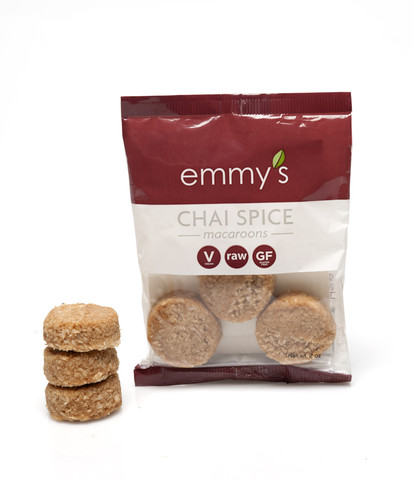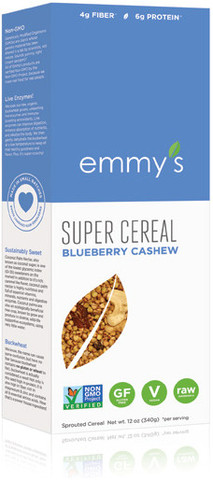 After getting their kitchen certified, Ian and Samantha reached out to their local co-op and several other stores in the area. In 2009, the couple started selling their products at Ithaca's farmer's market. As their products' local popularity grew, Ian and Samantha pursued venders in New York City. Orders piled up at a dizzying rate.
For the next two years, Ian and Samantha poured their hearts and souls into Emmy's Organics, as well as their incomes. Demand, however, continued to surge. In order to boost macaroon production – and, in all seriousness, avoid carpel tunnel – they would have to invest in machinery.
Partnership with Alternatives Federal Credit Union
Machinery, Ian and Samantha soon realized, was incredibly expensive. The couple therefore turned to Ithaca's very own Alternatives Federal Credit Union, or AFCU, for a small business loan.
"We've known their reputation for helping small business owners even before we started banking with them," says Samantha, who also stressed the importance of collaborating with a welcoming and community-oriented financial institution.
And "community-oriented" certainly describes AFCU, which was established by a group of small business owners in the late 1970s. Much like Emmy's Organics, these were mom-and-pop businesses, self-employed startups run by men and women who were passionate about their line of work. Because these owners found it impossible to obtain small business loans from bigger banks, they took matters into their own hands in 1979, creating AFCU.
In its infancy, AFCU catered to small businesses that couldn't get loans from banks. Though there were risks associated with this strategy, AFCU's approach ultimately proved successful, as it led to a period of rapid expansion. Although AFCU still lends credit to low-income borrowers, the credit union doesn't have a higher default rate than other banks.
The credit union supports small businesses through their Business CENTS program, offering entrepreneurial training courses, workshops, and one-on-one consulting. What's more, in keeping with their history, AFCU regularly makes loans to emerging small businesses at times when no other financial institutions would take similar risks.
Because of the credit union's successful history with small businesses, AFCU's Chief Lending Officer, Carol Chernikoff, was thrilled to learn about Emmy's Organics' interest in working with AFCU.
"We had known Sam and Ian previously from their engagement with the community," Chernikoff adds.
After obtaining a small business loan from AFCU, Ian and Samantha purchased the necessary machinery. Macaroon production skyrocketed during the next three years, which meant that Ian and Samantha would have to renovate their warehouse. In order to do that, though, the couple would have to obtain a second, this time larger, small business loan.
Expanding with M&T Bank
Thanks to their positive experience with AFCU, Ian and Samantha were optimistic that they could form a second successful partnership with a financial institution.
M&T Bank did not disappoint.
Ian and Samantha were immediately impressed by M&T Bank's commitment to small businesses. Indeed, M&T Bank is one of the top five Small Business Administration lenders in the nation, according to Kara Taylor, vice president of the bank.
"In our first meeting, we spent a lot of time getting to know each other and specifically discussing the story behind Emmy's Organics," she says, adding, "It's important for us to really understand and know the businesses we work with, and what we would need to do to help them get to the next logical step in their business cycle."
Taylor notes that Ian and Samantha's hands-on philosophy mirrors that of her bank, which made it that much easier for everyone to click.
"We are a very hands on bank," says Taylor. "We have many products and services to address the needs of small business owners, and we strive to custom fit our solutions to the specific needs of a business owner. One of our more popular business solutions is the Banking Built for Business® [tool], which bundles some of our best accounts and services to save business owners time and money."

Tips for small business owners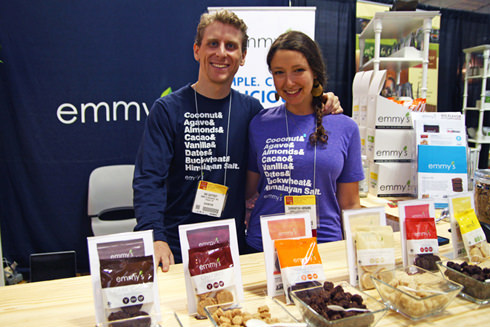 Standing at the helm of a successful business, Ian and Samantha are eager to pass on their advice to other budding entrepreneurs, as are Chernikoff and Taylor.
"Always have a learner's mind," says Samantha. "We never feel like we're the best. We're always asking for advice."
While Chernikoff underlines the importance of being flexible and having a Plan B, Taylor recommends that small business owners find "a banking partner, not just a bank."
"Ideally, you want a bank that can grow with you for years to come, that is genuinely interested in the work you do, and can provide guidance to help you achieve your goals," Taylor adds.
Millions of macaroons later, Ian and Samantha have clearly whipped up a winning recipe. Thanks to partnerships with AFCU and M&T Bank, Emmy's Organics currently sells its products in 2,500 locations in 40 states. Eager to expand even more, Ian and Samantha plan on developing new products before tackling international markets in 2014 and beyond.
Image Credit: Eva Meszaros and Emmy's Organics