When it comes time to cash in all your hard-earned points and miles on award travel with your favorite airline, the goal is generally to get the most bang for your buck — or, rather, the most bang for your points. But how do you do that? What's the best way to maximize those points so they can take your farther, faster?
When it comes to JetBlue TrueBlue points, finding a way to stretch those miles can be tricky. But we'll help break it down for you in this guide to JetBlue sweet spots.
How TrueBlue works
We broke down the ins and out of booking flights with TrueBlue points, but suffice it to say that the airline doesn't publish an award chart. Essentially, JetBlue utilizes a dynamic structure when it comes to pricing flights in points; each award flight is based on the cash price of any given fare.
That means that during peak times when cash prices are higher, award prices will also rise. And during off-peak travel seasons when cash costs for airfare are lower, TrueBlue costs will be lower. Which brings us to our first sweet spot.
Off-peak travel
Looking to make your True Blue points go as far as possible? Plan your travel during the off-season. That season can differ depending on your destination, but generally speaking, fall and spring are shoulder seasons and winter is often a less popular travel time (with exceptions for holidays, of course).
So when you plan trips, opt to travel during less popular times of the year for the best deal on award travel. Compare the examples below to get an idea of what on- and off-peak travel costs could look like. The first is a flight from New York to Fort Lauderdale in April, which could be considered a shoulder season, and the second is in June, prime travel time for families. As you can see, you could save at least 2,200 points each way by flying at a less popular time of year.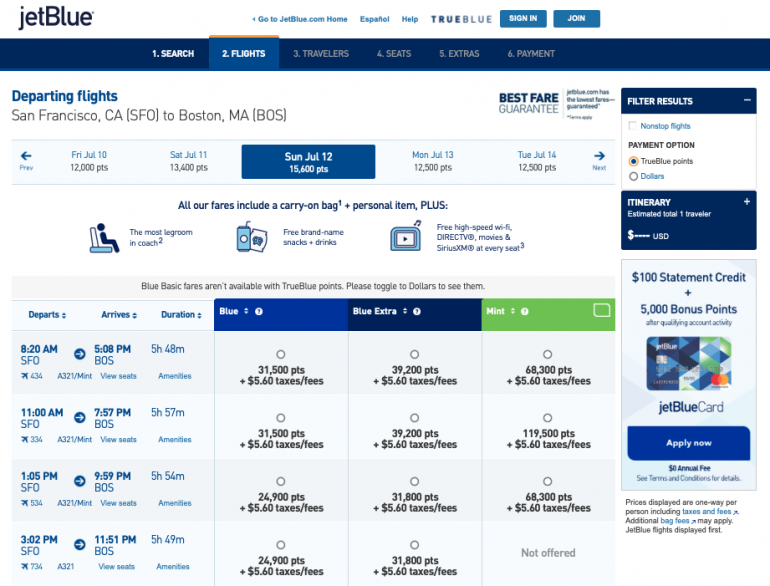 Adjust your itinerary
If you can't travel in an off-peak season, you may still be able to maximize your points by booking on an "off-peak" time of day or week just by being a bit more flexible with your travel schedule. As you can see in the example below, in one day, points required to book the exact same route vary from 16,800 to 20,000 and as low as 4,900 just a day or two before or after.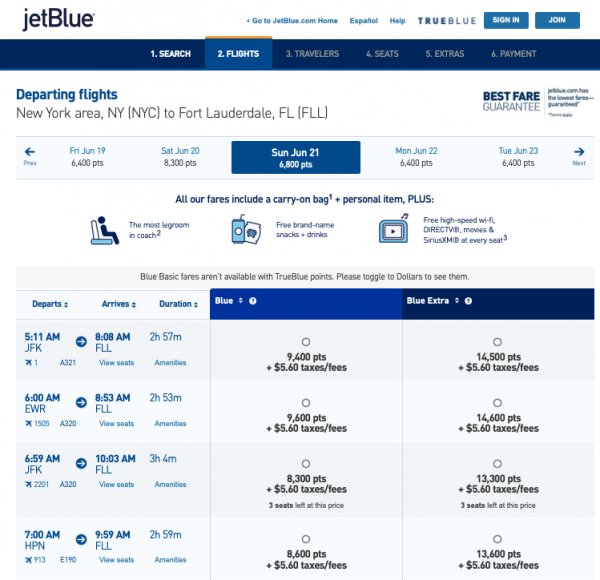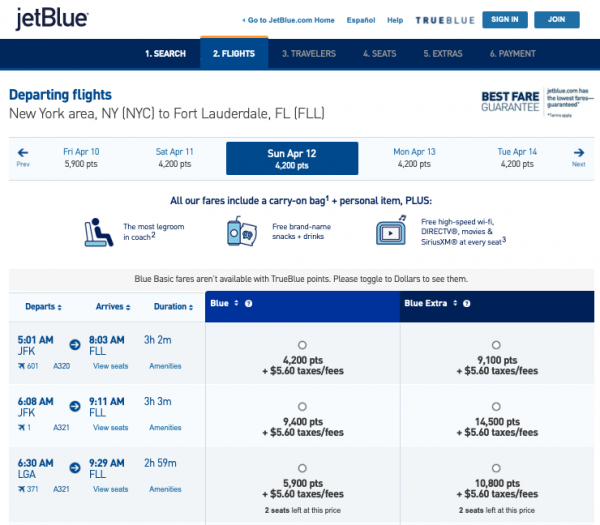 Keep an eye out at the top of your flight search screen when browsing for flights to make sure you don't miss the opportunity to save thousands of TrueBlue points.
Book on Hawaiian Airlines using TrueBlue points
Another way to put your TrueBlue points to good use is on a Hawaiian vacation. Hawaiian Airlines is the only partner airline on which you can use TrueBlue points to book, no HawaiianMiles required.
To book with TrueBlue points on Hawaiian, you will have to call into JetBlue's reservation line, as attempting to book online with partner airlines using miles results in this error message: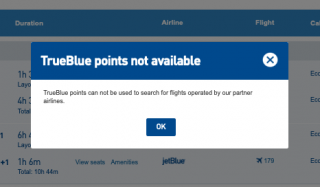 And while JetBlue may not have an award chart, Hawaiian does, even if you're using TrueBlue points. Flights between Hawaiian islands start at 6,000 TrueBlue points per one-way flight, while travel from the West Coast of the U.S. starts at 22,000.
In comparison, that's actually fewer TrueBlue points than HawaiianMiles for inter-island travel, but slightly more than the lowest-priced HawaiianMiles flight for travel to and from the West Coast.
This type of TrueBlue booking is even sweeter in peak travel months when higher-priced airfare won't affect how many points you need for travel.
» Learn More: Guide to JetBlue travel partners: Earning and redeeming points
How to know if you're getting a good deal
Really the only way to see if you're getting the best return when it comes to cashing in TrueBlue points for travel is to search for the same flight at a different time of the month or year. That will give you an idea of how point prices fluctuate and when might be best to fly.
You can even search using just cash prices since point prices are intrinsically linked to the cash value of the fare (though point values seem to vary between 1.1 cents and 1.5 cents per point in the examples we found). So do a little searching to check and see if you're getting a good deal.
» Learn More: How much are my JetBlue TrueBlue points worth?
The bottom line
Since JetBlue doesn't publish an award chart and TrueBlue point prices are based on the cash fare of the same flight, it's hard to nail down specific JetBlue sweet spots when it comes to finding the best deals and destinations for award travel. But if you're willing to be flexible with your booking dates, travel during less popular seasons, and use your TrueBlue points on Hawaiian Airlines, you can still definitely find a few award travel sweet spots on this airline.
How to maximize your rewards
You want a travel credit card that prioritizes what's important to you. Here are our picks for
the best travel credit cards of 2020
, including those best for:
Planning a trip? Check out these articles for more inspiration and advice:
Find the best travel credit card for you
4 ways to quickly rack up miles for your next flight
JetBlue TrueBlue: The compete guide