While you can certainly earn a lot of miles by flying and spending money on your credit cards, Delta — one of the largest airlines in the world — offers myriad ways to beef up your SkyMiles balance. Let's take a look at a few options and how to make them work for you.
» Learn more: Delta Air Lines SkyMiles Program: The Complete Guide
1. Fly Delta
Any conversation about earning SkyMiles with Delta has to start with a mention that the program is revenue-based and not distance based. That is to say, a $500 ticket from Seattle to Salt Lake City will effectively net you the same amount of miles as a $500 ticket from Atlanta to Paris, provided both base fares are equal. Government-imposed taxes and fees do not earn you any miles, but carrier-imposed fees — such as fuel surcharges — do. This is quite straightforward: the cheaper your ticket, the fewer the miles you will earn.
To further encourage loyalty, Delta will reward you with more miles per dollar spent the higher up their elite chart you are. That way, very frequent flyers will earn more miles on the same ticket than those who only fly once a year to visit Aunt Myrtle.
Delta's Medallion status tiers and respective mileage earnings are as follows:
General SkyMiles Members: 5 miles for every $1.
Silver Medallion Members: 7 miles for every $1.
Gold Medallion Members: 8 miles for every $1.
Platinum Medallion Members: 9 miles for every $1.
Diamond Medallion Members: 11 miles for every $1.
2. Fly on partners
Flying on partner airlines is an altogether different story. Let's start with an example to better illustrate how this works. If you were to purchase that $500 ticket from Atlanta to Paris on Air France through Delta, you would once again earn mileage based on the fare, plus carrier-imposed fees. However, if you were to buy the exact same ticket on Air France's website and then credit the flight to Delta, you would instead earn miles based on distance.
To maximize earnings, the key when flying on a Delta partner is to purchase the ticket on the partner's website and then credit the miles to your SkyMiles account. This is particularly true for deeply discounted tickets, where the distance flown greatly outweighs the earning based on the cost of the ticket.
3. Use credit cards
With extremely generous welcome bonuses and easy-to-understand earning structures, the suite of SkyMiles credit cards offers a solid earning platform for anyone who is looking into making SkyMiles one of their go-to mileage programs in their tool belt.
All of these cards will earn you 2 miles per $1 on Delta purchases and at least 1 mile per $1 on everyday purchases.
And all of these cards will earn you 3 miles per $1 spent on Delta and at least 1 miles per $1 elsewhere.
Terms apply.
» Learn more: Blue Delta SkyMiles review: Ideal for loyal but infrequent flyers
4. Use Lyft
All you have to do to start earning SkyMiles when you Lyft is link your accounts. You'll earn a minimum of 1 mile per $1 on every ride in the United States, exclusive of taxes, fees, tools and tips.

5. Sign up for the dining program
By simply signing up for the SkyMiles Dining program and registering your credit and debit cards, you can earn up to 5 miles per $1 spent at participating restaurants. Join the program by filling out your info on the SkyMiles dining website, and you can even earn a first-dine bonus of 3,000 SkyMiles.
When you visit a participating restaurant and pay for your meal with a linked card, you will automatically earn miles. This is a great way to earn miles without proactively doing anything. Once you set it up, you're done.
6. Earn via the shopping portal
If you're a person who shops online for the simplicity, you can earn miles for those purchases too. You can even earn miles for in-store pick-up orders placed online as well. All you have to do is start by going to skymilesshopping.com and search for participating stores.
If you think that's too much effort, there's a browser extension you can install that will inform you of mile-earning opportunities as you shop online.
» Learn more: Use "virtual malls" to rack up airline points on your next hotel
7. Root for the Seahawks
This is arguably the easiest way to earn miles with almost no effort involved. If you're a legal resident of Washington state, you can register and earn 1 mile for every passing yard the Seattle Seahawks throw at both home and away games during the NFL season. You also get other benefits for this program, so head to 12status.com to check them out.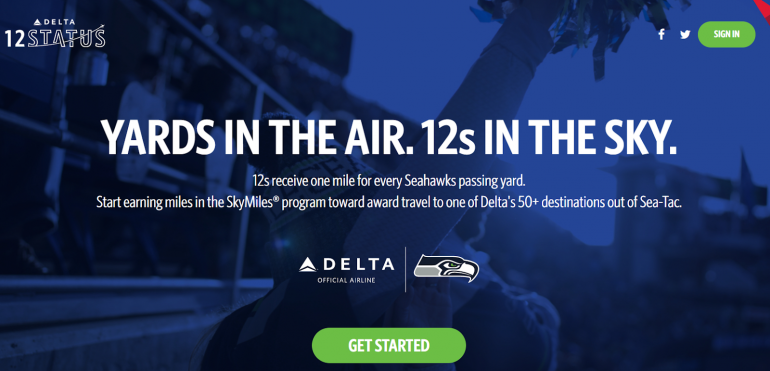 8. Buy tickets through Ticketmaster
You can earn 1 mile per $1 spent on eligible events purchased through Ticketmaster. All you need to do is visit deltaticketmaster.com to register, then complete the purchase in order to get rewarded.
9. Stay with Airbnb
Earning SkyMiles on Airbnb is possible by going through deltaairbnb.com to make your bookings. You will earn 1 mile per $1 spent on qualifying Airbnb bookings, provided you use that link.

» Learn more: 3 ways to pay for Airbnb with credit card rewards
10. Rent a car
Yet another way of earning SkyMiles is by booking car rentals. There are a multitude of partners that can help you boost your SkyMiles account by just following their link before booking directly with the partners.
11. Utilize the 'bags on time' guarantee
A fantastic way to earn SkyMiles for those of us who travel frequently is by making use of the Bags on Time guarantee. If your checked bags on domestic flights aren't on the carousel 20 minutes after your flight arrives at the gate, you're eligible to receive 2,500 bonus miles in compensation. Just submit the completed form online at this link — that's it.
The bottom line
While not a comprehensive list by any means, there are plenty of earning methods here that can get you a good amount of SkyMiles without going too much out of your way. With so many options within easy reach, increasing your Delta SkyMiles account balance should be an easy goal for the year.
» Learn more: Here's how much your points and miles are worth
How to maximize your rewards
You want a travel credit card that prioritizes what's important to you. Here are our picks for
the best travel credit cards of 2020
, including those best for:
Planning a trip? Check out these articles for more inspiration and advice:
7 best airline credit cards of January 2020
Delta Air Lines SkyMiles program: The complete guide
Which Delta Air Lines credit card should you get?