As many airlines have done recently, JetBlue has long ditched the concept of a set award chart in favor of a dynamic award chart — in JetBlue's case, their pricing is tied directly to the cash cost of a ticket, so the cheaper a flight is in cash, the fewer points you'll need to redeem it. That can end up being a good or bad thing, depending on how you typically travel.
» Learn more: JetBlue TrueBlue rewards program: The complete guide
How JetBlue TrueBlue points work
Let's start with the good news: You can redeem TrueBlue points on any JetBlue flight with no blackout dates. You can also use them for any seat, from economy to first (Mint) class. That's great if you want flexibility and convenience out of a frequent flyer program.
On the downside, because redemption rates are based on airfare prices, the points you'll need can fluctuate significantly by route and during peak travel times. Take a flight from New York to Orlando for example: The cash price for a flight might be $242 or 21,700 points, making points worth about 1.1 cents. Exact worth fluctuates between 1.1 cent and 1.5 cents when comparing several different travel dates.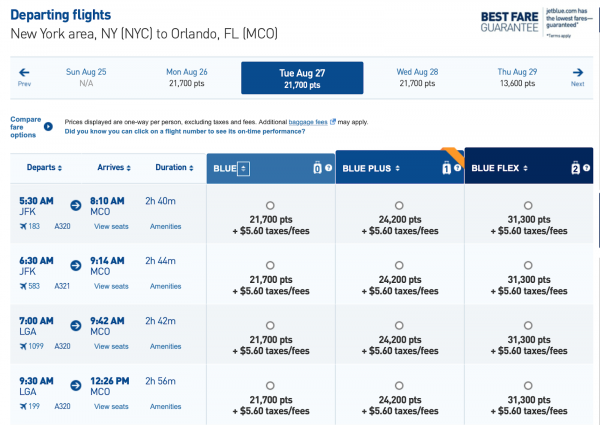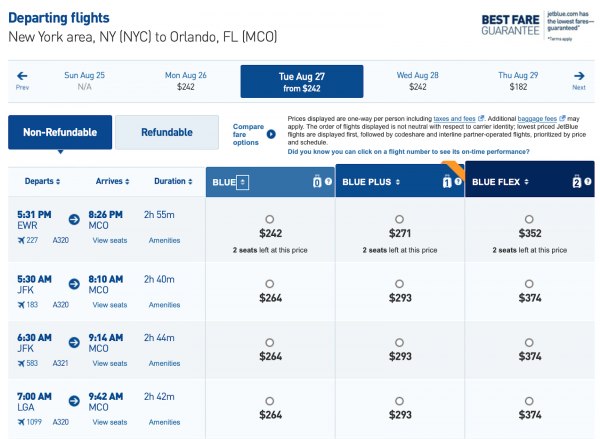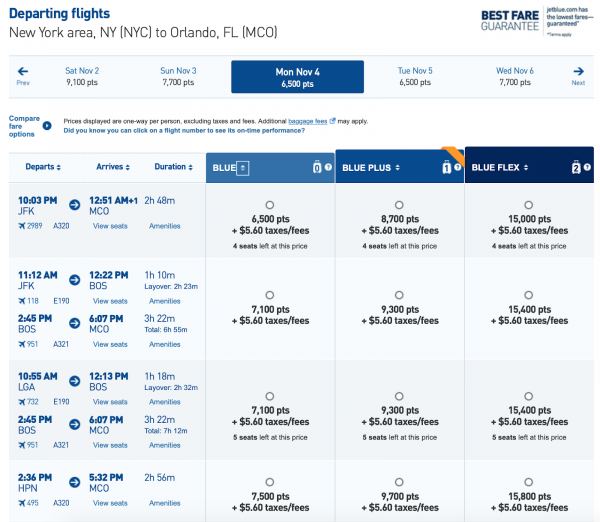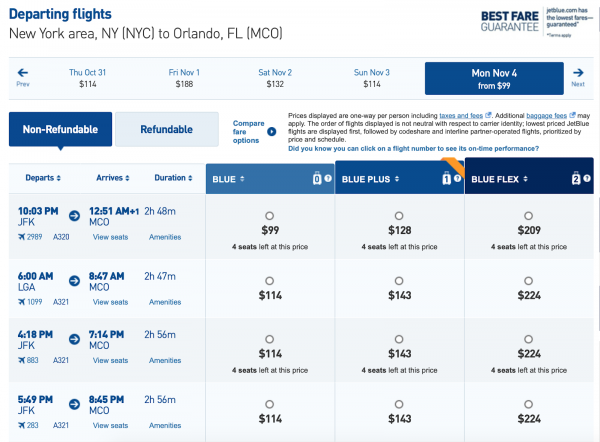 Think of it this way: The popularity of a flight from New York to Orlando varies throughout the year. That route will be much more popular in the summer than in the fall, so pricing will fluctuate. And since redemption rates are directly tied to the cash price of current fares, more expensive flights will require more points. That means that flying a popular route on off-peak dates can be incredibly useful for saving points.
JetBlue's fare types
JetBlue has four different fare types: Blue, BluePlus, BlueFlex and Mint.
Blue 
Blue award seats require the least amount of points and are cheapest to book. They do not come with additional perks, like free checked bags or the ability to make changes without a fee.
Blue Plus
Blue Plus fares, on the other hand, cost a bit more but include a free checked bag.
Blue Flex
Blue Flex includes two free checked bags, no change fees if you need to alter your travel plans and expedited security screening. Depending on how light you travel, it may or may not be worth the extra points. A checked bag costs $30. Every passenger gets a carry-on bag and a personal item.
Things to know about JetBlue TrueBlue
If you're paying for your flight in cash instead of points, know that by booking directly on JetBlue's website, you'll earn more points: At least 6 points per $1, in fact. And if you want to transfer your points to another TrueBlue member, you can do that thanks to the Points Pooling feature.
Want to book an award flight with one of JetBlue's partner airlines? You can also redeem points on Hawaiian Airlines flights.
Earn more points with TrueBlue credit cards
If you want more points fast, JetBlue offers three co-branded credit cards so travelers can rack up points quicker.
JetBlue Card
The JetBlue Card usually carries a lower sign-up bonus, though you will earn 3x points on JetBlue flight purchases, 2x points on restaurants and grocery stores and 1x points on everything else.
Cardholders also get a 50% discount on inflight purchases. In our opinion, the lack of benefits that come with this card make it fairly unattractive.
» Learn more: JetBlue Card review: No annual fee, but also few key perks
JetBlue Plus Card
The JetBlue Plus Card offers many of the same benefits. Here's the sign-up bonus: Earn 40,000 bonus points after you spend $1,000 on purchases within the first 90 days.
For a $99 annual fee, you'll receive a higher 6x points per $1 spent on JetBlue purchases. This card also offers 5,000 bonus points after every cardmember anniversary and a free checked bag for you and three travel companions. You'll even qualify for Mosaic status if you spend $50,000 or more on your card in a calendar year.
JetBlue Business Card
For business owners, the JetBlue Business Card is one more step up, though a small one. The earning structure, sign-up bonus and annual fee are similar to the JetBlue Plus Card. But you have the chance to earn an additional 10,000 points when a purchase is made on an employee card during the first 90 days.
You can also transfer Chase Ultimate Rewards® points or Citi ThankYou points to your TrueBlue account at a 1:1 ratio.
» Learn More: Find the best airline credit card for you
The bottom line
While JetBlue has no award chart to speak of, their award structure based on cash fares can be a blessing or a curse. Fly during off-peak dates or on less popular routes and you can find amazing deals. If you have to stick to a set schedule and destination, however, you may end up cashing in more points than you'd like. But if you are patient and flexible, you may be rewarded with award travel that feels like just that.
How to maximize your rewards
You want a travel credit card that prioritizes what's important to you. Here are our picks for
the best travel credit cards of 2020
, including those best for:
Planning a trip? Check out these articles for more inspiration and advice:
Find the best travel credit card for you
10 things the JetBlue TrueBlue rewards program gets right
Which JetBlue Card Is Right for You?