Grasshopper Bank: Free Business Checking With Cash-Back Rewards
Grasshopper offers cash back on spending and a solid APY, but businesses that rely on cash might prefer another choice.
Many or all of the products featured here are from our partners who compensate us. This influences which products we write about and where and how the product appears on a page. However, this does not influence our evaluations. Our opinions are our own. Here is a list of our partners and here's how we make money.
Our Take
The bottom line:
Grasshopper bank's free business checking account offers unlimited 1% cash back on qualified debit card purchases, a rare feature among checking accounts. Couple that with a high-yield APY and no monthly fees; what more could you ask for? Cash deposits and weekend customer support would be nice.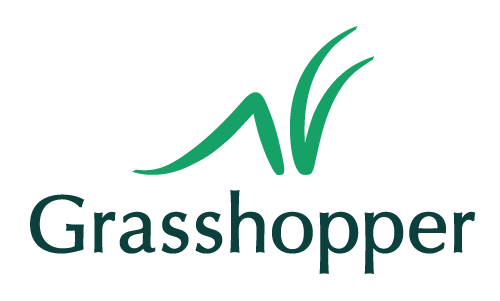 With $0 min. balance for APY
Pros & Cons
Pros
Unlimited 1% cash back on qualified debit card purchases.

No monthly fees or overdraft charges.

Free, built-in bookkeeping software.
Cons
$100 minimum opening deposit.
How does Grasshopper Bank compare?
Full Review
Grasshopper, a fully digital, FDIC-insured bank, launched in 2019. The bank caters to small businesses, startups and venture capital and private equity firms.
Grasshopper's free online business checking account has no overdraft fees, transaction limits or minimum balance requirements (beyond the initial deposit). Account holders earn a top-rate APY, too: Earn 1.51% APY on balances up to $25,000 and on balances greater than $250,000. Earn 2.25% APY on balances of $25,000 to $250,000.
Perhaps its greatest selling point: Grasshopper customers earn 1% cash back on qualifying debit card purchases — a rare feature among business checking accounts.
Additional perks include Autobooks, an accounting and bookkeeping service that is built into Grasshopper's online banking platform and free for all account holders. Startup founders can also get help raising capital and navigating growth stages. Grasshopper's experts will help with accelerator applications and pitch presentations.
Have questions or need help with your account or application? You can reach customer service via phone, live chat, email or text message from 9 a.m. to 11 p.m. EST, Monday through Friday.
Grasshopper business checking is best for:
Startups that want help navigating investor meetings and raising capital.

Businesses that can benefit from built-in bookkeeping and invoicing tools.

E-commerce businesses and other companies that don't deal with cash.

Small businesses that handle a large volume of incoming wire transfers (these are free with Grasshopper).
Grasshopper business checking at a glance
How to open a
Grasshopper Business Checking Account
You can open a Grasshopper Business Checking Account online in just a few minutes. You'll need to link an existing bank account to fund your new account. The minimum opening deposit is $100. After that, there's no minimum balance requirement.
What you need to open an account
Personal information: Name, phone number, date of birth and Social Security number.

Business details: Name, industry, physical address, phone number and website.

When and where your business was established, including the state where it's registered.
Note: You also need to provide personal information for any owners with a 25% or greater ownership stake in the business.
Where Grasshopper business checking stands out
Unlimited 1% cash back: Cash-back rewards are typically reserved for business credit cards, but Grasshopper account holders can earn 1% back on qualifying debit card purchases (online and signature-based ones), with no cap on how much they can earn. Want maximum cash back? Combine forces with a cash-back business credit card to earn rewards on all of your business spending.
Tailored support for startups: Fast-growing startups can tap Grasshopper experts for help with everything from navigating investor opportunities to perfecting their pitch deck or applying to coveted accelerator programs. Grasshopper's "office hours" for startup founders is added value you won't find at many other banks.
High-yield business checking: Grasshopper accountholders can earn up to 2.25% APY, depending on your balance, making it one of the best high-yield business checking accounts on the market. But Grasshopper's APY structure is more complicated than similar accounts: Earn 1.51% APY on balances up to $25,000 and on balances greater than $250,000. Earn 2.25% APY on balances of $25,000 to $250,000. Still, Grasshopper doesn't cap your ability to earn interest, while competitors like Bluevine Business Checking and American Express® Business Checking don't earn interest on balances above $250,000 and $500,000, respectively.
No fees and free wires: Most online business checking accounts have relatively few fees — that's part of their appeal. Grasshopper is no different in this regard; customers don't pay for ACH transfers, incoming wires, overdrafts or ATM usage (third-party fees may apply, though). But Grasshopper also offers perks like cash back and a competitive APY, which is a rarity even among other free business checking accounts.
Where Grasshopper business checking falls short
You can't deposit cash: Not every business deals in cash, but those that do won't find their needs met with Grasshopper. The digital-only bank doesn't support cash deposits at this time. Several other online banks do have this functionality, though, allowing customers to deposit currency via GreenDot (for a fee) or directly through an ATM.
No weekend customer support: Grasshopper gets a lot right on the customer service front. It offers extended hours (9 a.m. to 11 p.m. EST) and four ways to get support (phone, chat, email and text). Unfortunately, that service is available only Monday through Friday. Even brick-and-mortar banks offer some form of support on the weekends.
Want a free online business checking account with around-the-clock support? Consider American Express® Business Checking, which offers 24/7 live customer service (and earns 1.30% APY on balances up to $500,000).
at Grasshopper Bank, Member FDIC