New Rules of Credit Card Points Etiquette
When is it OK to bring up your credit card rewards? Learn the do's and don'ts from experts and point maximizers.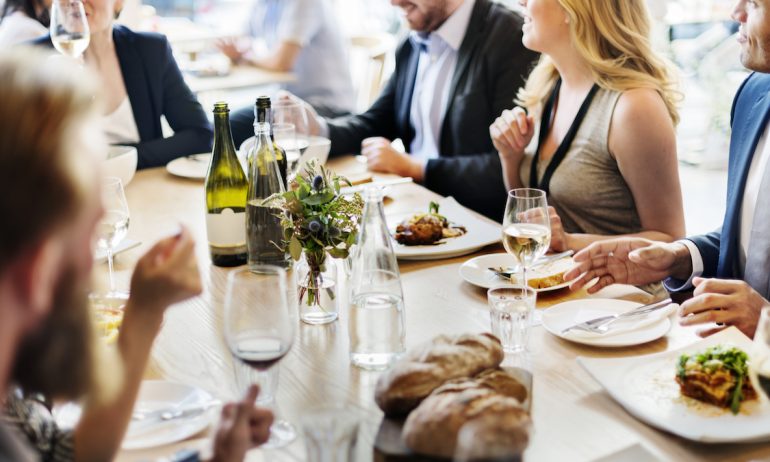 Many or all of the products featured here are from our partners who compensate us. This may influence which products we write about and where and how the product appears on a page. However, this does not influence our evaluations. Our opinions are our own. Here is a list of our partners and here's how we make money.
Racking up credit card points and then cashing them in for free airplane tickets or cash back might feel gratifying — but if you're not careful, you might be harming some personal relationships along the path to victory.
"Talking points is like talking money," says Debbie Todd, a certified public accountant in Woodland, Washington, who works hard to maximize her credit card rewards points. Whether you're splitting the bill or sharing a hotel room among friends, asking to put the tab on your card for the points and then collecting reimbursements can lead to awkward money moments. "If you're talking about points with a friend, most times it's OK, but it has to do with the tone and reasoning behind it," Todd says.
We talked to etiquette experts and credit card point maximizers like Todd to learn how to navigate this very modern manners challenge. Here are the new credit card etiquette rules to keep in mind.
Don't brag about your points savviness
Kelly Williams Brown, author of the advice books "Gracious" and "Adulting," says that while she usually tries to put shared expenses like a weekend away with friends on her credit card in order to earn points, she typically avoids coming out and saying so. Her hesitance is out of concern it could make a friend feel badly about her own financial situation. "Dinner might be a real splurge for someone, and then you wouldn't want to say, 'Let me get this so I can reap all the benefits of the points,'" she says.
In other words, if your friends are struggling with credit card debt, they might not want to hear about how you're planning to upgrade your next plane ticket to first class with points. "It brings up disparities to raise rewards. It's great to be on top of your credit and using it well, but that's not the case for everyone. There are lots of people who get nervous every time their debit or credit card is being swiped," Brown says.
"

If your friends are struggling with credit card debt, they might not want to hear about how you're planning to upgrade your next plane ticket to first class with points.

"
Do share tips with friends who are interested
On the other hand, if you're out with close friends who are as eager to strategize about credit cards rewards points as you are, there's little reason to hold back.
Louis DeNicola, a personal finance expert and freelance writer in Oakland, California, says some of his friends ask him to share his points-earning strategies. "If someone asks me about it, I'll get into it, but I'm not going to barrage someone with information if they're not interested," DeNicola says. Similarly, he adds, he avoids bringing up points when the occasion has a more serious purpose. "To bring up points during payment might devalue the rest of the conversation," he says.
Do consider splitting the cost evenly on credit cards
Jockeying for position among your dinner party so you can grab the bill from the waiter first and claim all the points? Poor form. Just agree beforehand to divide the bill, either evenly or by cost per diner.
"It's bad etiquette to be fighting for credit card points," says Lizzie Post, great-great-granddaughter of famed etiquette author Emily Post. She's also co-president of the Emily Post Institute and co-host of the "Awesome Etiquette" podcast. If your fellow diners have rewards cards, they'll likely want to cash in too, she adds.
And if you do pay for the whole thing, are you going to feel comfortable reminding friends to reimburse you after the fact? If that seems awkward, you might want to avoid putting the whole dinner on your card in the first place, Todd says.
"If they don't pay you back, you still have to pay the bill," she adds.
Don't talk points when you're treating someone
"Don't say 'rewards points' when you are taking someone out — don't do it," Brown warns. She says it undercuts the sense of generosity that comes from paying for someone's meal.
"When you are giving someone a gift, you don't need to introduce how you are paying into the mix," she says.
One exception might be among family, Post says. "I had a boyfriend whose mother was so good about picking cards with good incentives, she took a vacation every year with points," she explains. "Whenever we were going out and she was treating us, she would say, 'I'm getting closer to the trip to Ireland!' We were excited and grateful that her treating us to dinner meant she was going to do something she felt good about."
"

Talking about 'rewards points' can undercut the sense of generosity that comes from paying for someone's meal.

"
Do share — and be tactful — with your significant other
DeNicola's girlfriend helps him rack up extra rewards points by putting many shared expenses, such as auto insurance or plane tickets, on his credit cards and reimbursing him. Then, he will use the earned points to pay for trips for them both.
It took a little while to get to that point in the relationship, though, he says. He notes that he did not bring up points on his early dates with his girlfriend.
"If you would feel uncomfortable pulling out a coupon, then don't bring up points," DeNicola advises.
Don't go crazy over points
"Don't let points become so important to you that you start insisting or getting weirdly obsessive about paying as many times as you can," Post warns.
If that starts to happen, she says, then make yourself slow down before inflicting damage on your friendships (or bank account).
Do apply the 'business lunch' standard
Credit card points should never surface in conversation at a business lunch — "It's tacky," says Judith Bowman, founder and president of Protocol Consultants International, an etiquette training company, and author of "Don't Take the Last Donut: New Rules for Business Etiquette."
In fact, even the details of payment itself should be kept out of sight, she says. Bowman recommends that the host of a business lunch quietly slip his or her card to the maitre d' at some point during the meal so the bill never even arrives at the table. "If you want to maintain a level of professionalism," she says, "then it's no one's business if you're earning points or not."
More credit card tips from NerdWallet:
Get more smart money moves – straight to your inbox
Sign up and we'll send you Nerdy articles about the money topics that matter most to you along with other ways to help you get more from your money.