25 Ways to Save on a Wedding
Trimming your guest list by just 10 to 20 people can save you $1,000 on food, alcohol and rentals.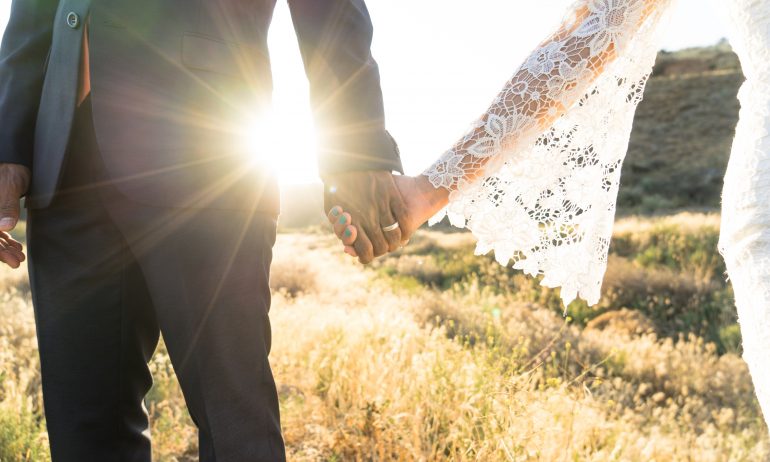 Many or all of the products featured here are from our partners who compensate us. This influences which products we write about and where and how the product appears on a page. However, this does not influence our evaluations. Our opinions are our own. Here is a list of our partners and here's how we make money.
First comes love, then comes marriage and then paying for the wedding. Guess what? There's a reason no one writes fairy tales about the latter.
You don't need to break the bank to make your day memorable, though. We've rounded up more than two dozen ways you can save on your wedding.
Note: Average cost figures are from The Knot's annual Real Weddings Study. The amounts listed are the average amounts spent on each category nationwide, according to the survey.
The venue (average cost: $15,163)
Not all wedding dates are created equal. Find out which ones are most popular by looking up WeddingWire's wedding date calendar. If there's more demand for a given date, you'll usually pay a higher price for a venue. You could score a discount for choosing a less popular month, such as January or February.
2. Skip the Saturday wedding
Saturday is a popular day for weddings, but it's also generally the most expensive day to get married. You can likely reserve your venue at a lower price if you hold your wedding on a Sunday, or even a weeknight.
3. Try a nontraditional venue
A restaurant. A brewery. A vacation house. All these options are potential wedding venues. Picking a spot that doesn't usually cater to weddings can help you save money — and give your nuptials a unique feel.
Restaurants, for example, typically don't charge a venue fee. Instead, you pay for the food (and maybe the booze). Pick one with stellar decor and you can shave that cost off your budget, as well.
Make sure the venue is equipped to handle a large event, and don't forget to factor in rental fees for things such as tents, lighting or bathrooms, if necessary.
4. Negotiate unexpected costs
Lots of unexpected expenses can pop up during planning, including cake-cutting and corkage fees or power for your DJ and a photo booth. You don't have to accept them unquestioningly. If a cost seems unreasonable, respectfully request to have it removed.
5. Use the venue's resources
Ask each venue what's included in the rental fee. Some will include items such as tables, chairs or linens, which can translate into hundreds, if not thousands, of dollars in savings. Beware of upcharges for higher-quality items. If you opt for a DIY venue or a backyard wedding, you'll likely have to buy or rent everything from flatware to serving dishes to lighting.
The invitations (average cost: $408)
You can send electronic invitations for free with Joy, a wedding website that also lets you manage your guest list (including those tricky plus-ones) and track RSVPs. Not ready to go fully paperless? Emailing your save-the-date reminders will still help you save on stationery and postage.
Wedding invitations are easy to do-it-yourself. Tap a design-savvy friend or buy a downloadable template on a site such as Etsy. Then print them at home or at your neighborhood FedEx or another store. Either way, you'll save a couple of hundred dollars over going with a professionally printed invitation suite.
The dress (average cost: $1,509)
8. Check out department stores
Brides aren't finding dresses at just the bridal shop these days. You can pick up a white dress in the prom or party dress section of any department store. The popularity of colored dresses makes formal gowns a nice substitute, too.
9. Consider bridal consignment
A secondhand wedding dress isn't for everyone, but it's a budget-friendly option for brides willing to think outside the box. Look for bridal shops that specialize in pre-owned wedding gowns, or check out websites like Stillwhite, Nearly Newlywed or Wore It Once, which have tens of thousands of once-worn and never-worn wedding dresses. You can also sell your dress via these sites after the wedding.
Most wedding dresses are made to order, but brides can score a discount by buying a sample gown (what you try on in the store). The downside: The detailing on sample gowns can get worn from frequent handling, and the available sizes are often limited. Bridal salons typically carry samples in sizes 8 to 12, which translates to sizes 6 to 10 in street clothes. But some discount bridal shops primarily sell sample gowns and tend to have a wider size selection.
There's more to your wedding attire than the dress (think jewelry, a veil and shoes). Save on your accessories by using family heirlooms. Not only will you save money, you'll also cover your "something old" and "something borrowed."
Flowers and decor (average cost: $2,379)
12. Ask about excess inventory
Some floral designers have warehouses with excess inventory they're willing to give away or lend for free. Once you've placed an order, ask about expanding your options.
13. Borrow from other newlyweds
Ask recently married friends if you can borrow centerpieces or other items left over from their events. Craigslist and Facebook groups are also a great resource to find (and later sell) low-cost wedding decor.
14. Scout out decorations at craft stores
Look for wedding decorations — especially light-up decor — in places such as craft stores. They have "more than glue guns and glitter," says Sharon Naylor, author of dozens of wedding books, including "1,001 Ways to Save Money … and Still Have a Dazzling Wedding." The Dollar Store is also a great place to score low-cost wedding decor.
15. Stick to in-season blooms
You may have your heart set on a particular pink flower to accent your bridesmaids' bouquets, but consider settling for a different shade or variety. Local blooms that are in season at the time of your wedding are generally less expensive. Also, "local flowers tend to look fresher because they didn't have to travel for days," says Stephanie Cain, a lifestyle expert and former editor at The Knot.
16. Get the most out of your flowers
A larger flower, such as a hydrangea, naturally looks fuller and takes up more space with fewer stems, Cain says. And you can repurpose ceremony flowers for the reception instead of buying more. For instance, use a ceremony arch to adorn your sweetheart table at the reception.
Catering (average cost: $70 per guest)
17. Price out multiple meal options
Seated, plated dinners tend to be the most expensive option for catering. So ask each potential caterer about alternatives, including buffets, family-style stations or heavy hors d'oeuvres.
18. Simplify your drink options
An open bar stocked with liquor, mixers, beer and wine can be pricey. Consider sticking to beer and wine to save money while still keeping your guests, um, hydrated. Scaling back options will also help scale back the costs.
Want something more fun? Pick a signature drink to serve just during cocktail hour. You can even ask the bartender to serve them in smaller glasses.
"Most people will go and try the signature drink, take a sip, put it down and go back to their regular drink," Naylor says.
Cake (average cost: $540)
19. Go for a shorter cake
The more tiers on your cake, the more it'll cost you. Cain suggests sticking to two tiers and having sheet cakes to serve. The cake you cut for your pictures doesn't have to feed all of your guests.
20. Dress up a store-bought cake
Don't overlook grocery store bakeries. Their cakes can be delicious, beautiful and affordable. Pick a simple design and dress it up with a few flowers — your guests won't know the difference (nor would they care).
21. Pick a nontraditional dessert
There's no rule that says you have to serve cake at your wedding. If you're indifferent about cake, serve pie or ice cream. Or cookies from your favorite bakery. Picking something you and your partner love will make the day feel extra special, and will likely save you money in the process.
Instead of giving all guests older than 18 a plus-one option, limit it to couples you socialize with regularly, Naylor says. To avoid awkward questions, explain how you're determining the guest list.
The guest list is often a point of contention. All vested parties — you, your partner, your respective parents — have friends and family you want to invite. But keeping your guest list small can help you save on all aspects of your wedding. Can't swing an intimate affair? Trimming your guest list by just 10 to 20 people can save you $1,000 on food, alcohol and rentals.
24. Choose a charitable favor
Don't want to buy a favor for each wedding guest? Make a charitable donation on behalf of all your guests, says Anne Chertoff, a trend expert for WeddingWire. That way, you can determine the amount that you're comfortable spending, donate to a cause you care about and maybe even write off the contribution on your taxes.
25. Limit your photographer's hours
Save money by shaving off some of the time your photographer and videographer are present, Naylor and Cain suggest. You'll likely want them there for the ceremony, but you might not need footage of the end-of-reception dancing.
The bottom line: Devote the biggest parts of your budget to the areas that are most important to you and be willing to compromise on the rest. "Anybody — whether they have a $10,000 budget or a $500,000 budget — is still working on a budget," Cain says.
Before you build a budget
NerdWallet breaks down your spending and shows you ways to save.