Used Car Insurance Explained
What you need to know when you get insurance for a used car.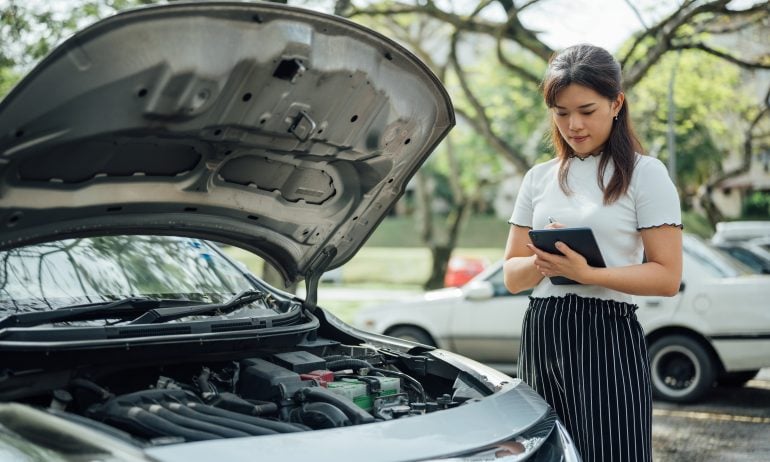 Many or all of the products featured here are from our partners who compensate us. This influences which products we write about and where and how the product appears on a page. However, this does not influence our evaluations. Our opinions are our own. Here is a list of our partners and here's how we make money.
Auto insurance isn't just for shiny new vehicles — used cars need insurance, too. But used car insurance isn't a specific type of policy that companies provide; it's actually the same as new car insurance. But the cost of insuring a used car can be different from that of insuring a new one, and the types of coverage that will best suit your needs may change.
Here's what you need to know about used car insurance.
How much is insurance for a used car?
Used car insurance is typically cheaper than new car insurance, especially when comparing policies that include comprehensive and collision coverage. Since these coverage types pay for damage to your vehicle up to its current market value, insuring a used car will be cheaper simply because it will have depreciated over time, so it would usually be cheaper to replace or repair.
However, in some cases, certain parts for much older car models can become hard to find, raising the cost of repairs, and older cars' lack of safety equipment such as backup cameras and burglar alarms may cost drivers discounts and make the cost of insuring a used car go up.
Besides, the age of your car is just one of the many factors that companies consider when setting a premium for your policy. Car insurers may look at:
The make and model of your car.

Your state of residence and address.

Your age, gender, and other demographic factors.

The types of coverage, liability limits and deductibles you choose.

Your credit score. (California, Hawaii and Massachusetts don't allow insurers to use credit when determining car insurance rates.)
Although comprehensive and collision coverage may be cheaper for a used car, you might not even need to include them in your policy, depending on the age and current value of your vehicle.
Do you need full coverage for a used car?
Full coverage insurance covers you beyond your own liability if you cause a wreck. It includes collision and comprehensive coverage, which pay to fix damage to your vehicle, after the deductible, up to its current market value.
Depending on a used car's age, model, and general condition, its value may have depreciated to the point where full coverage is no longer worth purchasing.
You can drop collision and comprehensive insurance if:
Your car's value is equal to or less than the deductible, since the coverage won't pay out if you file a claim.

The deductible combined with the total cost of the additional coverage is higher than the current market value of your car.
To find the value of your vehicle, be sure to use a reliable source, such as Kelley Blue Book.
If you're leasing or taking out a car loan, your lessor or lender may require you to have full coverage insurance and gap insurance, even on a used car. This makes for a pricier policy. But because older cars tend to be cheaper to fix, and their parts easier to source, this added coverage tends to be cheaper when insuring a used car.
Here's a side-by-side comparison of the average full coverage premium for 35-year-old male and female drivers from all 50 states with no past traffic violations and good credit, compared to the average minimum coverage premium for drivers with the same characteristics. Rates are for a 3-year-old used car.
Is minimum coverage cheaper for a used car?
Minimum coverage requirements vary by state, but they typically include liability insurance, which pays for damage and injuries inflicted on others, as well as protecting you financially in case of a lawsuit. Some states also require uninsured/underinsured motorist coverage, as well as personal injury protection (PIP) or medical payments coverage.
Because these coverage types pay for damage and injuries caused to others, and not for repairing or replacing your own car, the car you drive won't typically make a big difference to the premium you pay for a minimum coverage premium. That's why a minimum coverage policy won't necessarily be cheaper for a used vehicle than for a new one. However, factors like your location, demographic characteristics and driving history can impact how much you pay for minimum coverage. And unless you pay cash for a new vehicle, you'll likely be required to have more than minimum coverage.
Buying a used car without insurance
You may be able to buy a used car without insurance if you purchase it through a private seller. But, as is the case with any other vehicle, you won't be able to drive it legally without satisfying your state's minimum car insurance requirements.
Insuring a classic or specialty car
If your used car is actually an antique or classic car with some sort of collectible value, you may want to consider purchasing specialty classic car insurance, which works very differently from standard auto insurance. While these policies tend to cover antique or collectible cars for more than the listed price, they come with strict mileage limits restricting their use.
NerdWallet averaged rates based on public filings obtained by pricing analytics company Quadrant Information Services. We examined rates for men and women for all ZIP codes in all of the 50 states and Washington, D.C. Although it's one of the largest insurers in the country, Liberty Mutual is not included in our rates analysis due to a lack of publicly available information.
In our analysis, "good drivers" had no moving violations on record; a "good driving" discount was included for this profile. Our "good" and "poor" credit rates are based on credit score approximations and do not account for proprietary scoring criteria used by insurance providers.
These are average rates, and your rate will vary based on your personal details, state and insurance provider.
Sample drivers had the following coverage limits:
$100,000 bodily injury liability coverage per person.

$300,000 bodily injury liability coverage per crash.

$50,000 property damage liability coverage per crash.

$100,000 uninsured motorist bodily injury coverage per person.

$300,000 uninsured motorist bodily injury coverage per crash.

Collision coverage with $1,000 deductible.

Comprehensive coverage with $1,000 deductible.
In states where required, minimum additional coverages were added. We used the same assumptions for all other driver profiles, with the following exceptions:
For drivers with minimum coverage, we adjusted the numbers above to reflect only the minimum coverage required by law in the state.

We changed the credit tier from "good" to "poor" as reported to the insurer to see rates for drivers with poor credit. In states where credit isn't taken into account, we only used rates for "good credit."

For drivers with one at-fault crash, we added a single at-fault crash costing $10,000 in property damage.

For drivers with a DUI, we added a single drunken-driving violation.

For drivers with a ticket, we added a single speeding violation for driving 16 mph over the speed limit.
We used a 2020 Toyota Camry L in all cases and assumed 12,000 annual miles driven. We analyzed rates for drivers of the following ages: 20, 30, 35, 40, 50, 60 and 70.
These are rates generated through Quadrant Information Services. Your own rates will be different.
Get more smart money moves – straight to your inbox
Sign up and we'll send you Nerdy articles about the money topics that matter most to you along with other ways to help you get more from your money.