How to Buy a Cheap, Drivable Used Car
Finding a cheap, drivable car isn't impossible, but it may take a bit of research.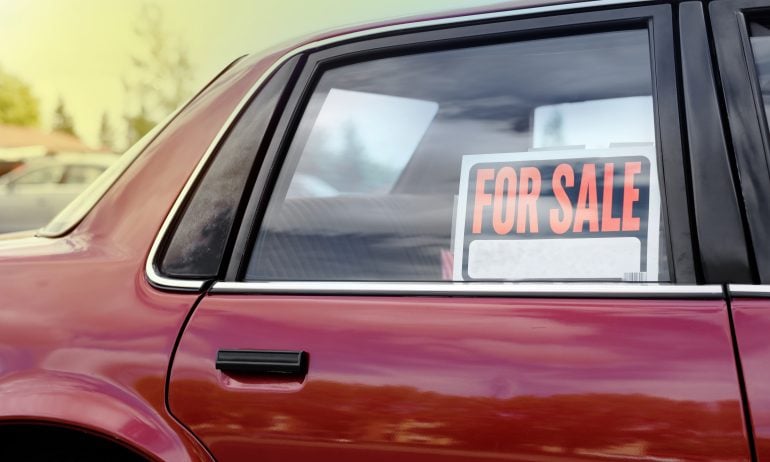 Many or all of the products featured here are from our partners who compensate us. This influences which products we write about and where and how the product appears on a page. However, this does not influence our evaluations. Our opinions are our own. Here is a list of our partners and here's how we make money.
Most auto experts say the lowest price for a reliable used car is now about $5,000.
Pandemic-related supply chain issues have driven the price of used vehicles up dramatically in recent years. On average, used car prices are up 44% since 2019, according to the car listings site CarGurus.com.
Among used vehicles at the lower end of the price scale, the effect of supply chain issues is even greater.
"It's harder to find the good stuff now, and the prices are much, much higher," says Mark Scroggs, an independent dealer in Phoenix who buys 10 to 15 cars a week. "I'm watching junk roll through the auction with 150,000 miles bringing three grand. Once the dealer reconditions the car, it's going to go for $5,000 or more."
Every additional $1,000 in your budget will allow you to get a newer car that's been driven fewer miles.

Find your next new or used car with ease
Compare prices, models, and more from over 1,000,000 cars nationwide. Shop and compare before visiting the dealer, and get a trade-in offer for your current car in minutes
Set practical, realistic search terms
Phong Ly, CEO of used car website iSeeCars, says shopping is much easier if you take time to do your research online before physically inspecting any cars.
The search filter on iSeeCars, for example, can customize results not just by make and model but also by the age of the listing or by vehicles with recent price drops. Other car-buying apps and websites allow you to filter out cars with salvage titles or those from online-only retailers.
With a limited budget, you're looking at cars that are at least 10 years old and have been driven at least 100,000 miles. While that sounds like a lot of miles, Scroggs says that in the past, if "a car had 100,000 miles, it was done. Now you don't change your spark plugs until 100,000 miles."
Even so, with a car of that age and wear, it's likely that you'll be the final owner. The car's resale value is of less consequence than its history. With this in mind, try these filters in your favorite car-buying app:
Price: Set the maximum about 20% above your budget.

Distance: Start locally. Broaden the search area if you don't get results.

Mileage: Set a maximum of 150,000 miles to begin.

Models: Start without making a selection just to see what pops up.

History: Filter for single-owner cars. Filter for no accidents. You may have to uncheck the "no accidents" box if you get too few results, but stay away from salvage-title cars.
Your goal is the lowest-mileage, single-owner, accident-free car you can afford. If it has a vehicle history report showing maintenance records, all the better.
The cars that pop up may not be stylish or efficient or shiny, and they may not be exactly the kind of car you want — but someone kept them running and saw no reason to junk them.
Find a private-party used car
By carefully filtering searches of dealership used car listings, you can find what you want locally. Increasingly, vehicle history reports, such as CarFax reports, are included on dealerships' websites, as well as on car-buying apps.
But chances are your target car isn't at a dealership.
Craigslist and Facebook Marketplace are solid options for finding cheap, local cars — but they also are exempt from many of the laws and protections that govern dealership sales. It's unlikely that a listing will include a vehicle history report, for example, or even supply the 17-digit vehicle identification number, or VIN, you need to run one. There's also little recourse if you're scammed.
In addition, cars sold by private parties haven't been inspected or reconditioned. A dealer might throw new (but cheap) tires on an older car; a private party seller might not. If you plan to buy from a private party, budget $100 to $200 for an inspection.
Be picky about condition, not about brand
Mark Holthoff, manager for a community website for used car enthusiasts called Klipnik.com, says your money will go farther if you look for a vehicle with minor cosmetic flaws such as faded paint, which lowers the price but doesn't affect the mechanical performance.
Most buyers start by searching for Japanese cars, because historically they have the best reliability records.
However, Scroggs warns of the "Toyota or Honda tax" — a premium placed on these top Japanese brands because of their reputation — that skews the value proposition when shopping for a cheap car.
Be open to more affordable Japanese brands such as Mazda, Nissan or Mitsubishi, or even an American car. Scroggs says his auction experience has shown him that the same money buys an American car five years newer, with fewer miles, than it would a comparable Honda or Toyota.
After a decade, who owned the car matters more than who made it. Ownership records can tell you a lot, but so can an in-person inspection. "If there are hamburger wrappers all over the interior, they probably weren't changing the oil," Scroggs says.
Get more smart money moves – straight to your inbox
Sign up and we'll send you Nerdy articles about the money topics that matter most to you along with other ways to help you get more from your money.