What Is the Average Dental School Debt?
Class of 2019 dental school graduates with student debt owed an average of $292,169.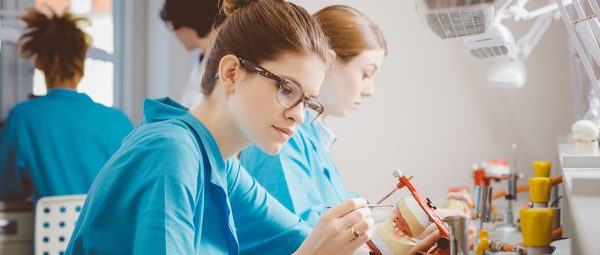 Many or all of the products featured here are from our partners who compensate us. This may influence which products we write about and where and how the product appears on a page. However, this does not influence our evaluations. Our opinions are our own. Here is a list of
our partners
and
here's how we make money
.
The average dental school debt among class of 2019 dental school graduates was $292,169, according to a survey by the American Dental Education Association.
That average includes dentists with any type of student debt — including from undergraduate studies. More than 80% of dental school students in the class of 2019 took on dental school loans, according to the ADEA.
With a $292,000 student loan balance, you'd owe more than $3,390 per month on a 10-year repayment plan, assuming a 7% interest rate.
Average dental school debt by year
Dentists have long been some of the most indebted professionals, on average. Here's how the average dental student debt for the class of 2019 compares to other recent dental school grads, according to the ADEA.
| | Average Dental School Debt |
| --- | --- |
| | |
| | |
| | |
| | |
| | |
Dental student debt vs. other health professionals
Most health professionals take on significant debt to get their degrees. Here's how the average dental school debt compares with other fields for the class of 2018, the most recent year all of the data are available:
Sources: Association of American Medical Colleges, American Association of Colleges of Pharmacy, American Veterinary Medical Association
How to tackle dental school debt
If you need lower monthly payments: Federal income-driven repayment plans cap your monthly payment at 10% to 20% of your income and extend your loan repayment period from 10 years to 20 or 25 years, depending on the plan. They also forgive the balance remaining at the end of your repayment period, but you'll owe taxes on the forgiven amount.

If you work in the public sector or an underserved area: Multiple federal and state programs offer dental school debt forgiveness for dentists who work in the public sector or an underserved area for a certain period of time. The most popular is Public Service Loan Forgiveness, which offers tax-free loan forgiveness to borrowers who make 10 years' worth of payments while working for the government or a nonprofit.

If you have excellent credit: Refinancing dental school loans can lower your interest rate, which can save you money and help you become debt-free faster. You typically need a credit score in the high 600s to qualify and a higher score to get the lowest advertised rates. Refinanced federal student loans aren't eligible for federal programs including income-driven repayment and Public Service Loan Forgiveness.
Find ways to save with NerdWallet
Really get to know your money and find cash you can put aside and grow.