How to Get College Application Fee Waivers
Waivers for college application fees and the SAT or ACT tests can help curb application costs.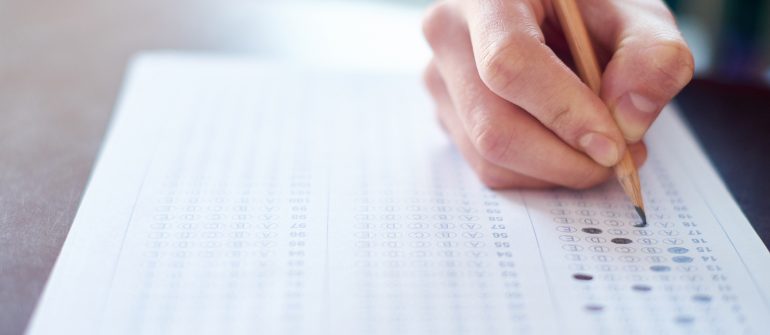 Many or all of the products featured here are from our partners who compensate us. This influences which products we write about and where and how the product appears on a page. However, this does not influence our evaluations. Our opinions are our own. Here is a list of our partners and here's how we make money.
Learn more about how much college could cost — and, how to afford it:
The price of applying to colleges can add up fast, but getting a college application fee waiver can help.
Students and their families should expect to pay an application fee ranging from $35 to $60 for each college they apply to. Registering for the SAT test costs $60, and the ACT costs up to $93.
And that's just the bare minimum. Many students go on campus visits, enroll in pricey college admissions test prep services and take the ACT and SAT multiple times in pursuit of stellar scores, adding even more costs to applying to college.
In many cases, you have to front these costs in order to apply to colleges. But if you can prove that you have a financial need, there are ways to get around some of them. Here's how.
Student loans from our partners

1. Ask for ACT and SAT fee waivers
Costs related to college applications start with standardized testing fees.
You can get up to two SAT fee waivers and four ACT waivers, allowing you to take each test multiple times for free. To get either, talk to your high school college or guidance counselor. Each test company allocates only a certain number of waivers to each high school, and it's up to the school's counselors to distribute them based on need.
There are several ways to qualify. You may be eligible if you:
Live in a foster home or public housing or are homeless.

Are in a free or reduced-price lunch program or qualify for one based on your family's income.

Receive public assistance, including Medicaid or food stamps, or are in a government program for low-income families, such as Upward Bound.
2. Request college application fee waivers
The SAT fee waiver is a gift that keeps on giving: In addition to letting you take the test for free, it also lets you skip the application costs for as many colleges as you need. If you get an SAT waiver, the College Board will send you application waivers in the fall of your senior year or when you get your SAT test scores.
Many college applications have a field where you can indicate that you want to be considered for a fee waiver. If a school's application doesn't have a fee waiver option, try the NACAC fee waiver request form. In both cases, you need to qualify based on your financial situation — the requirements are similar to the ACT and SAT waiver requirements. Your high school counselor may also need to verify that you have financial need, either electronically or with a signature.
However, there's no guarantee that you'll be able to get a fee waiver or that a college will honor it if you do; each campus can use its own discretion.
3. Find colleges with no application fee
Not all hope is lost if you can't get a fee waiver. Some colleges give out codes for a free application to students who attend certain college fairs or visit the school's campus. And many colleges simply don't charge application fees at all. For example, it's free to apply to Carleton College in Northfield, Minnesota; Kenyon College in Gambier, Ohio; and Reed College in Portland, Oregon. The College Board has a list of colleges with no application fee and colleges that accept fee waivers.
Many schools accept the Common App, a standard application which can be used to apply to more than 1,000 colleges. About half of all schools that accept the Common App don't require an application fee, according to a 2023 NerdWallet analysis. The Common App also allows you to be considered for a fee waiver.
4. Ask the college to waive the fee
If all else fails, it doesn't hurt to directly ask the college to waive an application fee. Call the admissions office yourself or ask your high school counselor to help advocate in your favor.
In your request, explain that paying the application fee would create a financial hardship for you or your family.
As you're thinking about your college applications, start thinking about financial aid too. Fill out the Free Application for Federal Student Aid, known as the FAFSA, to open the door to grants, scholarships, work-study opportunities and federal student loans.
Get pre-qualified in just 3 minutes with Credible
Check multiple student loan lenders to get accurate, pre-qualified rates with no impact to your credit score.
Spot your saving opportunities
See your spending breakdown to show your top spending trends and where you can cut back.