How Black Parents Can Avoid the Parent PLUS Loan Debt Trap
Avoid the parent PLUS loan debt trap by understanding financial aid options and setting limits on how much you borrow.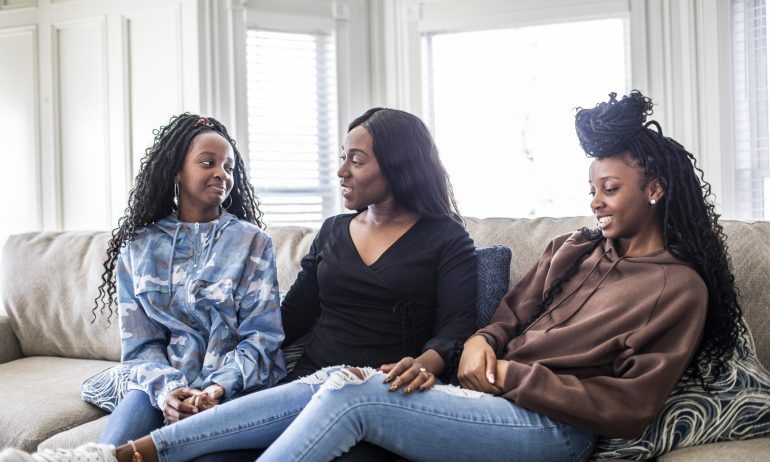 Many or all of the products featured here are from our partners who compensate us. This influences which products we write about and where and how the product appears on a page. However, this does not influence our evaluations. Our opinions are our own. Here is a list of our partners and here's how we make money.
Malik Lee, a Georgia-based certified financial planner and managing principal of Felton & Peel Wealth Management, thinks back to being accepted to Morehouse College in 1999 and facing around $20,000 per year in college costs.
While his friends' parents took out loans to cover education costs, Lee's grandmother — his legal guardian — declined.
Her response may seem harsh, but looking back with his perspective as a financial professional, Lee describes it as one of the best decisions she's ever made.
Many of those parents who took out loans for their kid's education struggled to repay them, Lee says. In some cases, the children are covering the loan payments because the parents can no longer afford them.
Lee imagines his grandmother, now 90 years old, still paying on a loan for his education when retirement should be her priority. Her saying "no" was an amazing decision, he says.
Parent PLUS loans can be harder to repay
Federal parent PLUS loans are available to parents of dependents attending college and are intended to fund education expenses not covered by other federal student aid.
But these loans differ from federal loans taken out by student borrowers in ways that make them harder to repay:
Higher interest rates. The interest rate on parent PLUS loans is 8.05%, compared with 5.5% for federal student loans. 

No grace period. Federal student loan borrowers have a six-month grace period before they begin repayment. Repayment for parent PLUS loans begins after the loan is fully paid out.

Fewer repayment options. Parent PLUS loans don't qualify for the government's more generous income-driven repayment programs — like Revised Pay As You Earn, Pay As You Earn and Income-Based Repayment. Parents can apply for Income-Contingent Repayment after consolidating to a Direct Loan.
When you couple the tougher loan terms — compared with federal student loans — with the racial wage and wealth disparity that impacts Black families, you get a double-edged sword that limits the economic growth of some of the most vulnerable borrowers, according to a recent brief by the Education Trust, a higher education research and advocacy group based in Washington, D.C.
On average, Black workers earn 22% less than white workers, based on March 2023 weekly earnings data from the Bureau of Labor Statistics. And, regardless of income, Black households are less likely to own financial investments, according to a January 2023 report from the Treasury Department. Black families who do invest hold significantly less value in their assets, compared with white families, the same report concludes.
Black borrowers are dipping into their retirement plans to repay parent PLUS loans, says Brittani Williams, senior policy analyst in higher education for the Education Trust. And that's undercutting their ability to save for their own futures.
If your child is heading off to college soon, there are ways to support them without falling into a debt trap.
Dive into the financial aid process
The more you can learn about financial aid and funding options, the less likely you'll overextend yourself and be left with debt you can't repay.
"Immerse yourself in the financial aid process as much as you're immersing yourself in the college choice," says Jackie Cummings Koski, an Ohio-based certified financial planner and financial educator. Koski says financial aid offices can often show you program-specific funding or other need-based dollars available to those who ask.
Making sure your child submits the Free Application for Federal Student Aid, or FAFSA, is a great starting point. But before you or your child accept any money, be sure to visit studentaid.gov to understand the type of federal aid awarded and the terms that come with it.
Set limits on how much you borrow
You can borrow up to the cost of attendance — with a parent PLUS loan — minus any federal aid your child receives. That could mean being asked to foot a pretty hefty bill, depending on what's awarded to your child.
But you don't have to borrow the full amount requested.
"Consider not paying for everything," says Angela Ribuffo, an Alaska-based certified financial planner and president and financial advisor for Raion Financial Strategies. Parents can pay for one year — ideally year four, so they have at least three years to put away money, Ribuffo says. Giving yourself time to save can minimize how much you borrow, if you choose to borrow at all.
You can set limits on how much you borrow based on your income and other financial goals. Use a parent PLUS loan calculator to see how different loan amounts can impact your monthly payment given an 8.05% interest rate.
Always prioritize your retirement savings
As hard as it might be, try not to place funding your child's education over saving for retirement.
"We're not saying retirement is more important than your child's future," Lee says. "It's that your retirement has no fail-safe."
If you must choose between contributing to your child's education or saving for retirement, Lee recommends being realistic about how the two scenarios can play out. There are more options for a child who cannot pay for college than there are for a retiree who is short on income, Lee says.
Committing to your retirement savings over paying for college could mean your child must find alternative ways to fund their education, and that is OK. Helping them research how to pay for college is still supporting your child on their journey and showing them that their future is important.
Spot your saving opportunities
See your spending breakdown to show your top spending trends and where you can cut back.