What Is the Common App?
The Common App is a standard college application used by roughly 900 schools across the U.S.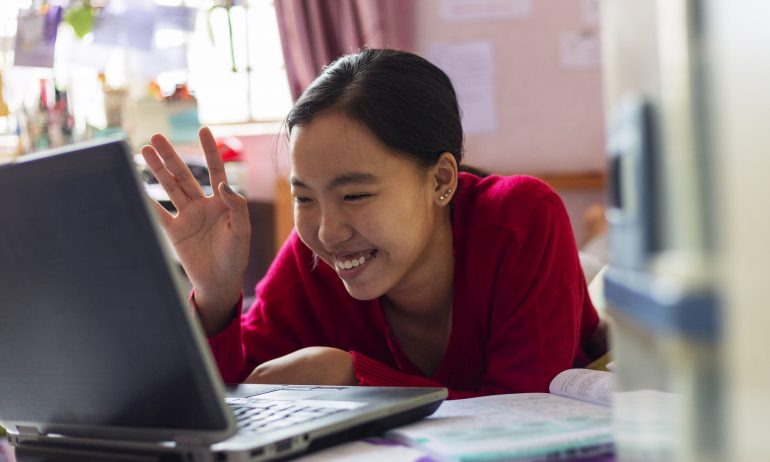 Many or all of the products featured here are from our partners who compensate us. This may influence which products we write about and where and how the product appears on a page. However, this does not influence our evaluations. Our opinions are our own. Here is a list of our partners and here's how we make money.
The Common App enables you to apply to multiple colleges across the U.S. with one standard application.
You'll enter personal and schooling information just once on the Common App. It can then be sent to up to 20 schools among the roughly 900 institutions that accept the App. All of the colleges that accept the Common App offer four-year degrees.
When does the Common App open?
The Common App opens each Aug. 1 for the fall of the following year. For the 2022-23 school year, it opens Aug. 1, 2021.
The deadline for submitting the Common App can depend on which application method you select, such as early decision or early action, as well as the deadline set by each college.
Information on each school's deadline will be visible in your Common App account — which you can set up at commonapp.org — once you add it to the list of colleges you're applying to. Many schools have a regular decision deadline around the beginning of January.
Unless you're applying to a college with rolling admissions, there usually isn't an advantage to submitting an application as soon as possible. But starting sooner rather than later can reduce your stress later on.
What information do you need to complete the Common App?
The standard portion of the Common App requires that you submit personal information such as your name and address, as well as details on the level of education your parents and siblings have reached. While not always required, there is also space to share test scores — including Advanced Placement, ACT and SAT — as well as any of your extracurricular activities.
There are also sections to submit a personal essay — prompts for which are provided by the Common App — and enter classes you've taken and grades you've received. Although it isn't required that you submit the essay or your grades initially, some of the colleges that you apply to with the Common App may ask you to do so. The same personal essay can be submitted to multiple schools.
The colleges may also seek additional information, including letters of recommendation from teachers or counselors, additional essays, and in some cases, portfolios of work (often for art school or STEM programs).
The Common App can also differ slightly for those using it as transfer students. And there are fewer schools — around 600 — that accept transfer student applications via the Common App.
How much does it cost to submit the Common App?
For the 2020-21 application period, 49% of the colleges that accepted the Common App didn't require an application fee for first-year students in the U.S., according to a NerdWallet analysis. Of those that did require a fee to apply, the average was nearly $55. In some cases, the fee can be $80 or more.
Spot your saving opportunities
See your spending breakdown to show your top spending trends and where you can cut back.