BB&T Business Loans Review: Options and How to Apply
See the variety of BB&T business loans available, the pros and cons, and learn about the application process.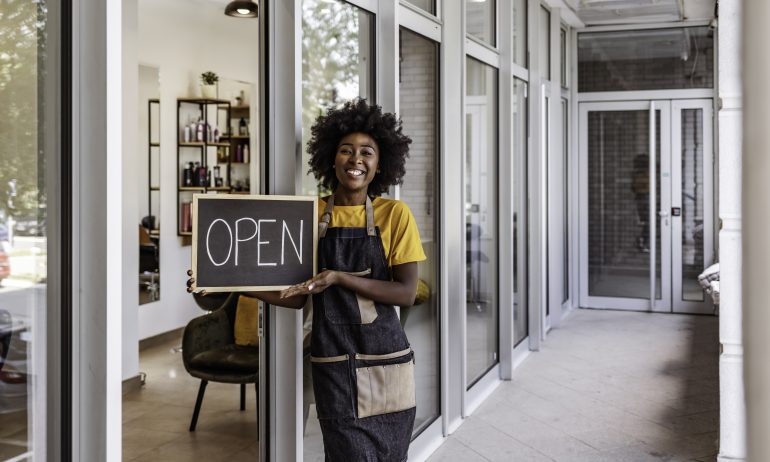 Many or all of the products featured here are from our partners who compensate us. This may influence which products we write about and where and how the product appears on a page. However, this does not influence our evaluations. Our opinions are our own. Here is a list of our partners and here's how we make money.
BB&T Bank is one of the largest financial services companies in the U.S.—it operates in 15 states and Washington, D.C.—and has been working with small and large businesses alike for over 100 years. Wondering what BB&T has to offer in terms of small business loans?
In this review, we'll walk you through everything you need to know about BB&T business loans, including their options, how to qualify, top alternatives and more.
2020 Update: BB&T and SunTrust have merged to create Truist Bank.
In December 2019, BB&T and SunTrust merged to create Truist Bank.
As of October 2020, BB&T was still operating with their name on their branches, ATMs, banking applications and website. In addition, according to the BB&T website, both BB&T and SunTrust will continue to offer independent product lines for a period of time—when this changes, we will update this review to reflect those changes.
BB&T business loan options
BB&T has an entire division devoted exclusively to small business borrowing solutions. Within this branch of the bank, they offer small business loans, lines of credit, SBA loans, as well as business credit cards.
That said, although not labeled under their small business borrowing solutions, it's worth noting that BB&T also provides commercial lending products, as well.
Let's break down these BB&T business loan options.
BB&T offers both secured and unsecured business term loans that can be used to finance startup costs, maintain cash flow, make improvements and for a variety of other business expenses.
These BB&T business loans are lump-sum loans with monthly repayments that may have fixed or variable interest rates. You'll receive a set loan amount with a specified repayment length established at the beginning of the loan process.
Unfortunately, other than these basic details, BB&T doesn't give additional information about their term loans on their website. Therefore, if you're interested in a BB&T business term loan, you'll have to visit a branch or call a representative to learn more.
Again, similar to their business loans, they don't provide too much information about these products upfront. Here are the details they do offer:
Revolving lines of credit that give you access to funds when you need them.

Monthly repayments that adjust according to your balance.

Pay down the line amount and continue to use it over time up to your limit (i.e. a true revolving line of credit).

Eligible uses include working capital, covering cash flow gaps, taking advantage of unexpected opportunities.
As an SBA Preferred Lender, BB&T not only offers SBA loans, but actually has the ability to expedite the loan process.
According to their website, BB&T allows you to choose from multiple SBA borrowing options, benefit from a lower down payment and more flexible terms, and access competitive rates. They also state that for owner-operated, for-profit companies, their SBA loans can be used for a variety of purposes, including:
Buying an existing business.

Purchasing land or business.

Constructing owner-occupied buildings.

Purchasing equipment or inventory.
With this in mind, although BB&T doesn't specify which types of SBA loans they offer on their website, we know at the very least they provide SBA 7(a) loans—as they were named on the list of the 100 most active SBA 7(a) lenders.
Although you may not typically consider credit cards under the umbrella of business loans, BB&T does group their business credit cards in with their small business borrowing solutions.
That said, BB&T offers three different business credit cards:
BB&T Bright for Business: No annual fee, 0% intro APR for 12 months on purchases.

BB&T Spectrum Cash Rewards for Business: No annual fee, 0% intro APR for nine months on purchases, earn up to 3% cashback on business purchases.

BB&T Spectrum Travel Rewards for Business: Annual fee waived for the first year, earn 2x rewards on travel purchases, welcome bonus opportunity, no BB&T foreign transaction fees.
Use our guide to learn more about these BB&T business credit cards in more detail.
As we mentioned above, in addition to these BB&T business loans, there are separate commercial loan options that BB&T offers as part of their commercial lending division.
Once again, BB&T doesn't go into too much description on their website about all of these different solutions, however, it's worth mentioning that these products are also available. Overall, BB&T's commercial lending products include:
Commercial term loans: Purchase owner-occupied real estate, equipment and more.

Working capital solutions: Lines of credit secured by accounts receivable and/or inventory.

Commercial real estate financing: Loans, lines of credit and other options available for financing commercial and residential construction, land acquisition and more.

Equipment financing: Capital leases, loans, equipment finance agreements, terminal rental-adjustment clause leases and operating and fair-market-value leases.

Export financing: Financing and insurance to make international trade transactions.

Industry-specific financing solutions: Health care practice solutions, agribusiness lending, governmental financing and more.
Pros and cons of BB&T business loans
Now that you have a better sense of the different types of loans BB&T has to offer, you might be wondering—why choose BB&T over another bank, or another lender?
With that question in mind, let's review some of the most notable benefits and drawbacks of BB&T business loans.
Long terms and affordable interest rates: Even though BB&T isn't particularly descriptive about the details of their loan products on their website, as a reliable bank lender, you know they're going to be able to offer some of the most ideal rates and terms on the market—especially for highly-qualified borrowers.

SBA preferred lender: Along the same lines, if you're looking for an SBA loan, BB&T can offer expedited processing, in addition to the long terms, large loan amounts and low interest rates that you'll find with most SBA loans. Plus, although BB&T doesn't mention which types of SBA loans they offer, it is worth noting that their website specifically calls out SBA loans for startups—which is something that not many banks are willing to provide.

Variety of loan options: Between their small business borrowing and commercial lending solutions, there's no doubt that BB&T has a wide selection of options for you to find the right financing to meet your business's needs. For small businesses, in particular, their term loan, line of credit and SBA loan options seem to be able to meet a range of funding needs.
Limited information available: Perhaps the biggest drawback of BB&T's business loans is there is not much information available on their website about their terms, rates, or amounts. As we've discussed throughout our review, BB&T provides very little information online about the details of their various loan products, which makes it much more difficult to compare their offerings to other banks, online lenders, etc. Unfortunately, if you're at all interested in a business loan from BB&T, you'll have to contact them directly for these types of details.

Have to apply in person or over the phone: Like many traditional brick-and-mortar banks, BB&T requires that you begin the business loan application process by visiting a branch in person or speaking with a representative over the phone. They do not have an online option for any of their small business borrowing products—including their business credit cards.

Difficult to qualify: In general, it will be difficult to qualify for a business loan for BB&T unless you have great credit, strong business revenue and at least a few years in business. Although BB&T doesn't disclose its borrower eligibility criteria, brick-and-mortar banks typically have the most stringent requirements.

Limited by location: Your ability to access a BB&T business loan will also be limited by your location—you'll need to be located in one of the 15 states (or D.C.) that they serve in order to apply for financing.
How to qualify and apply for a BB&T business loan
If you think a BB&T business loan might be right for your business, your next step is to determine how to qualify.
As we mentioned above, BB&T does not disclose its eligibility criteria; however, banks traditionally ask that businesses meet a higher level of loan requirements in order to qualify. With this in mind, you should expect BB&T loan requirements to include:
Excellent personal credit (~700+).

Two or more years in business.

Collateral (depending on the loan).
That said, for any of BB&T's SBA loans, it's important to note that you'll need to meet SBA loan requirements in addition to the general loan requirements set out by BB&T.
BB&T business loan application
To actually apply for a BB&T business loan, you'll need to visit a local branch or call a representative to start the process.
Although BB&T doesn't provide access to its loan application online, its "Borrowing Guidelines for Businesses" does offer some insight into what you might expect when preparing and submitting your application. According to their article, you should expect to provide any or all of the following with your business loan application:
Current profit and loss statement.

Lease and/or loan agreements.

Ownerships and affiliations with other businesses.

Personal financial information.

Tax returns and CPA-prepared financial statements.

Organizational documents including articles of incorporation, LLC or partnership agreements, etc.
Once again, if you're planning to apply for an SBA loan, remember that you'll likely need to submit additional documentation and fill out specific SBA forms.
When it comes down to it, it's hard to get a true overview of BB&T business loans without visiting a branch or talking to one of their representatives.
Therefore, if you're at all interested in these loan products, we'd recommend taking that step and learning more about the rates, terms and loan amounts they may be able to offer your business.
On the other hand, however, whether you want access to more information right away or don't think you'll qualify for one of these bank loans for your business, you might check out one of the following alternatives:
Funding Circle is an alternative lender that offers medium-term loans in amounts up to $500,000.
Funding Circle is great if you're looking for terms and rates that are similar to a bank lender, like BB&T, but an online-based application process, more flexible qualification requirements and a faster time to fund.
Plus, you can find all the details about Funding Circle's term loans on their website.
Kabbage is an online lender that specializes in lines of credit for small businesses.
With Kabbage, you can access a line of credit up to $250,000 through a streamlined, online-based application process. To qualify, you need to have a minimum credit score of 640+, at least $3,000 in monthly revenue and at least one year in business.
Although a Kabbage line of credit will more than likely have higher interest rates than a credit line from BB&T, Kabbage can offer funding much more quickly and easily than a traditional brick-and-mortar bank.
So, with all of this information laid out in front of us, the question stands—are BB&T business loans the right move for your small business?
At the end of the day, the answer depends on the unique financing needs of your business.
It's important to remember, however, that BB&T doesn't provide many details about their loans online, so be sure to contact a representative for more details before making your final decision.
Frequently asked questions
Does BB&T offer SBA loans?
Which business loans does BB&T offer?
Do I need a bank account with BB&T to get a loan?
with Fundera by NerdWallet
This article originally appeared on Fundera, a subsidiary of NerdWallet.