Best Banks in NC for Small Business
Consider your current banking needs and how growth could affect that down the road as you review banks in NC.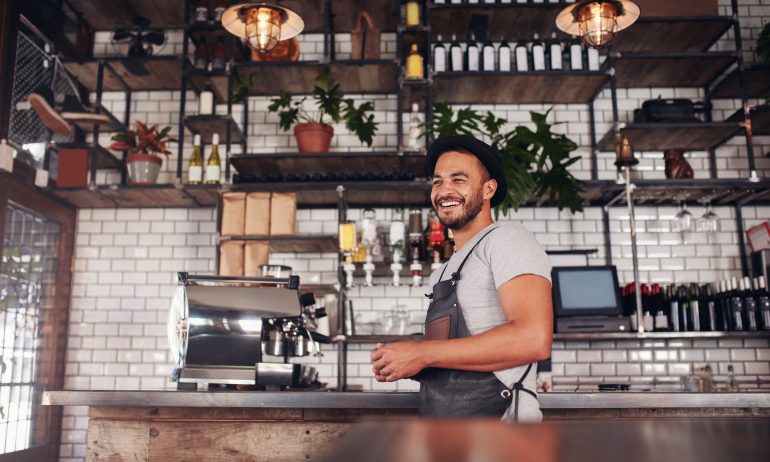 Many or all of the products featured here are from our partners who compensate us. This may influence which products we write about and where and how the product appears on a page. However, this does not influence our evaluations. Our opinions are our own. Here is a list of our partners and here's how we make money.
Compare Top Business Banks
Check out our roundup of best banks for small businesses and compare offers to find the right bank for you.
As a North Carolina-based small business owner, finding the right business bank account to manage your business finances is crucial. And as a discerning North Carolina-based business owner, you're probably keen on finding the best bank for small business in NC.
But for many small business owners, especially newbies, that's easier said than done—and scouring bank websites (or, ideally, visiting your local bank branches and chatting with a bank rep) isn't exactly the most exciting aspect of starting a business in NC.
So in this guide, we've done the work for you and compiled what we believe to be four of the best banks in NC for small business. We'll also help you figure out what "the best" means for your particular business—at least in terms of a good, solid bank with products and services tailored specifically for small business owners like you.
What makes the best bank for small business in NC?
In truth, there is no single best bank for small business in NC, as "the best" is entirely dependent upon your business's banking needs and preferences. That said, there are certain considerations to keep in mind as you're defining your personal best.
The first thing to consider in your search for the best bank in NC for small businesses is potentially the most obvious: You need a bank that has a branch near you. Although most banks are equipped with online and mobile banking capabilities for simple transactions, you'll likely need to visit your local branch in person for more substantial tasks—including opening your business bank account in the first place. Be sure your bank has at least one ATM near your home or office, too. And if you ever need to access your business finances beyond your home base, make sure your bank has ATMs in locations where you frequently travel and doesn't charge out-of-network ATM fees.
Next, evaluate what you need from your business bank account. Looking at the following key features will help you determine whether a particular bank's account offerings can work for you:
The total number of deposits allowed per day and per month.

Fees for incoming and outgoing wire transfers, both domestically and internationally.

The number of general transactions permitted per day and per month.
On top of these general bank account features, you'll need to think about the support and services you want from the bank itself. If you'd rather not need to visit your local branch often, the best bank in NC for your small business might be one with full-service online and mobile banking portals. On the other hand, if you're looking for guidance on your business's finances and operations, choose a bank that prioritizes one-on-one customer relationships and offers robust business services like long-term financial planning and small business insurance. Some banks are equipped with payroll services, employee benefits administration and retirement planning services too, which can be incredibly helpful for businesses with employees.
It's also important to keep your future needs in mind, as you should never worry about outgrowing your bank. So if you think you'll need substantial business financing at some point in your operation, look closely at every bank's small business loan products (some banks may even offer loan products tailored to your industry). Make sure to evaluate each bank's business savings account options and their tiered checking account options, too, which will allow for seamless account transitions as your finances grow. Ideally, the best bank in NC for your small business will be able to accommodate your growing business.
Best banks for small business in NC: Your top 4 options
Now that we've covered the major considerations involved in finding the right bank for your business, let's get into our list of the best banking options for small businesses in North Carolina.
Even though we also noted that there is no one-size-fits-all banking solution for all small business owners, we've evaluated the following banks (listed in no particular order) based mainly on the quality of their small business-specific banking products and services, as well as their accessibility—which would make any of these four banks a potentially excellent option for North Carolina-based small business owners.
1. BB&T Bank: Best for products and services
BB&T Bank makes the cut for the best banks in NC firstly for its sheer accessibility, as this Winston-Salem-based institution has 292 physical branches located across the state—so no matter which town or city in which your business is headquartered, more likely than not you'll have a BB&T Bank branch and/or ATM within driving distance.
Other than its many locations, BB&T shines for its comprehensive small business products and services, including five types of business savings accounts, along with business loans, business credit cards, payroll, merchant services, employee benefit plans and retirement solutions and business insurance.
BB&T Bank also offers three checking accounts, which are appropriate for businesses of increasing size and needs: Business Value 50, their entry-level checking account, is designed for the smallest sole proprietorships or startups; Business Value 200 is right for most new small businesses with low transaction requirements; and Business Value 500 can accommodate quickly growing businesses with the most transaction requirements.
With Business Value 200, BB&T Bank's most popular business checking account option, you'll get 200 free checking transactions per month, after which you'll pay $0.50 per transaction. You'll also receive $10,000 in cash processing without a fee, and they'll waive the $12 monthly maintenance fee if you meet certain qualifiers every month. If you opt for this account, you can also open a personal checking account with no monthly maintenance fee. And as a major bonus, you can open a BB&T checking account online if you're an existing BB&T Bank customer.
We also like that any BB&T bank account you sign up for will give you access to their powerful online and mobile banking portal, which features same-day ACH payments, account monitoring, and fund transfers and payments. You can integrate your BB&T online banking account with QuickBooks and Quicken to streamline your banking and accounting systems.
2. Wells Fargo: Best for loan possibilities
With 306 bank branches, Wells Fargo also has a strong presence in the Tar Heel State. This San Francisco-based bank boasts a full suite of financial services designed especially for small businesses—including bank accounts, merchant services and payroll services, among others.
There are four Wells Fargo small business checking accounts for various levels of your business, all of which only need a $25 deposit to start. The first, Simple Business Checking, is best for sole proprietors and new freelancers, since it offers crucial, but limited functionality. You're allowed 50 transactions per month and $3,000 in cash deposits, and the $10 service fee is waived if you keep your account at $500. You only need $25 to open this low-maintenance account.
If the Simple Business Checking account seems like too little functionality, we suggest looking at either their Wells Fargo Business Choice Checking or Platinum Business Checking accounts. Business Choice Checking is a popular option for smaller businesses since it allows for more transactions and cash deposits. It also offers payroll services, text and mobile banking, and access to Wells Fargo's National Business Banking Center. The support and stability offered are only buoyed by the discounts they offer on business loans and lines of credit.
Wells Fargo's Platinum Business Checking account, on the other hand, offers a higher-tier business banking account, while maintaining a low cost to open at $25. Along with allowing a higher number of transactions and monthly cash deposits, you'll also get a lot more perks for your growing small business. These include interest on your account balance, waived fees for stop payments, money orders, cashier checks and other forms of payment, and waived fees on up to two checking accounts.
Wells Fargo also has a more advanced account called Analyzed Business Checking for larger businesses that come with features like treasury management services, wire transfers and access to its premier online banking platform.
It also is worth noting that Wells Fargo is a strong option for their small business loans. It offers every form of small business financing you could need and Wells Fargo's unsecured loans may be the best option for small business owners with limited credit history, as, typically, unsecured loans require laxer qualification standards. Its SBA loan program is pretty stellar: As of June 30, 2019, the SBA approved 2,316 SBA loan applications submitted by business owners working with Wells Fargo. That's the second-most number of approvals on the SBA's list of the 100 most active banks.
So if you think your business is well-positioned to score one of these highly coveted, government-backed loans, then you should seriously consider Wells Fargo as the best bank for small business in NC.
3. Bank of America: Best for keeping costs low
Across its 141 North Carolina-based offices, Bank of America offers among the best low-cost business checking accounts for small business owners. That's because this bank offers its customers several ways to waive account fees for each of their Bank of America business checking accounts.
For some more info, let's take a look at their Business Advantage Fundamentals Checking account, which is a good option for small or growing businesses seeking a starter checking account. Bank of America's business checking account features, fees and fee waivers vary slightly depending on your location, however, so for a general sense of things, a Raleigh-based business can avoid its $16 monthly fee by meeting just one of the following standards each statement cycle:
Spend $250 in net new purchases on a business debit card.

Maintain an average monthly balance of $5,000 or more.

Qualify and enroll in the Preferred Rewards for Business program.
Bank of America's Business Advantage Relationship Checking account, the bank's premium checking account product, offers a few truly no-fee banking services: Incoming wire transfers, account management services and a second checking account are all free for these account holders.
Along with either Bank of America business checking account, you'll also have access to their stellar online and mobile banking portals and business and employee debit cards, as well as the bank's other small business-centric products and services—think payroll services, cash management tools, invoicing tax services and several types of small business loans. As a BofA customer, you might also want to check out the three types of Bank of America business credit cards (there's a cashback card, a travel rewards card and a card with a long 0% intro APR period).
4. First Citizens Bank: Best for checking account options
If you'd like more checking account options than just two (even if those two are low-cost), you can consider one of First Citizens Bank's business checking accounts on offer.
Here's a quick rundown of each of these seven types of checking accounts and which kinds of small businesses each are best suited for:
Basic Business Checking: Best for businesses with basic checking needs, this account has no monthly maintenance fee, a $2.50 out-of-network ATM fee and it allows up to 175 transactions for no fee.
Premier Business Checking: A step up from Basic Business Checking, this account carries a $35 monthly fee (which you can waive if you meet certain requirements). It also gets you 500 fee-free transactions per month and no out-of-network ATM fee.
Professional Business Checking: This account is available exclusively for medical, dental, veterinary, legal or accounting firms with high-volume checking needs. This account carries a $55 monthly maintenance fee unless you meet certain monthly requirements and 1,000 no-fee transactions per month.
Analysis Business Checking: Along with moderate-to-high checking activity, this account works best for businesses that need cash management services. This non-interest-bearing account carries a $21 monthly fee.
Business Checking with Interest: As the name suggests, this is an interest-bearing checking account that can work for sole props, for-profit companies and nonprofits with a moderate-to-high number of transactions per month. This account also has a $21 monthly maintenance fee.
Additionally, First Citizens Bank offers two money market checking accounts: Commercial Money Market Checking, which is available for all types of companies; and Public Money Market Checking, which is tailored specifically to public institutions. Across the board, First Citizens Bank's checking account options require just a $100 minimum initial deposit to open.
Of course, First Citizens Bank offers products and services other than checking accounts—their small business clients can avail themselves of the bank's business loans, credit and debit cards, cash management services, business insurance and employee benefits administration, either at any of their 233 North Carolina branches or through their online or mobile banking portals.
The bottom line on finding the best banks in NC for small business
We hope this guide has given you a foothold in what can seem to be the sheer cliff face of finding the right bank for your North Carolina business. Just remember to start small: Evaluate what your banking needs are right now, what you anticipate needing in the near future and, even more simply, the kind of services and relationship you want from your bank.
Once you evaluate your banking needs, you may find that none of the four banks on this list are actually the right fit for you—and that's okay, too! Your options are hardly limited to what we've covered. In fact, you may even find that you don't need a brick-and-mortar bank at all, in which case a purely digital bank account, like Novo, might be the right choice for a technophile like you.
All told, the most important takeaway here is that you should find a bank whose products, services and customer relationship team supports your business's growth, not stifles it. Partnering with the institution you like and trust (and that has a local branch near you) will do exactly that.
This article originally appeared on Fundera, a subsidiary of NerdWallet.