Medical Business Loans: What They Are and How to Choose One
Medical practice loans can provide funds to start, operate, upgrade or expand your health care business.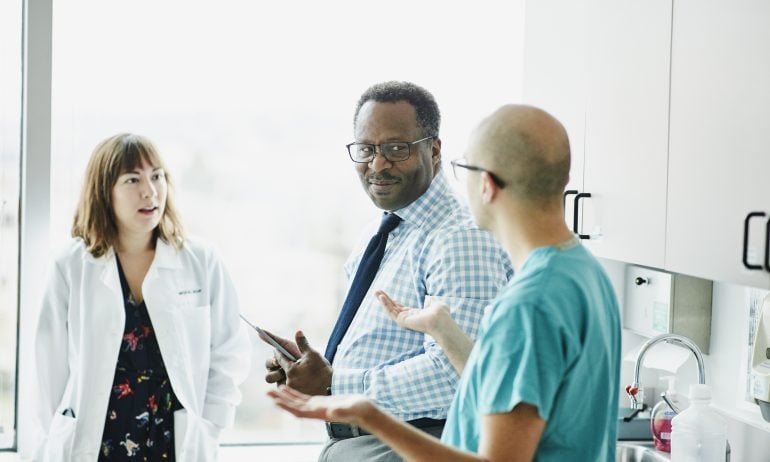 Many or all of the products featured here are from our partners who compensate us. This influences which products we write about and where and how the product appears on a page. However, this does not influence our evaluations. Our opinions are our own. Here is a list of our partners and here's how we make money.
Medical business loans, or practice loans, are designed for physicians and other health care professionals to finance medical, dental, vision care and veterinary practices. These loans can offer financing for established operations, new practices and the acquisition of existing businesses.
These unique business loans are often found at traditional banks and sometimes offer perks you can't find with other loans. However, if they aren't the right fit for your practice, there are other options that could also provide the funding you need.
with Fundera by NerdWallet
Features of medical business loans
Traditional banks such as Wells Fargo, Bank of America, Citibank, TD Bank and U.S. Bank offer specialized loan programs for health care professionals who operate or want to start a medical, dental, vision or veterinary practice.
Loan terms for medical business loans vary depending on the lender and the borrower. Fixed rates, repayment periods of up to 10 years and 100% financing are available from some lenders, depending on the borrower's credentials. Maximum loan amounts can stretch to $12 million or more.
The viability of the medical practice along with the creditworthiness of the health care professional play important roles in the approval process for these loans.
Ways medical business loan funds can be used
Here are some common ways the money from these loans can be used:
Merging with or acquiring another practice.

Expanding, updating or relocating a practice.

Commercial real estate purchases.

Equipment and technology costs.

Non-emergency vehicles, or shuttles, for patient transport.

Operational costs including salaries and insurance.

Debt refinancing or consolidation.
Perks of medical business loans
Because medical professionals typically have high-income potential, lenders often consider them a good investment. To secure your business today and potentially in the future, medical business loan programs can offer perks like:
Fee discounts if you belong to an association that endorses the lender.

Support programs to assist with practice management.

Dedicated project managers.

Fee discounts for additional banking products.

Interest-only payment options.
Choosing a medical business loan
Generally, the best loan for a business is one that offers the lowest rate and most ideal terms. Your decision may also be influenced by the time it will take to fund the loan and the purpose of your loan.
Obtaining quotes from three or more lenders can be helpful in making an informed decision. It also gives you the opportunity to compare interest rates, fees, loan terms and any unique discounts or features associated with each lender's medical business loan program.
Keep in mind that you don't have to limit your comparison to dedicated medical loans. Many types of small-business loans are accessible to medical businesses, and the best option for you might not be specifically branded as a practice loan.
Applying for a medical business loan
As with other business loans, the application process for a medical business loan will depend on the lender you select. However, some typical requirements for a loan of this type include:
A loan application, which might be completed with the lender or online.

Personal and business financial statements.

Professional and business licenses and certificates.

Personal and business income tax returns.

Resumes for you and any partners.

A new or updated business plan.
It can also be helpful to review your credit report before applying for a loan. This gives you an opportunity to get an overview of your credit position and identify inaccurate information. Knowing your credit score before applying can also be helpful when reviewing qualification requirements for specific loan programs.
Alternatives to medical business loans
Again, while medical practice loans are specialized lending programs for health care workers, that doesn't necessarily mean they're the only option when seeking financing for your practice. There are alternative loans you could explore. However, bear in mind that loans from traditional banks, regardless of how those loans are branded, will typically offer the most competitive rates and terms — while also demanding the highest level of borrower credentials.
Traditional bank loans: Not all banks carve out special loan programs for medical professionals. Instead, they may offer small-business term loans that can provide similar financing options without the special title. Another financing option often offered by banks is a business line of credit, which would allow you to borrow money on a revolving basis up to a certain limit.
Equipment loans: If the financing you want is solely for medical equipment, an equipment loan is an alternative to consider. Banks, leasing companies and the Small Business Administration, or SBA, offer loans that can be used to purchase equipment.
SBA loans: If you're having difficulty qualifying for a traditional bank loan, SBA loans are an alternative available to business owners of all types, including medical professionals. They can be used to start or expand your practice, and some loans don't require collateral. Banks and online lenders of all sizes partner with the SBA to offer these loans.
Online lenders: If you can't qualify for a bank loan, online lenders could be another option to explore. Funding can be faster with this type of loan, but higher interest rates and shorter terms are also common.