7 Best Restaurant POS Systems
The best restaurant POS systems include Upserve, ShopKeep and Square.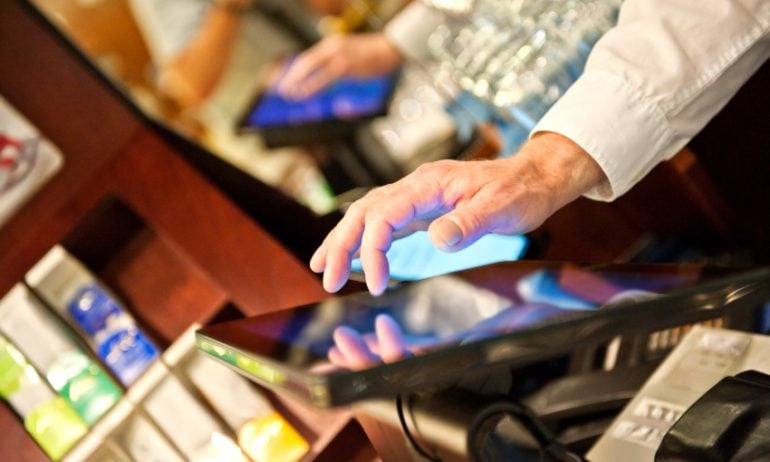 Many or all of the products featured here are from our partners who compensate us. This may influence which products we write about and where and how the product appears on a page. However, this does not influence our evaluations. Our opinions are our own. Here is a list of our partners and here's how we make money.
When you open a restaurant, cafe or bar, you need a point-of-sale system to accept credit and debit payments. But restaurant POS systems these days do much more than accept payments: They track inventory; text and email receipts; analyze customer and sales data; do invoicing; and help manage employees, among other capabilities.
The payment system is the "technological heart of a restaurant," says Michael Oshins, a faculty member at Boston University's School of Hospitality Administration.
In a market full of point-of-sale providers marketing to restaurants, it can be hard to decide which option is best for your business. We culled seven of the best POS systems depending on a restaurant's particular needs. All of the systems are EMV-compliant. These POS systems also support NFC (near-field communication) technology, which enables contactless payments through mobile wallets such as Apple Pay.
In addition to POS systems for restaurants, NerdWallet has compared a host of POS systems for other types of small businesses. Be sure to shop around for the right fit for your needs.
For full-service restaurants: Upserve
Best for full-service restaurants
Formerly known as Breadcrumb, Upserve's point-of-sale system is now available for both iOS and Android devices. Features allow restaurants to create table maps, easily update menu items and monitor sales in real time through the Upserve mobile app.
Business owners can choose whether to lease or buy hardware from Upserve.  Restaurants can process payments through Upserve at a flat rate per transaction or integrate with third-party processors Heartland Payments, Chase Paymentech, First Data, TSYS or Global Payment.
For restaurants that want simplicity: ShopKeep
Best for quick-service restaurants or cafes
ShopKeep, which was founded in 2008, is a cloud-based POS system for iPads designed specifically for restaurants and retailers. The easy-to-learn app looks sleek and has features that allow business owners to customize menus, track inventory, manage employees, market to customers and analyze data.
ShopKeep's monthly fee includes access to a dedicated ShopKeep expert for the first 60 days. For credit card processing, businesses can choose ShopKeep Payments or any processor in the BridgePay gateway including First Data, Chase Paymentech, Vantiv and Heartland. ShopKeep Payments pricing is "interchange plus," which means the wholesale processing cost plus a small fee, ShopKeep spokeswoman Mady St. Onge says in an email.
For new restaurants: Square
Best for quick-service restaurants or cafes
Square was founded in 2009 and has become one of the most popular POS systems on the market. It works with both iOS and Android devices, differentiating itself from competitors that only integrate with iPads.
Square offers additional features to support businesses as they grow. The Square Stand transforms an iPad into a simple cash register, and businesses can purchase additional hardware to customize their setup. Other Square features allow restaurants to send invoices, manage payroll and integrate with third-party applications such as QuickBooks, Xero and TaxJar.
For restaurants more comfortable with Microsoft: Dinerware
Best for full-service restaurants
Dinerware is a Microsoft-based point-of-sale system that was founded in 2000 and acquired by Heartland Payment Systems in 2015. Features include menu building, table management and sales reporting. Dinerware also offers a tablet point-of-sale option, designed for food trucks and tableside ordering.
Dinerware's independent dealers have different pricing structures, but most have monthly support plans and the option to purchase or lease hardware, Dinerware Sales and Marketing Lead Madeline Stockwell says in an email. Dinerware tends to be more expensive than tablet-based systems, but less expensive than some of the legacy POS systems, Stockwell says. Dinerware works with processors including Heartland, Chase Paymentech, First Data and HarborTouch.
For restaurants that value an established brand: NCR Silver
Best for quick-service or full-service restaurants
Launched in 2012, NCR Silver is a cloud-based point-of-sale system made by the legacy POS company NCR Corp., which dates back to the 1880s. There are two NCR Silver options: NCR mobile POS, which runs on iOS devices; and NCR Silver Register, which runs on a closed Android platform that prevents employees from surfing the Internet. It comes with preloaded software and syncs with iOS devices in the cloud.
Both products offer purchase and lease options for the hardware. NCR Silver integrates with processors including Elavon, Vantiv, Worldpay and BB&T.
For restaurants with multiple locations: Revel
Best for quick-service or full-service restaurants
Revel, which was founded in 2010, is an iPad point-of-sale system ideal for larger restaurants such as franchises, catering services and restaurants with multiple locations. It's customizable, with various hardware options and applications available to add-on. Restaurant-specific features include ingredient inventory tracking, table layouts, tableside and online ordering, franchise management, catering and delivery.
Revel's pricing varies depending on a business's type and size, among other factors, Revel spokesman Richard Tso says in an email. Revel works with processors in the USAePAY, Mercury, FreedomPay and WorldPay gateways.
For restaurants that want to process payments tableside: TouchBistro
Good for quick-service or full-service restaurants
TouchBistro launched in 2011 and is an iPad point-of-sale system ideal for both quick- and full-service restaurants. In addition to a full setup with an iPad stand, receipt printer and cash drawer, it offers a mobile POS option for accepting payments at the table. Other features include simple bill splitting, staff management capabilities, inventory tracking, floor layout configurations and sales reporting.
Restaurants can process payments through Moneris, Cayan, Premier and Mercury, SmoothPay and PayPal.
Does your small business need a POS system? Compare your options:
Square POS Great for small-business owners looking for a top-notch POS with quick setup and easy-to-understand fees. Read Review.

Toast POS Great for restaurants that need specific features and 24/7 customer support.

Clover POS Great for small-business owners looking for reasonable prices and versatile hardware options.

Merchant account providers

PaymentCloud Great for businesses in high-risk industries.

Payment Depot Great for cost-effective credit card processing for midsize businesses.
For related information, visit NerdWallet's resources on how to start a business. For free, personalized answers to questions about starting and financing your business, visit the Small Business section of NerdWallet's Ask an Advisor page.