9 Things to Know About Landline — The American Airlines Bus Service
In an effort to ease the strain of pilot shortages, American Airlines is hitting the road.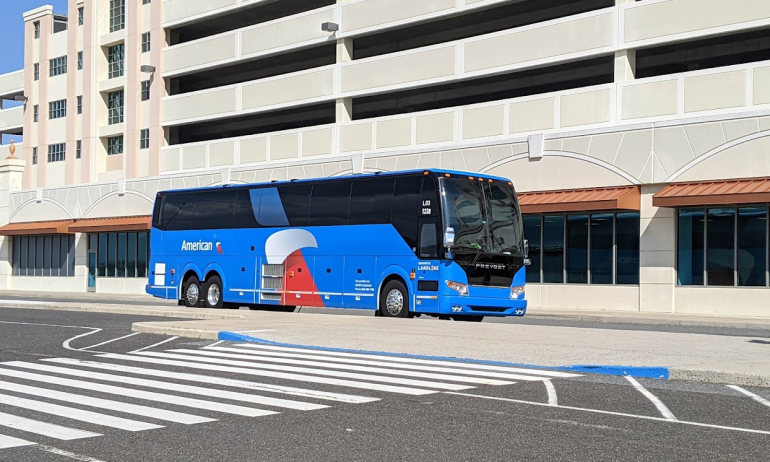 Many or all of the products featured here are from our partners who compensate us. This influences which products we write about and where and how the product appears on a page. However, this does not influence our evaluations. Our opinions are our own. Here is a list of our partners and here's how we make money.
"This is so weird," a passenger kept repeating to himself as an American Airlines agent walked us out to our bus. And indeed, it is weird. It's not typical to board an American Airlines bus for your "flight" to Philadelphia. But, if things go smoothly, taking an American Airlines bus might become a lot more common.
Facing pilot shortages, American Airlines is currently parking around 100 regional aircraft. Starting in June 2022, the airline is testing out a new solution: ground transportation. Rather than fly short flights between its hubs and nearby regional airports, American Airlines partnered with Landline — a ground transportation company — to operate bus service on select routes.
Naturally, I was curious to see what this experience was like. So, I booked the American Airlines bus from Atlantic City, New Jersey to Philadelphia — a couple of weeks after this service launched. Here's what you need to know about the American Airlines bus service.
What to know about American Airlines Landline
1. The American Airlines bus is comfortable
Don't think of a Greyhound bus or public transportation bus when you think about the American Airlines bus service. Landline operates a fleet of luxury coaches for American Airlines.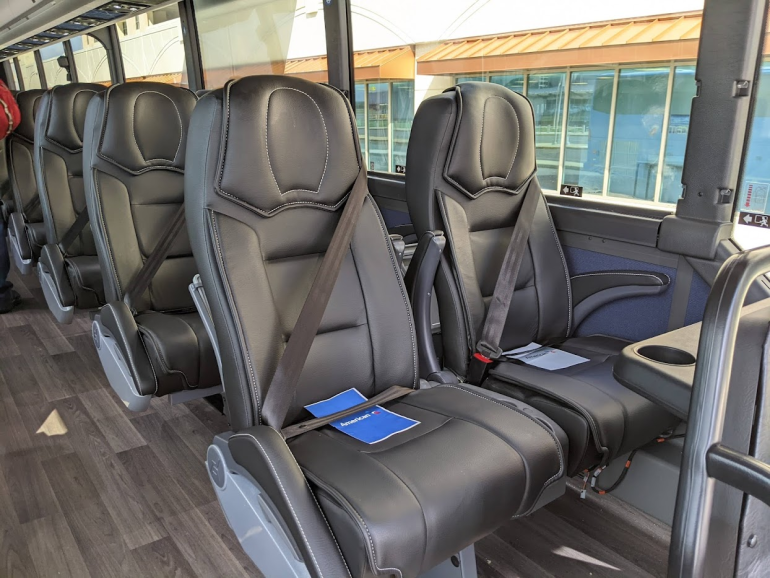 The leather seats are arranged with just three seats per row — one seat on one side of the aisle and two seats on the other side. That makes it convenient for couples to sit together, while letting solo passengers get individual space as well.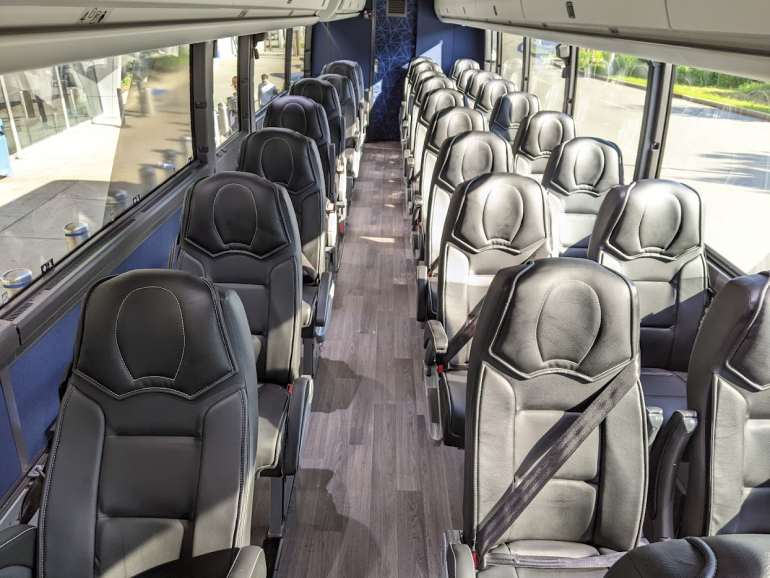 Every seat has at least one cup holder, foldable armrests, standard and USB power outlets, and a tray table. Seatbelts consist of a combined shoulder belt and lap belt.
The only exception is seat 1F. This seat doesn't have a power outlet. On my ride, the bus driver suggested the passenger move to another seat to charge her phone.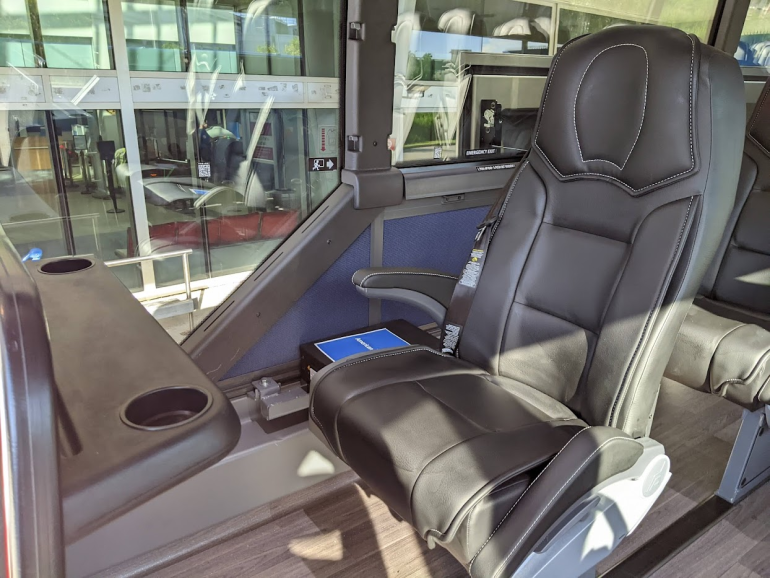 Legroom is more than you'll find on most planes. So much so that the tray table folds out from the seat in front of you in two steps. This leaves plenty of room, even if the passenger in front of you takes advantage of the seat's significant recline.
2. Seats are assigned the day of departure
When booking a segment on the American Airlines bus, you won't be able to select a seat. And you won't get a chance to select a seat at check-in either. Instead, American Airlines assigns seats for passengers a few hours before departure.
For my bus ride from Atlantic City to Philadelphia, passengers seemed to ignore these seat assignments. For this half-full "flight," passengers filed onto the bus and selected the seats they wanted — mostly toward the front of the bus.
3. There's no food or drink service
The only employee on the American Airlines bus is the Landline bus driver. That means there's no food or drink service on the trip. With that said, you probably wouldn't get food or drink service on a short flight from Atlantic City to Philadelphia anyway. But keep this in mind if you might want a drink or snack onboard.
4. No need for bathroom stops
The luxury American Airlines bus has a bathroom onboard for anyone who needs it for the short ride. I didn't test it out myself, but it appeared spotless and didn't have any odor when I checked it at boarding.
5. You can stay connected "in flight"
To state the obvious, the American Airlines bus isn't a flight. That means you won't need to switch your phone into airplane mode. Instead, you can continue to text, browse and even complete phone calls while on the bus — as one passenger did on my trip.
Also, passengers don't have to worry about putting away their large electronic devices for takeoff and landing. That means business travelers can work on a laptop for the entire ride.
To help you stay connected, Landline provides free Wi-Fi service on the bus. However, the connection isn't especially speedy. Across multiple speed tests, the download speeds ranged between 1-3 megabits per second download and under 0.1 megabits per second upload, with around 200 milliseconds of ping.
6. Watch free streaming entertainment
American Airlines infamously stripped in-flight entertainment screens out of almost all of its domestic aircraft. In its place, American provides streaming entertainment on its flights through the Wi-Fi network. And that's the same strategy used on the American Airlines bus.
Passengers can connect to the onboard Wi-Fi to stream:
The options are limited but high quality. For example, all 12 movies available through the system were released in 2021 — including blockbusters from "Dune" to "No Time to Die." The only TV series loaded into the system is "Suits," but the entirety of season one is available to binge.
7. Landline only operates two routes — for now
American Airlines initially launched the Landline bus service on June 3, 2022 on two routes from Philadelphia International Airport:
Atlantic City, New Jersey.
Before it even began service on these routes, American Airlines announced a third route to Lancaster, Pennsylvania — scheduled to launch on Aug. 16, 2022.
Those are the only three routes that have been announced so far. However, based on the design of the bus gate in Philadelphia, it seems like American Airlines plans to continue to expand this concept. Gate F8 — the gate American Airlines bus passengers depart from — has at least five parking spaces.
8. It's still a work in progress
The American Airlines bus was just completing its second week of operation when I tested it. However, it's still a work in progress. The biggest missing feature: clearing security before your first leg.
American Airlines plans to work with TSA to let passengers clear security at their origin (such as Atlantic City or Allentown) before the bus ride to Philadelphia. That way, you'll be able to connect to your onward flight without having to clear security in Philadelphia.
However, American Airlines hasn't gotten approval yet. In the meantime, passengers will need to gather in the terminal near the check-in counter. Then, when it's time to board, an American Airlines agent leads passengers out to the bus holding a sign showing your destination.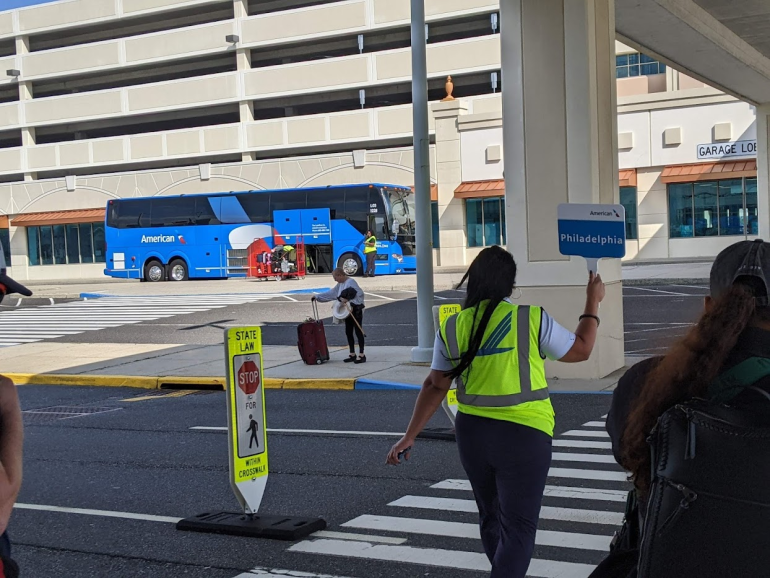 To help prevent confusion, "CURB" is listed on the Atlantic City airport departures board as the departure gate.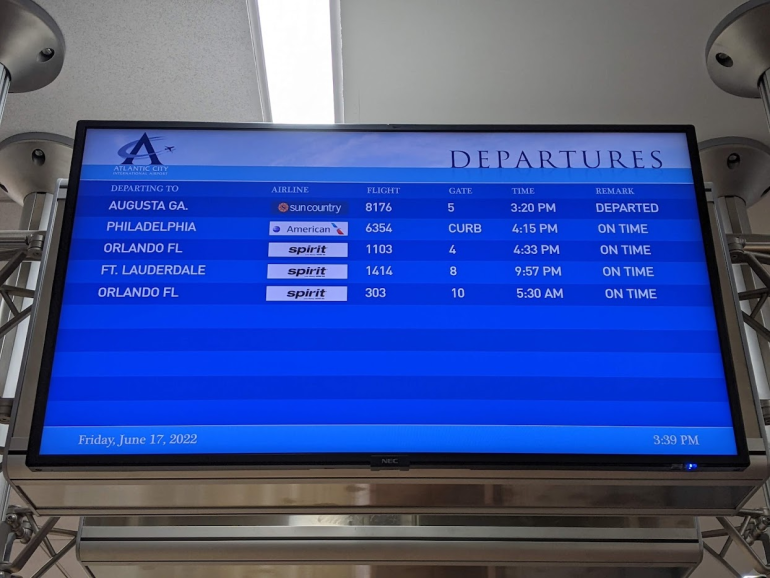 If you're connecting to the American Airlines bus in Philadelphia, don't exit security. The bus departs the Philadelphia airport inside security at Gate F8. This gate is already set up with several bus parking spots for future expansion of the American Airlines bus service.
9. Bag transfers are seamless
Even though American Airlines bus passengers still need to clear TSA security at Philadelphia, American Airlines makes checked baggage transfers seamless. Passengers originating in outstations (e.g., Atlantic City) can check bags at the check-in counter — just like you would for a flight. Then, American Airlines handles your bags from there.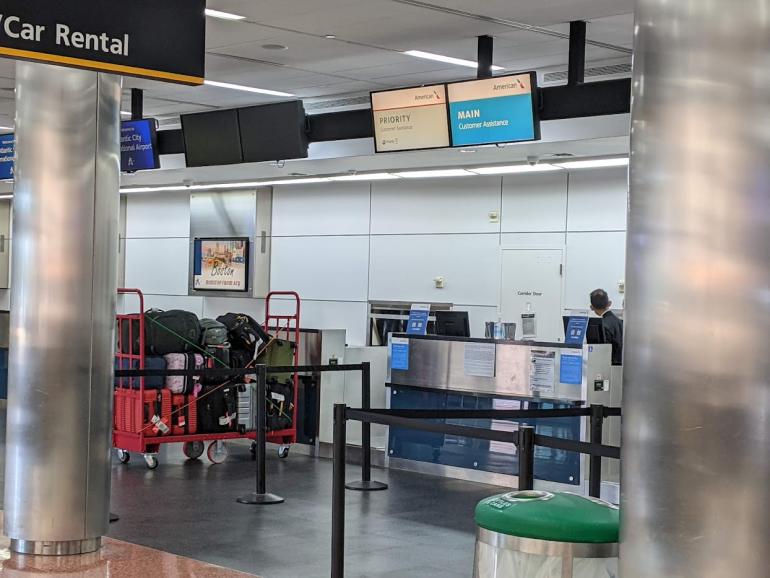 For now, bags are collected on a baggage cart at the check-in counter, carted out to and loaded on the American Airlines bus, and then transferred to TSA security upon arrival at Philadelphia Terminal F. Then, you'll collect your bags upon arrival at your final destination.
What it's like to take the American Airlines bus service
When American Airlines originally announced bus service, it was scoffed at by flyers and mocked on late-night TV. However, busing passengers between airports is a practical solution to the ongoing pilot shortage that American is facing — one that helps the airline avoid eliminating service to smaller airports.
As my experience showed, the American Airlines bus service provides a comfortable ride with features that meet or exceed what you'll find on a regional aircraft. Plus, for destinations that are so close to American Airlines hubs, taking a bus between airports can be just as fast as flying. As much as I love taking to the skies, I won't dread it the next time I see that my "aircraft type" is a bus.
All photos courtesy of JT Genter.
---
How to maximize your rewards
Get more smart money moves – straight to your inbox
Sign up and we'll send you Nerdy articles about the money topics that matter most to you along with other ways to help you get more from your money.