How to Earn Miles on American's Partner Airlines
Whether you can earn AAdvantage miles and Loyalty Points on a partner flight depends on a number of factors.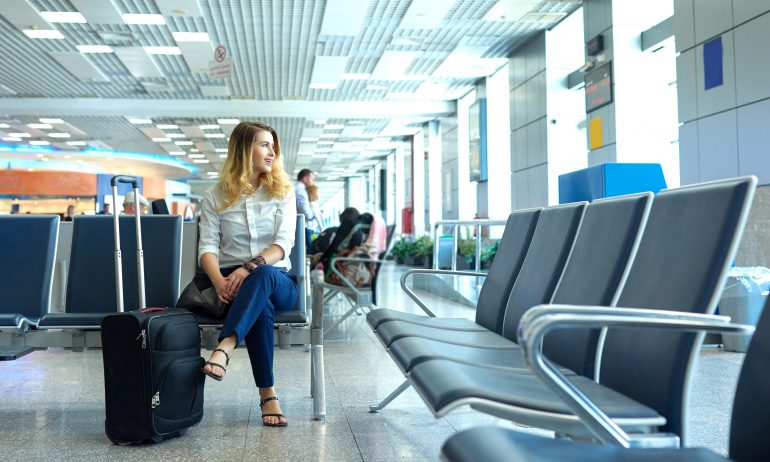 Many or all of the products featured here are from our partners who compensate us. This may influence which products we write about and where and how the product appears on a page. However, this does not influence our evaluations. Our opinions are our own. Here is a list of our partners and here's how we make money.
American Airlines recently revamped how members earn miles and elite status in its airline loyalty program, AAdvantage. Rather than counting Elite Qualifying Miles, Dollars and Segments, only one metric now matters: Loyalty Points.
The idea is simple. Earn 1 Loyalty Point per AAdvantage mile earned. While American has added many exceptions to this general rule, earning AAdvantage miles and Loyalty Points from flying is fairly straightforward.
When it comes to earning miles by flying American partner airlines, things get a little murkier. Both AAdvantage base miles and Loyalty Points earning rates vary depending on which partner airline you're flying.
So, how do you get miles by flying partner airlines? Let's dig into the details of earning miles on American Airlines partners.
Partner flights that earn AAdvantage miles and Loyalty Points
Not all Oneworld partners provide the same mileage earning opportunities, nor does JetBlue. Plus, there are bonuses for elite status level and cabin to be aware of.
For most Oneworld airlines
Say you booked a British Airways premium economy flight to London from Los Angeles in either E or T fare class. Checking the AAdvantage earning chart for BA, you'll see that both of these fares earn base miles at a rate of 100%. That means you'll earn 1 AAdvantage base mile per physical mile flown.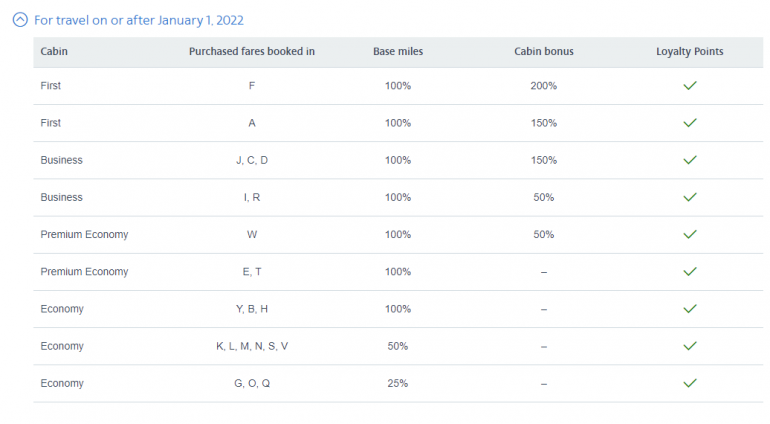 Since BA flyers can also earn Loyalty Points, you'll also earn 1 Loyalty Point per mile flown. That means you could disembark from this flight with both 10,911 AAdvantage base miles and 10,911 Loyalty Points.
Note that not all fares purchased with Oneworld partners qualify to earn Loyalty Points — more on this in the next section.
If you book a premium cabin or have AAdvantage elite status, your math isn't done quite yet. American offers a cabin bonus for premium cabin bookings on many partner airlines.
As an example, take a closer look at the BA earning chart. You'll see that all business and first class fares offer a cabin bonus.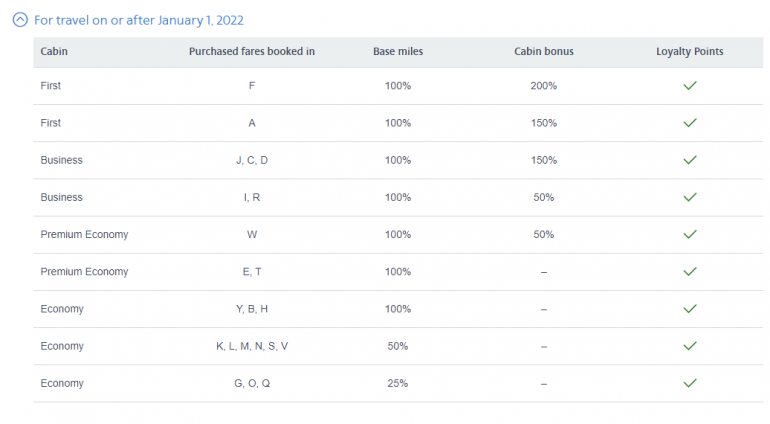 Cabin bonuses are additional AAdvantage miles that you earn on eligible fares. As with the base miles, the cabin bonus is calculated by multiplying the earning rate and the flight distance.
Let's return to our Los Angeles to London BA flight example. Only this time, you want to book a business class ticket with a fare code of I or R. An AAdvantage member would earn 16,367 AAdvantage miles on the 10,911-mile round-trip flight from Los Angeles to London.
Base miles: 10,911 miles.

Cabin bonus: 5,456 miles.
You'd also earn the same amount in Loyalty Points.
AAdvantage elite members can also earn status bonuses when flying partner airlines. However, American doesn't award these status bonuses with a multiplier for distance flown. Rather, the status bonus is determined by your membership level and is a percentage of the number of base miles earned.

| | | | | AAdvantage Executive Platinum |
| --- | --- | --- | --- | --- |
| | | | | |
For example, AAdvantage Platinum elites earn a 60% status bonus on eligible flight bookings. Continuing with the same BA business class example from above, an AAdvantage Platinum elite would earn a total of 22,914 AAdvantage miles — all of which qualify as Loyalty Points:
Base miles: 10,911 miles.

50% Cabin bonus: 5,456 miles.

60% Status bonus: 6,547 miles.
AAdvantage earnings for JetBlue flights works differently. Instead of earning based on the distance of the flight and the fare booking code, you earn AAdvantage miles and Loyalty Points based on the cost of the flight before government-imposed taxes and fees.
The AAdvantage mileage earning rate for JetBlue flights is the same as for flights on American.
AAdvantage member: 5 miles for every U.S. dollar.

Platinum elite: 8x miles.

Platinum Pro elite: 9x miles.

Executive Platinum elite: 11x miles.
Partner flights that don't earn Loyalty Points
Generally speaking, you can expect to earn 1 Loyalty Point per 1 AAdvantage mile earned from flying on AA partners. However, that's not the case for all.
Zero-mile earning fares with some Oneworld partners
One catch to how you earn AAdvantage miles on partners is that not all Oneworld partner flights earn miles. Certain classes of service on partner airline fares earn at a rate of 0% — meaning you won't earn any AAdvantage miles or Loyalty Points.
Here are the partners and subsequent fare codes to watch out for: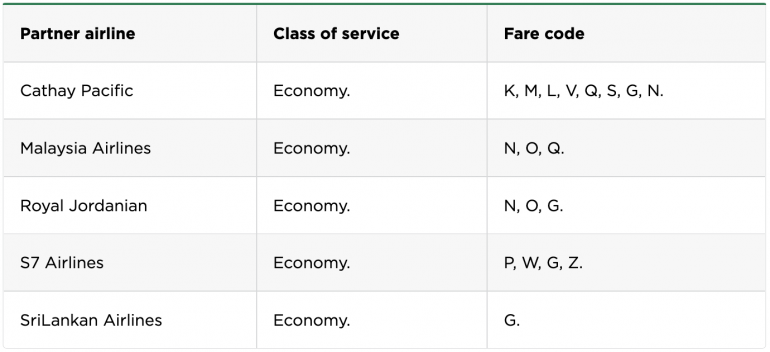 Since you won't earn any AAdvantage miles or Loyalty Points on these Oneworld partner flights, travelers that book one of these fare codes should avoid crediting the flight to the AAdvantage program. We recommend checking Where to Credit to find another program to credit these flights.
You'll earn AAdvantage miles — but not Loyalty Points — when you book flights on a handful of the airline's non-alliance partners.
The four AAdvantage partners that are ineligible for earning Loyalty Points are:
Even so, travelers can still earn Loyalty Points on most of these partners through a bit of a workaround since American has code-share agreements with China Southern, Fiji and Hawaiian. A code-share agreement means that certain flights operated by these airlines will have an American flight number.
As long as you book your flight with an AA flight number, you'll earn AAdvantage miles and Loyalty Points based on the cost of the flight — as you do with most American Airlines-operated flights.
Let's run through an example. Say you want to book a flight from Los Angeles to Fiji. You can book the flight directly through Fiji for $897, round trip nonstop.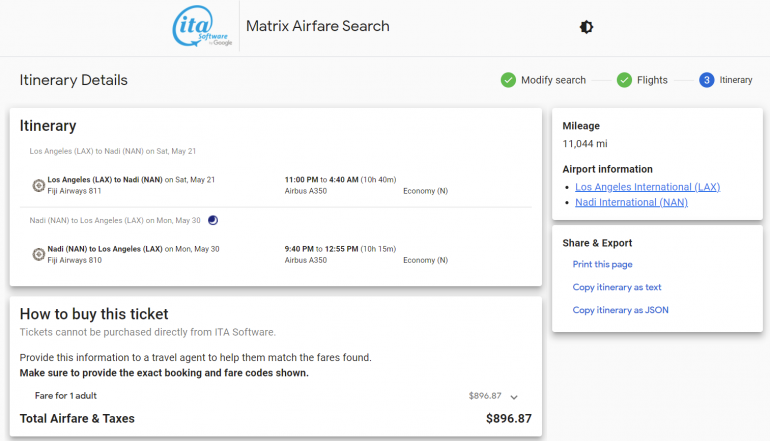 The AAdvantage partner page for Fiji Airways shows that N fare code flights earn AAdvantage miles at a rate of 35% of the flight miles. Checking Great Circle Mapper, we find that the round-trip flight is 11,037 miles long. That means you'll earn around 3,863 AAdvantage miles from this round-trip flight. However, you'll earn zero Loyalty Points.
American sells its code-share on these same flights; however, American charges $1,412 round trip. That's over $500 more expensive than the Fiji Airways price. But, you'll earn Loyalty Points by booking the flight this way.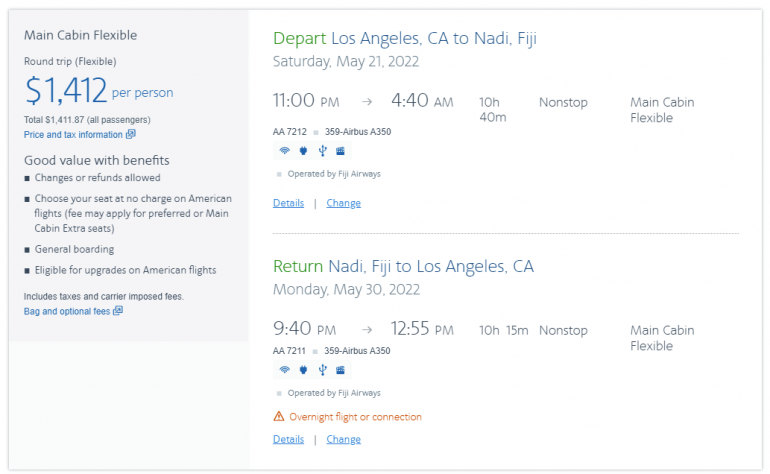 After subtracting out the $121.87 of taxes and fees, you'll earn AAdvantage miles and Loyalty Points on the $1,290 base fare. AAdvantage members earn 5 AAdvantage miles per dollar of base fare — meaning you could earn 6,450 AAdvantage miles and Loyalty Points from this booking.
In this example, the earnings on the American Airlines code-share probably isn't worth the additional cost. However, it could make sense to book an American code-share in some cases.
AAdvantage members can earn miles and Loyalty Points on most American Airlines partner flights — with two exceptions.
You'll earn zero miles and Loyalty Points on some discount economy fares on Cathay Pacific, Malaysian, Royal Jordanian and SriLankan Airlines.

Flyers won't earn Loyalty Points when booking flights through AAdvantage non-alliance partners: China Southern, Etihad, Fiji and Hawaiian Airlines.
For most AAdvantage partners, the number of AAdvantage miles and Loyalty Points that you earn is calculated using the distance of the flight and the applicable earning rate. In addition, many partner premium cabin fares (premium economy, business and first class) also earn a cabin bonus. Finally, AAdvantage elite members earn another bonus based on the base miles.
This means that in order to figure out how many miles or Loyalty Points you will earn on any given American Airlines partner flight, you'll need:
The AAdvantage partner earning chart.

A distance-measuring tool, like Great Circle Mapper.
---
How to maximize your rewards
Get more smart money moves – straight to your inbox
Sign up and we'll send you Nerdy articles about the money topics that matter most to you along with other ways to help you get more from your money.