Guide to American Airlines Elite Status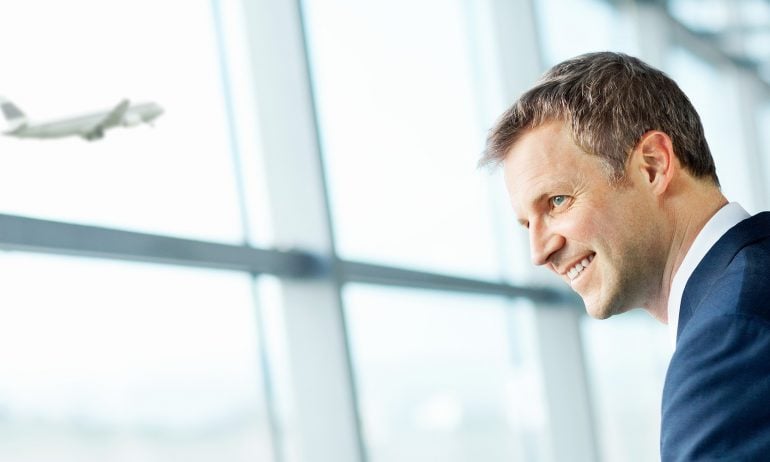 Many or all of the products featured here are from our partners who compensate us. This may influence which products we write about and where and how the product appears on a page. However, this does not influence our evaluations. Our opinions are our own. Here is a list of our partners and here's how we make money.
If you regularly fly on American Airlines or find it's the most convenient airline for your favorite destinations, you should know how American Airlines elite status works. If you meet elite requirements, American Airlines elite status gives you opportunities for upgrades, free checked bags, more miles earned when traveling with American Airlines and other perks.
American Airlines is one of the largest airlines in the world. It operates about 6,700 flights per day to 350 destinations in 50 countries. As a member of the Oneworld alliance, American Airlines and its partners offer a combined 14,250 flights per day to 1,000 destinations in 150 countries. If there's somewhere you want to go, odds are American Airlines can get you there — or at least somewhere close by. And elite status makes your travels more comfortable and enjoyable.
If you are loyal to American Airlines, frequently travel with American or are considering switching your loyalties from another airline, here's a guide to the most important details of American Airlines elite status.
How American Airlines AAdvantage elite status works
Like most airlines, American Airlines has its own travel rewards and loyalty program: AAdvantage. If you ever fly on American, it's a wise decision to sign up for this free program.
Customers who meet minimum requirements for elite qualifying miles (EQMs), elite qualifying segments (EQSs) or elite qualifying dollars (EQDs) during a calendar year can earn Gold, Platinum, Platinum Pro or Executive Platinum status.
Once you reach the minimum requirements, your new AAdvantage status kicks in. The most exciting perk for many members is a chance at complimentary upgrades. In the next section, we'll take a detailed look at exactly what's included with each elite status tier.
AAdvantage elite status tiers
American Airlines elite status is available in four tiers:
AAdvantage Gold (worth $929).

AAdvantage Platinum (worth $2,692).

AAdvantage Platinum Pro (worth $6,490).

AAdvantage Executive Platinum (worth $13,784).
As you'd expect, progressing into higher tiers gives you new and increased benefits. Here's a summary of the main benefits of each tier:
Complimentary auto-requested upgrades on flights 500 miles or less.

Complimentary auto-requested upgrades on flights 500 miles or less.

Complimentary auto-requested upgrades.

4 one-way systemwide upgrades.

Complimentary auto-requested upgrades.

Complimentary upgrades on award tickets.

Upgrade window (before flight)

Complimentary Main Cabin Extra at check-in.

Complimentary Preferred seats.

Complimentary Main Cabin Extra and Preferred seats.

Complimentary Main Cabin Extra and Preferred seats.

Complimentary Main Cabin Extra and Preferred seats.
Gold and Platinum members get four 500-mile upgrade certificates for every 12,500 EQMs earned during the following membership year after you achieve status. A 500-mile upgrade gives Main Cabin passengers the ability to upgrade to the next class of service on flights over 500 miles. (These upgrades are included with the higher status tiers.)
Executive Platinum members who travel a ton can earn even more. At 150,000, 200,000 and 250,000 EQMs, members can choose between two systemwide upgrades, 40,000 bonus miles or a gift of American Airlines status.
If you reach 1 million qualifying miles, you'll earn Gold status for the life of the program, among other Million Miler program perks. At 2 million, you get lifetime Platinum status and four one-way system upgrades. For every additional million miles you fly, you can earn an additional four one-way systemwide upgrades.
Airlines know who their elite customers are, so elite status members may also find top-tier customer service along the way. Depending on the airport and the flight, that can include a fast-lane at check-in and early boarding.
How much is American Airlines AAdvantage elite status worth?
The value of American's elite status depends on various factors, including how often you fly with the airline, how much you use the status and the value you place on perks like upgrades. To assign a value to each level, we performed a comprehensive analysis of the relevant perks.
The "value" of each status level is also based on the cost to earn. We divided the value of the perks by the cost to calculate the "elite earn rate" for each level.
| | | | |
| --- | --- | --- | --- |
| | | | |
| | | | |
| | | | |
| AAdvantage Executive Platinum | | | |
The highest tiers (Platinum Pro and Executive) offer solid elite earning rates, reflecting that the higher you go, the more value you'll extract from the benefits.
Earning AAdvantage elite status
Earning AAdvantage elite status requires meeting the following minimum requirements:
| | | | | |
| --- | --- | --- | --- | --- |
| | | | | |
| Elite qualifying segments | | | | |
| | | | | |
It's important to note that elite qualifying miles are not always the same as regular AAdvantage miles. Miles earned through a credit card may not qualify as EQMs, and not all miles flown will translate 1:1 to EQMs.
Elite qualifying segments are segments flown on eligible purchased tickets. EQDs are based on the ticket price, less government-imposed fees.
You can earn EQMs, EQSs and EQDs when traveling on American Airlines marketed and operated flights. You can also earn some travel with Oneworld partners.
American Airlines elite status with Oneworld partners
Earning AAdvantage elite status also gives you perks when flying with other Oneworld airlines. Here's how status carries over to other Oneworld travel:
| American Airlines Elite Status Level | Oneworld Elite Status Level |
| --- | --- |
| | |
| | |
| | |
| | |
With Ruby status, you'll enjoy priority check-in and standby. Sapphire level adds on priority boarding, security and partner lounge access. Emerald gives you access to additional lounges and an extra bag allowance.
World of Hyatt partnership
American Airlines has a partnership with Hyatt hotels that gives you benefits with both brands. Link your account by entering your World of Hyatt number when logged into your American Airlines account.
Once linked, you get the following benefits:
Earn 1 AAdvantage bonus mile per qualifying $1 spent at Hyatt.

Members of the somewhat mysterious, ultra-elite ConciergeKey status tier get World of Hyatt Globalist status.

AAdvantage Platinum members and higher can earn World of Hyatt elite status quicker.
If you have elite status with Delta or United, you may qualify for a status match. American may be willing to match your status to Gold or Platinum tier without going through the steps of earning the elite status on your own.
These opportunities can come and go, and some are limited to employees of specific companies — check with your employer to see if this situation is relevant for you.
American Airlines also offers special challenge offers where you can pay for a fast-track to elite status. If you earn status through this method, you'll have to re-earn it with the normal terms to keep it. To find if you have a current offer available, log in to the special site for elite offers.
Earning elite status at American Airlines isn't easy, but if you travel enough to qualify, you should absolutely take advantage of the benefits.
Even if you don't earn elite status, however, joining the AAdvantage program still makes sense for people who fly on the airline at least once every year.
At American Airlines, elite status definitely has its perks. To learn more about how the American Airlines AAdvantage rewards program works, be sure to read our full guide.
---
How to Maximize Your Rewards