7 Tips for Booking Big Hotel Rooms for a Family Trip
Familiarize yourself with brands that have family-friendly amenities, like two-bedroom suites and kitchens.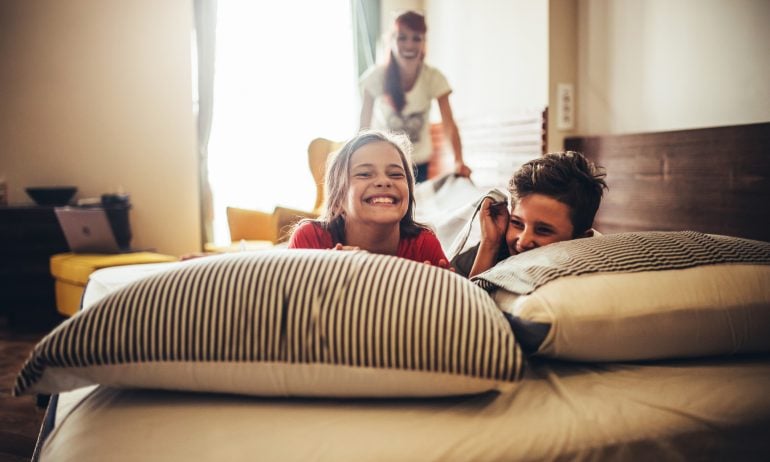 Many or all of the products featured here are from our partners who compensate us. This may influence which products we write about and where and how the product appears on a page. However, this does not influence our evaluations. Our opinions are our own. Here is a list of our partners and here's how we make money.
Planning a trip with the family? You'll need accommodations where kids and adults all have enough space to rest, relax and move around — ideally without disturbing everyone else's sleep and serenity. Luckily, lots of hotel brands offer rooms and  that are perfect for families. Some even have full kitchens where you can prepare meals to save on dining out.
If you're a member of one of the , you can enjoy perks or earn points while you stretch out in all that extra space.
Here are seven tips for booking big hotel rooms when you travel with family.
Family vacation planners may wonder: How big is a hotel room? A standard hotel room will generally run between 300 and 450 square feet, though many newer hotels have rooms that are even smaller.
If you are booking a standard hotel room, you're likely to find a room that has a bed, a desk, a small bathroom — and that's about it. That's fine if you're traveling by yourself or with just one other person. But if you're traveling with the whole family, you're probably willing to pay a bit more for hotels with big living rooms, or for big hotel suites.
Paying a little extra for a suite or larger room can potentially save you money when compared with booking two rooms. Not to mention that if you're traveling with young kids, booking a separate hotel room may not even be a realistic option.
Most of the major hotel chains have brands offering big hotel suites that cater to families and larger groups. , Hilton's Homewood Suites, and IHG's Staybridge Suites are a few examples of hotels where you can often find one- or two-bedroom suites.
One dilemma for larger families trying to book large hotel suites with points is that often, you can only book award stays in standard-sized rooms — not multi-bedroom units.
For example, when you search for award nights at the Residence Inn Sacramento Natomas, only the studio suites are available for points. Two-bedroom suites are available if you book with cash, but there is no way to book them online with points.
Having elite status (even if it's just from having the ) can help here. Even if you have to pay the cash difference between the two room types, it's usually much more affordable than getting a second hotel room or booking it all in cash.
Some hotels advertise "suites" that are nothing more than an extended living room without any connecting door. If you have young kids who go to bed early, having a separate bedroom with a closing door makes a huge difference to the quality of your sleep.
Check out the room descriptions and make sure you know what you're getting into before you arrive.
Many brands offer perks like complimentary upgrades or executive lounge access to their elite members. If you have elite status, make sure you know your benefits and how to maximize them.
Here's a rundown of the best hotels for families, broken down by brand.
Residence Inn is the best Marriott brand for family travel. Not only do they have larger suites, but they also offer complimentary breakfast. Many Residence Inn hotels also offer a manager's reception with refreshments in the evening.
The quality of these receptions varies by hotel, with some offering appetizers and drinks, and others providing a full dinner. If you stay in a two-bedroom suite at a Residence Inn with a party of eight, that could be 16 meals per day that are covered as part of your rate.
You can by staying at participating hotels, transferring points from your or accounts, or applying for a Marriott Bonvoy credit card, like the ones listed below.
Hilton has two brands that cater to families and large groups, Homewood Suites and Embassy Suites.
The Homewood Suites brand is similar to Marriott's Residence Inn, with one- and two-bedroom suites at many hotels, complimentary breakfast and an evening reception. Embassy Suites often has larger suites. With Hilton, you can book larger hotel rooms with points, but if you try to book online, it will often cost a huge amount of points. You may have better luck contacting the hotel directly for an upgrade.
You can transfer American Express points to Hilton Honors points, or applying for one of these credit cards for a big welcome bonus.
The best IHG chain with large hotel suites is Staybridge Suites. Like Homewood Suites and Residence Inn, Staybridge Suites offers one- and two-bedroom suites, complimentary breakfast and an evening reception some weeknights.
If you want to redeem points, Staybridge Suites' website will only allow you to book a standard room. If you want to book a larger suite on points, you'll need to contact the hotel directly.
You can transfer Chase Ultimate Rewards® points 1:1 to IHG or earn IHG points with one of these credit cards:
Hyatt doesn't have a designated brand offering multi-bedroom units, though many Hyatt properties do offer suites. have access to confirmed suite upgrade awards, where you can confirm an upgrade without having to worry whether you'll get one when you check in.
Another great option for status-holders can be a Hyatt Regency or other Hyatt hotel with an Executive Lounge. Globalists get free breakfast for two adults and two children or complimentary access to lounges.
Hyatt House hotels are strong contenders as some of the the best hotels for families since they come with a kitchen, which can help cut down on meal costs.
You can transfer Chase Ultimate Rewards® points 1:1 to Hyatt, or get points with their co-branded hotel credit card:
Contact the hotel ahead of your stay to see if you can get upgraded to a larger room. Having elite status helps, but even for non-elite members, it never hurts to ask.
Experience has shown that this tends to work better at extended-stay hotel brands rather than luxury or resort hotels.
When trying to save money on vacation, being able to cook the occasional meal in your hotel room can save a lot of money over having to always pay tourist restaurant prices.
The more people in your group, the more complicated it can be to find hotels with big living rooms or other suitable accommodations. Having , either through your own stays or through credit cards, can help with upgrades and lounge access. Consider extended-stay brands like Residence Inn, Homewood Suites and Staybridge Suites.
Look carefully at the room descriptions and make sure that any suite that you book has a door that closes. If you can't book a larger suite with points, consider calling or emailing the hotel to see if they will upgrade you. The more room you have when traveling with a family, the better everyone's vacation will be.
You want a travel credit card that prioritizes what's important to you. Here are our picks for the , including those best for: