$1,000 to Re-Enter the U.S. — How Much COVID Tests Abroad Can Cost Your Family
Getting tested for travel can be expensive and complicated. Do your homework before your next trip.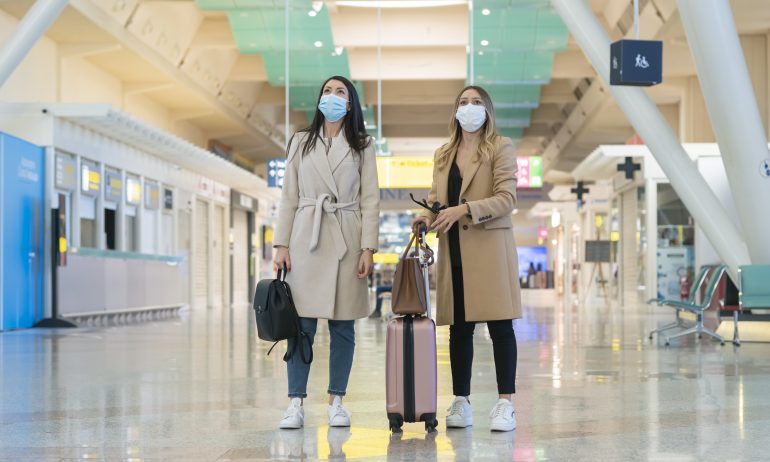 Many or all of the products featured here are from our partners who compensate us. This influences which products we write about and where and how the product appears on a page. However, this does not influence our evaluations. Our opinions are our own. Here is a list of our partners and here's how we make money.
Note: Certain regulations mentioned below, including the CDC's requirement of a negative COVID-19 test to enter the U.S., have changed since publication. Check the CDC's news page for the most up-to-date information.
---
How much money should you set aside for COVID tests when traveling internationally? It could cost you one grand. That's what happened to Josh Summers and his family, who paid $1,000 for COVID-19 tests to come to the U.S.
Summers lives in Chiang Mai, Thailand, but was headed to the U.S. to spend the 2021 holidays with extended family. Since the U.S. requires proof of a negative test for all air travelers, Summers, who is vaccinated, still got hit with the expense of COVID-19 tests for his family of four.
As of Dec. 6, 2021, the U.S. requires that all air travelers ages two or older (regardless of nationality or vaccination status) show, before boarding, a negative viral test result taken within one day of the flight's departure to the U.S.
There are only a few exceptions, such as recent recovery from COVID-19 as documented by a licensed healthcare provider or a public health official. The strict testing requirements pose both logistical and financial challenges for people flying into the U.S.
How the cost of COVID-19 tests can add up when returning to the U.S.
Summers, who runs his own internet security company remotely from Thailand, didn't have a lot of flight options. With no international flights out of Chiang Mai, Summers had to fly to Bangkok to be able to board a plane to the U.S.
Since Thailand also requires proof of a negative test to fly domestically, he paid $400 for his family to get tests to take the roughly one hour flight to Bangkok. Despite the short flight, the single test would be insufficient to cover the COVID testing requirements for the international flight as well, given the layover length.
In Bangkok, Summers was able to purchase the second set of tests for $100 each, or $400 total. Yet that wasn't the end of testing. This go-around, three of his family's four tests came back just fine, but one was mysteriously held up. Summers luckily found a lab near the airport that promised results returned within two hours, but for double the price, adding another $200 to his already $800 testing bill.
And that doesn't include other costs Summers faced related to COVID-19, including a mandatory insurance policy (which Thailand, along with many other countries, requires) that specifically covers COVID-19 for each family member.
How to save on COVID-19 tests for return U.S. travel
The process and cost to get tested for COVID-19 can vary widely not just by country, but by vaccination status, flight route and more. Before returning to the U.S.:
Know what tests are accepted
For countries that require proof of a negative test to enter (which is most countries), the type of test that's approved varies. Kristin Addis, who runs a travel blog called Be My Travel Muse, flew in September 2020 to French Polynesia, which at the time required RT-PCR tests from a small set of specific providers. Not able to shop around for a lower price, Addis was forced to pay $300 for an approved test.
Upon return to the U.S., all travelers must have a viral test, which entails either an antigen test or a nucleic acid amplification test (such as an RT-PCR test), according to the Centers for Disease Control and Prevention.
Some self-tests will work, but this won't be as simple as picking up a kit from your local drugstore and packing it in your suitcase in advance of your flight home. Assuming you've acquired a U.S. government-approved test, the test must be taken under the supervision of an approved telehealth service, meaning you'll have to set up a video call to take the test.
Some Food and Drug Administration-authorized self-tests also require a prescription, which could be another hurdle. What's more, some countries restrict the importation of COVID-19 tests. So if you're planning on traveling with one, find out in advance whether it might get confiscated at customs.
Find a COVID-19 test in your destination
If you don't go the self-test route, the process of finding an approved COVID-19 test might be extremely easy, or it might be arduous, depending on a variety of factors.
Some resorts make COVID-19 testing easy by coordinating tests for guests on site — sometimes even covering the fee. But in other situations, you could find yourself entirely on your own, which can be challenging — especially in places that don't offer widespread testing.
Plan when to take the test
In December 2021, the U.S. began requiring that international travelers provide proof of a negative COVID-19 test taken no more than a day before their flight into the U.S. That slims down the previous 72-hour window, making it increasingly difficult to both take the test and get the results back in time.
It's critical to understand the turnaround time of the test you take — and to have a backup plan if results don't come back in time (or if they come back positive). Many providers offer expedited turnaround times for an additional fee, which can be worth it for peace of mind.
Many airports also offer testing facilities that can return results in a couple hours or less. Check in advance if the airport you're flying out of offers this, and plan to get to the airport extra early if necessary.
Understand how much tests cost
For what it's worth, not every trip will entail outrageously expensive tests. Michelle Chang, a digital nomad working remotely in online marketing and design, had it easy on a recent trip to Ecuador. Her U.S.-based healthcare provider offered free tests that she used to get into Ecuador. To get home, she found a laboratory near where she was staying in Cuenca offering antigen tests for only $11 that delivered results in one hour.
But while Chang's insurer covered her test to get to Ecuador, not all insurance policies will. Many major insurers will cover most diagnostic and screening COVID-19 tests at no out-of-pocket cost, but some specifically exclude screening for travel. Check with your insurance company.
If you do an at-home (or in this case, on-vacation) COVID-19 test, there's a silver lining from Uncle Sam and the Internal Revenue Service: Home testing is an eligible medical expense that can be paid or reimbursed with certain untaxed accounts, including FSAs and HSAs.
Finding COVID-19 tests abroad that are ready in time for your departure can be not only expensive, but difficult, too. Even if you're vaccinated, it's likely you'll need a COVID-19 test to enter other countries. And you'll almost certainly need one to return to the U.S.
Do your research, and have a plan so you don't end up paying for a longer vacation than you intended simply because you couldn't board your flight home.
---
How to maximize your rewards
Get more smart money moves – straight to your inbox
Sign up and we'll send you Nerdy articles about the money topics that matter most to you along with other ways to help you get more from your money.