Guide to JetBlue's Version of Business Class: Even More Space Seats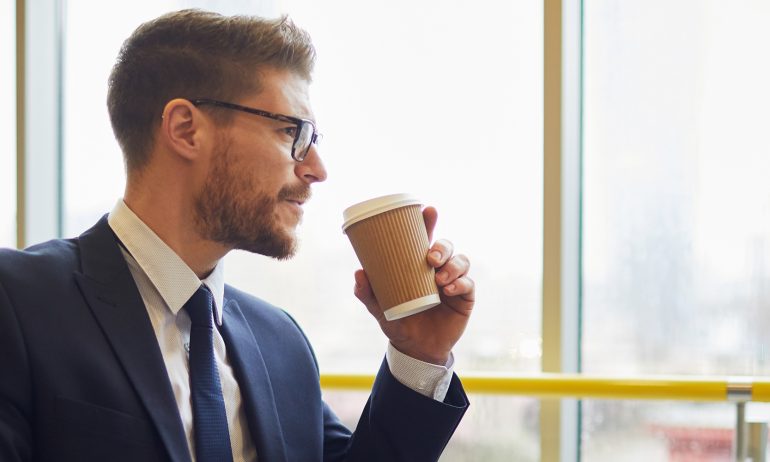 Many or all of the products featured here are from our partners who compensate us. This may influence which products we write about and where and how the product appears on a page. However, this does not influence our evaluations. Our opinions are our own. Here is a list of our partners and here's how we make money.
When you want to book travel that's an upgrade from economy class but not quite first class, it's business class to the rescue. Often offering amenities like more spacious seats and extra legroom, not to mention priority boarding, business class is a must for many who travel often for work or for pleasure.
But before you book a more expensive seat, it's good to know what you'll be getting with your extra spending. Here, we'll break down what upgraded seats look like in this guide to JetBlue "business" class.
Technically, JetBlue doesn't offer a designated business class. They do offer Mint, their premium travel experience, but JetBlue flights don't offer a designated seating section between first class and coach. The airline does, however, offer two types of Mint seats: fully lie-flat seats (the longest of any domestic airline in the U.S.) and suite-style seats with a door for a bit of privacy.
These seats are available only on select cross-country flights. If you need to arrive refreshed and relaxed, Mint is the way to go.
But if you're looking for something in between, what the airline does offer are more comfortable seats with a few added benefits that will make you feel less like you're riding in economy class, but without the price tag (and most of the upscale experience) of first class.
JetBlue has dubbed these seats Even More Space seats. They include up to seven inches of extra legroom, early boarding and Even More Speed (a dedicated fast lane through security). Even More Space seats are available on every JetBlue aircraft, so you can always count on the option of an upgrade being available.
When you purchase an Even More Space seat, be prepared to enjoy not just the extra legroom, but early boarding, which means early access to overhead bin space, which means no more cramming your laptop or large backpack under the seat in front of you (all JetBlue customers are permitted a carry-on and personal item at no extra cost).
You'll also get access to a priority security lane in over 60 airports across the country so you can get to your gate faster than ever.
Plans change? No problem. Unlike most other fares (Blue Extra excluded), Even More Space fares are refundable with no penalty fee applied if you have to change or cancel your flight. However, if you simply decide after booking that you'd prefer another seat, the price difference won't be refunded.
If you need to work during your flight, it might also be helpful to know that there is free high-speed Wi-Fi on all JetBlue planes, and access is available from every seat. Plus, you'll find USB ports for charging your phone and scores of entertainment options on the seatback media player.
Essentially, Even More Space seats are available as an add-on. You won't see it as an option when you search for a flight. Instead, you'll see fare choices like Blue, Blue Basic and Blue Extra. Select the fare type you want (any fare can be upgraded to Even More Space); after you type in your personal information, you'll have the option to select your seat.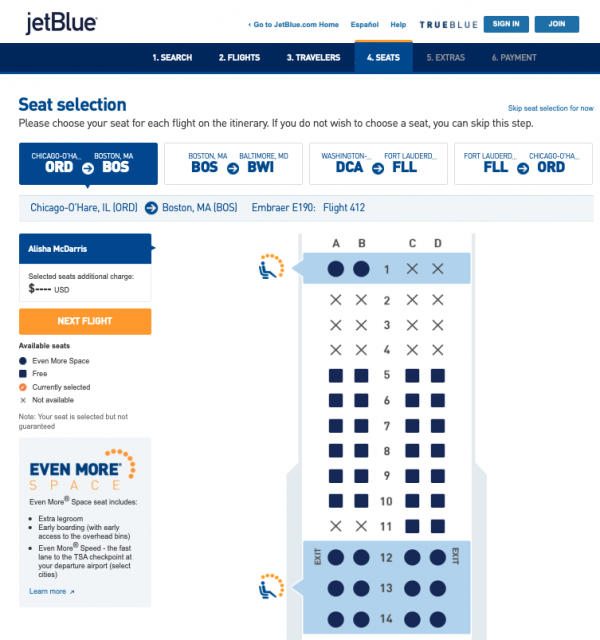 Even More Space seats are identified as a circle on a light blue background. When you hover over the seat you want, it will tell you how much the seat upgrade will cost. Click on it to select the seat, and the cost of the upgrade will be added to your total. You'll also see specific details about that individual seat, like whether it has fixed armrests or doesn't offer under-seat storage.
You will have to pay for the seat upgrade for each leg of your journey. For example, if you're flying from Chicago to Baltimore and have to connect in Boston, you'll pay for the Even More Space seat on both the Chicago to Boston leg and the Boston to Baltimore leg.
Alternatively, if you want to add on Even More Speed to any booking, you can do so on the Checked Bags and Extras page before you check out (though it will be included on any flights that include an Even More Space seat).
One additional thing to note is that Even More Space seats cannot be booked with points; they will require an additional form of payment upon checkout.
How to know whether booking is a good deal
Basically, whether or not you think upgrading to an Even More Space seat for business travel is worth it comes down to personal preference. Are you willing to shell out a little extra cash for more legroom, early boarding and speedy security? If so, you might just find the additional cost worth it. If, however, you travel light, aren't in a hurry to get onto the plane and don't need a few extra inches (or don't think they're worth paying for), it's a pseudo-business-class seat that might disappoint more than it impresses.
How to Maximize Your Rewards