How to Find 40,000-Point Hotels for Your Annual IHG Certificate
Finding a hotel to use your 40,000-point free night certificate can be tricky with IHG's dynamic pricing.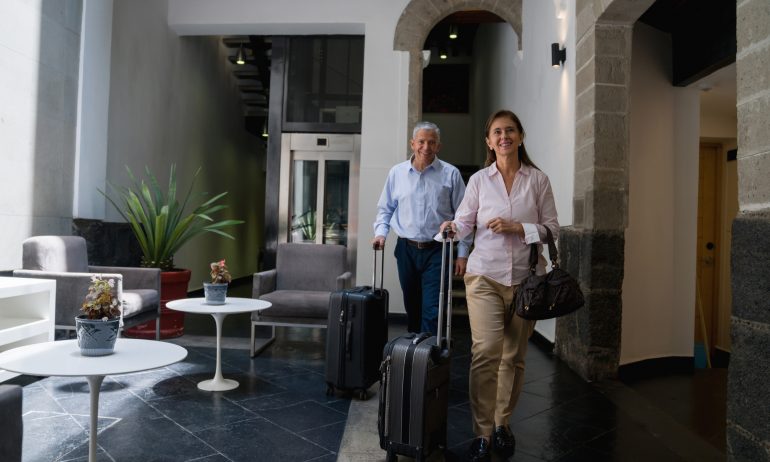 Many or all of the products featured here are from our partners who compensate us. This influences which products we write about and where and how the product appears on a page. However, this does not influence our evaluations. Our opinions are our own. Here is a list of our partners and here's how we make money.
Do you hold a co-branded IHG hotel credit card? These cards provide a variety of perks, but one of the most useful offers is the annual free night certificate. While you won't be able to redeem these at all of IHG's hotels — they do have a cap of 40,000 points per night — with IHG's dynamic pricing, you can still find incredible value.
Let's take a look at how to obtain an IHG free night certificate, ways to search for reward nights with IHG and how to navigate IHG's reward calendar.
IHG credit cards that offer the 40,000 point annual certificate
IHG has partnered with Chase to offer its co-branded credit cards. These cards have gone through several iterations over the years, so if you've received one in the past it may still offer you a free night certificate even if the card isn't available today.
Currently, there are just two credit cards that offer the 40,000 point free night certificate:
Neither of these cards is expensive; both charge a sub-$100 annual fee.
IHG One Rewards dynamic award pricing
Like many other hotel programs, IHG has dropped its fixed-rate award chart in favor of dynamic pricing. This means that anytime you'd like to redeem points, you'll have to pay a varying amount. Unlike some other programs, however, IHG's rates can vary drastically.

In January, when you'd expect prices to be pretty low, a double bed room costs 29,000 points. But there's a wild swing in cost when you compare these rates with, say, a one-night stay in early October, when the same room costs 63,000 points.

In one of these cases, you'd be well within the parameters of redeeming that 40,000-point certificate. In the other, you'd be priced out of the hotel.
Because IHG's prices can fluctuate so dramatically, it can be frustrating to try and find a place to redeem your 40,000-point certificate. This is especially true if you're trying to maximize your redemption.
Searching on a nightly basis is nothing short of frustrating — happily, however, there's another way to find out how many points per night you'll be charged for your hotel.
Finding IHG's hidden reward calendar
IHG doesn't advertise that it has an award calendar. Instead, it'll return an average nightly rate to you based on the dates that you search. This isn't helpful in determining which nights will be available for that 40,000-point certificate.
However, there is a way to force IHG's hidden award calendar to appear. Let's try looking for 40,000 point IHG hotels in New York. In order to do so, we'll want to start our search on IHG's website. We'll put in our travel destination, but we'll also want to make a very broad search across multiple dates:

As you can see, we've put in a month-long stay for September 2022. The point here isn't to find available award nights — in fact, it's the exact opposite. We'd like to find hotels without any availability at all.
Running the search comes up with a variety of results, showing us both a cash rate and a points rate on different hotels. Here is the important part. It's only by finding hotels that don't have award rooms available that you can force the calendar to appear.
In order to do so, you'll want to hit "View Available Dates" on your hotel: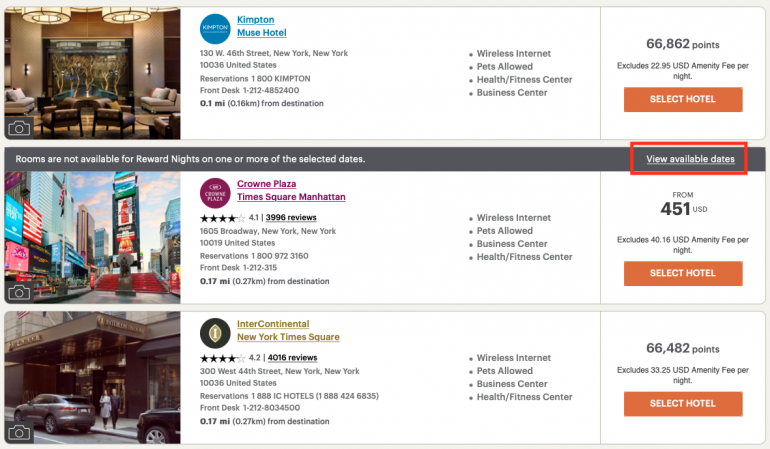 Doing so will bring up an award calendar showing the average nightly rate across a two-week stay: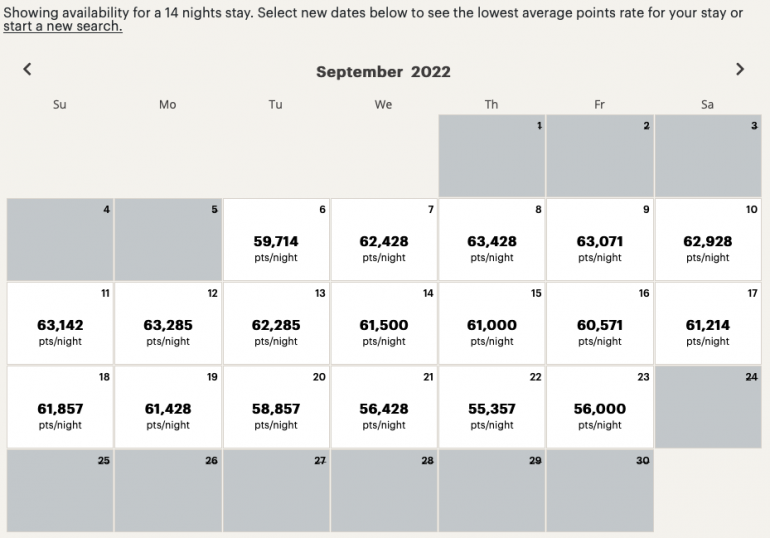 The calendar extends well into next year, so it's easy to see the broad strokes of award availability and pricing.
However, in order to truly find out the nightly rate of your hotel, you'll want to go back and change your search to a one-night stay on a date that you can see is unavailable.
Your search results will then come back like this, stating that rooms are not available on that date and asking you to view available dates.

Now you've narrowed it down to a single night's stay, your award calendar is going to reflect this and you'll be able to see the nightly rate for every night on the calendar: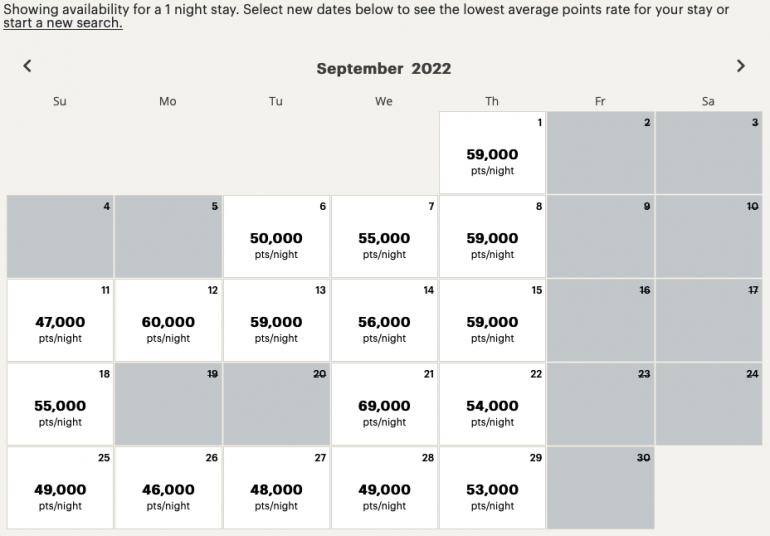 From here you can peruse at your leisure and pick a night that suits your needs.
How to top up your certificate
IHG has recently launched the ability to top up the certificate for holders of the IHG® Rewards Premier Credit Card or the IHG® Rewards Premier Business Credit Card.
This valuable option grants you the opportunity to use as many of your IHG points as you want to top up your certificate. In practice, this means that you can apply your free night certificate to any hotel in the world, as long as you have enough IHG points in your account.
So if you'd like to use that free night certificate for a truly free night, you'll want to stick to hotels that cost 40,000 points or under per night. Otherwise, go wild — even if that means spending an extra 80,000 points to snag yourself an overwater villa in the Maldives: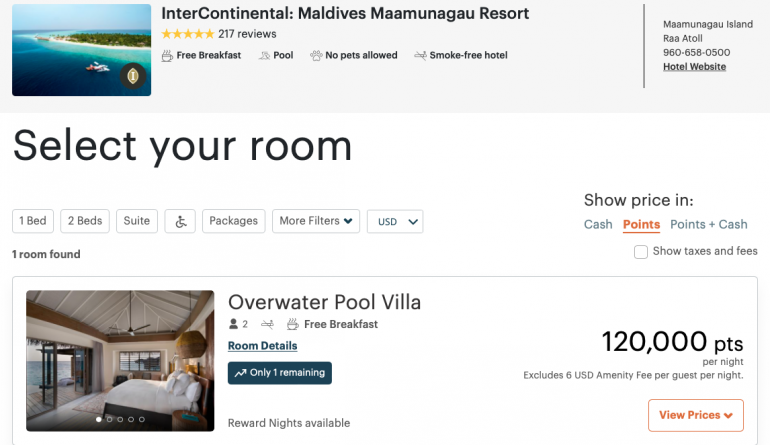 If you're looking to maximize your annual IHG certificate
The annual free night certificate offered by IHG's co-branded credit cards can offer a great value, especially for a card that charges a sub-$100 fee. However, wild swings in dynamic pricing and an obscure method for finding reward availability can make this effort frustrating.
Although it takes some effort to navigate your way to IHG's hidden reward charts, doing so can be worthwhile. With some simple navigating, you can find yourself the nightly rates for any hotel you'd like, thus allowing you to cherry-pick your dates.
Maximizing your 40,000-point hotel certificate isn't necessarily intuitive, but it can be worth hundreds of dollars in the right hands, especially when using the reward calendar feature.
---
How to maximize your rewards
Get more smart money moves – straight to your inbox
Sign up and we'll send you Nerdy articles about the money topics that matter most to you along with other ways to help you get more from your money.