How Digital/Mobile ID Works at TSA Checkpoints
You'll need to be enrolled in PreCheck and have an iPhone or Apple Watch to use Mobile ID at a TSA checkpoint.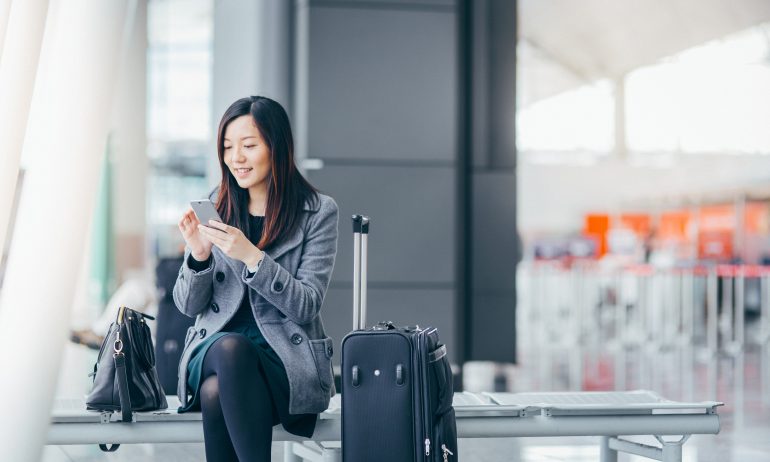 Many or all of the products featured here are from our partners who compensate us. This influences which products we write about and where and how the product appears on a page. However, this does not influence our evaluations. Our opinions are our own. Here is a list of our partners and here's how we make money.
The future is hurtling right towards us — and if you doubt that, you need only look at how quickly security checks and customs lines are progressing. From touchless Global Entry kiosks to passing Clear with just a scan of your eyes, we see advancements in technology everywhere.
A new hurdle was cleared earlier this year when Apple launched the ability to use your stored driver's license at Transportation Security Administration checkpoints. Although the program is still limited, it's growing. Let's look at how Mobile ID works, which TSA checkpoints it can be used at and when you can expect to see this launch at your home airport.
How does a digital ID work?
At this point, you'll need to be an Apple user with a Maryland or Arizona driver's license or state ID to create a Mobile ID that is eligible for use at TSA.
Apple allows you to add your driver's license to your mobile wallet if you've got an iPhone 8 (or later) running iOS 15.4 (or later). Otherwise, you can use the Apple Watch Series 4 and above, though it'll need to at least be running watchOS 8.4.
To add your license to your Apple product, you'll need to scan the front and the back of the card. You'll then have to prove your identity by completing a series of head movements and taking a selfie.
After that's completed, you'll need to authenticate yourself with either Touch ID or Face ID. Your information will then be sent to your state's issuing authority to be verified.
Apple and Idemia have worked together to allow this technology to come to airports; Apple will enable you to store your ID, while Idemia provides the TSA with Credential Authentication Technology readers. These readers can read the information stored on your Apple product.
Although you shouldn't need to pull out your driver's license for TSA, you'll still want to bring it with you in case of any issues.
In practice, this means that you'll need to take out your phone or Apple watch at TSA when you get to the airport. After tapping your phone or watching on the identity reader, you'll be able to double-check which information will be shared. You'll then confirm your data and it'll be processed digitally. Once that's done, you'll be allowed through.
Apple and Idemia have focused on privacy and security, especially regarding your data.
Apple allows you to control all your data and where it's shared, while Idemia states explicitly that "Personal data is only shared with the ID holder's express permission in response to a consent request, which helps prevent identity fraud."
Airports accepting digital IDs
The total number of airports accepting Mobile ID is quite limited and you need to be enrolled in TSA PreCheck and use a TSA PreCheck lane to use your Mobile ID. Currently, just three airports within the continental U.S. will allow you to use your saved driver's license instead of a physical copy at TSA.
Phoenix Sky Harbor Airport (PHX)
The first airport to accept Apple's Mobile ID product, Phoenix began allowing travelers to scan their Apple products at the end of March 2022. So double-check that your TSA checkpoint has these Credential Authentication Technology readers available at the airport.
Baltimore/Washington International Thurgood Marshall Airport (BWI)
Maryland is the second state to begin accepting Mobile ID, which means that one of its airports is also on this list. Launched in late May 2022, you can now use your Mobile ID at BWI.
Ronald Reagan Washington National Airport (DCA)
Travelers can also use Mobile ID at Washington-National. Although smaller than the Baltimore airport, Reagan still serves 96 domestic destinations and offers flights to six different countries.
When to expect widespread acceptance
Currently, the list of airports where you can use your Mobile ID is minimal. However, Apple has announced that it's working on adding more states to its Apple wallet license program, including:
States that will support Mobile ID
This is a respectable list for a feature first unrolled less than a year ago. However, there's still a long way to go. To use the program, states need to accept and verify digital drivers' licenses, and individual airports need to gain the capacity to read Mobile ID with Idemia's CAT reader technology.
Idemia has already rolled out CAT readers at Los Angeles International Airport and Lihue Airport in Hawaii. Although these readers use facial recognition to verify documents rather than an iPhone, the technology is still moving forward.
If you're looking to use Mobile ID to get through the airport, you'll also need to acquire TSA PreCheck. This program, which allows travelers to speed through security, is available by application only.
Those with TSA PreCheck can generally expect to pass through a separate security line. They'll also be able to leave their shoes on, keep their liquids in their bags and have no need to remove a laptop.
TSA digital ID realities, recapped
Although currently limited, Apple is working hard to get its Mobile ID program to as many states and TSA checkpoints as possible.
The inclusion of two states and three airports within its first year is a good sign — remember that you'll first need to have TSA PreCheck to take advantage of the Mobile ID.
---
How to maximize your rewards
Get more smart money moves – straight to your inbox
Sign up and we'll send you Nerdy articles about the money topics that matter most to you along with other ways to help you get more from your money.